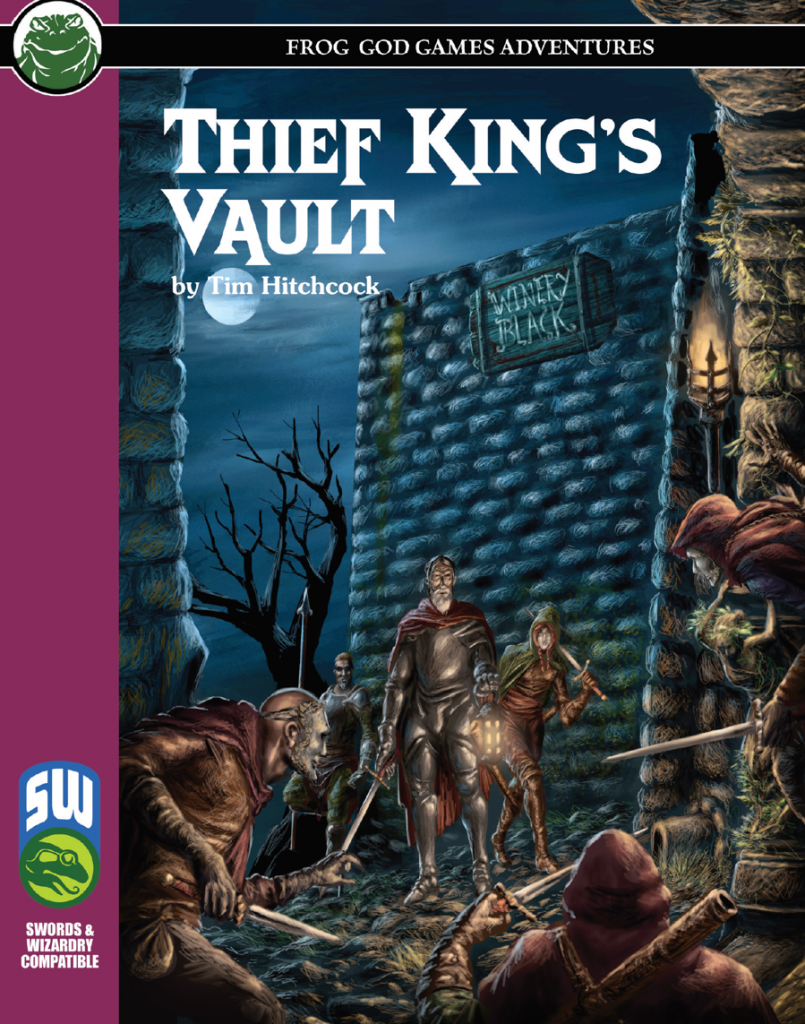 By Tim Hitchcock
Frog God Games
S&W
Level 5
It has long been said there no thieves in the city of Caltoshar. At night, one can safely walk the streets, and a few worry about locking their doors. Yet one would be foolish to believe Caltoshar is without a criminal element, for there are thieves aplenty if one knows where to look. The best advice would be for you to assuage you curiosity with such matters, and enjoy Caltoshar for what it appears to be. You're probably not one to take wise counsel, though.
This twenty page adventure uses eleven pages to describe a couple of lead in scenes and an eighteen page dungeon. A thief/trap/tomb dungeon. The signature Frog style is prevalent, delivering the usual mediocre product.
The Frogs are famous for not giving a damn about their editing. In this adventure we get: "[…] attempts to open them. must saving throw 18points of also anc (see below) hidden […]" I don't know what the fuck it means either. But, whatever; they will keep throwing these scraps to the crowds and the crowds will keep lapping it up like mothers milk. It's 2020 and there is no right, no wrong, no up or down, yes or no. Just a whole bunch of rap, flowing freely. As usual.
Scene 1: You get invited t a winery and asked to go steal a little idol from a merchant. Scene 2 you obtain said idlo. Scene 3: Returning to hi, dude you hired is killed by thugs. Scene 4: Walk five days through the wilderness. Scene 5: an eighteen room trap dungeon. These can serve us by framing some discussions about design.
Scene two has the party trying to obtain a small idol from a merchant. He lives above his shp on the second floor, keeps his windows locked, and has two small dogs. This is handled fairly well in two (longish) paragraphs. It doesn't drone on and on. You can sneak in, feed the dogs, charge in and kill the dude, whatever. It's ALMOST an afterthought. By which I mean "not overwritten at all." You need some details, about the locked windows, second floor, neighbors, the dogs, but the rest is just left to the DM to run. They way it should be. I can quibble on word choice and criticize on flavour, but it is, essentially, done correctly.
Scene three has the party returning to the dude that hired them, presumably with the idol from scene two. They find his tied up in the middle of the room, a pool of blood under him. Surprise! There are six thieves in the room, staging a coup against the dude, the current guildmaster.It's fairly easy to see what was being tried for here. A coup, the underlings grabbing power for themselves, etc. But, it comes off as just another generic D&D fight. "Thugs", not names, showing up for the first time in the adventure. No hint of dissension prior. The imagery here is not quite hitting the mark. We get hints, with the dude croaking "its a trap!" if ungagged before the ambush is sprung, but it's just that, hints of what could have been, missing the details and design that could have turned "six thugs attacking" in to something with more resonance. It is at the end of this scene that we're told what's inside the idol … which should have been mentioned in scene two, when the party first picked it up.
Scene four is a joke. A short little multi-day wilderness journey, with two wandering monster tables. The read-aloud covers all five days. And then there are wandering monster tables for The Plains and The Hills, with no guidance on when to use which, or what frequency, or anything. I guess it's the day three foothills the read-aloud mentions? It's just an afterthought, and not in a good way. In a "no one cared enough to actually proofread this adventure" way.
Scene five. An eighteen room dungeon. This is, essentially, negotiating one trap after another. The read-aloud reveals too much detail about the rooms, killing the back and forth between the party and the DM. It also contains no hint of the traps to come other than "there are doors." It just uses the "throw everything in one paragraph" Frog style which, I think, is fairly typical for the industry. Or, what I think of typical anyway. It sucks for running it. When you get to the end you are met by some people who offer you 200gp for all of the treasure you've found. There are no stats for them in case you don't want to hand it over, though it's implied they are powerful.
Who really cares? These are not, I suspect, meant to be run. They are just churned out for the 5e crowd to make a buck and then converted to the OSR for a little more cash to grab. Who the fuck cares about quality? It's not like any of this was surprise. "Vault of the Thief King" by Frog God Games tells you everything you need to know.
This is $10 at DriveThru. The preview is three pages, the first three pages, so you get to the see the title page and the adventure hook. Nothing at all to help you make a purchasing decision. Shitty shitty low-effort preview.
https://www.drivethrurpg.com/product/335350/Thief-Kings-Vault-SW?1892600