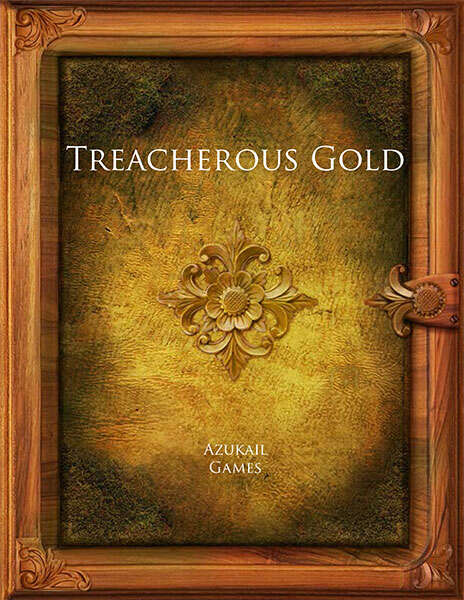 By Peter Rudin-Burgess
Azukali Games
Rolemaster/Harp
Any Level
Treacherous Gold sees the characters stumble across a group of orcs escorting some hostages. The orcs think the characters are those they are meeting to exchange the hostages with for gold. The characters may choose to do so, or they may get ambushed by the orcs either before or after the exchange.
*sigh* I thought the publisher looked familiar. Did one of my "gentle readers" suggest this, or did I stumble upon it on my own? Yeah, I know, it's Rolemaster, a system that has always intrigued me, in spite of my "light rules" preferences. Probably because of MERP. Anyway, it says generic (and it very much is) and I thought that maybe a Good Adventure is a Good Adventure, regardless of system.
This 32 page "adventure" details one encounter between orcs and the party. That's about three pages. The rest of the product is a bunch of battle maps to print out. Still, one encounter in three pages is pretty impressive, right?
The idea is that the orcs have some hostages, encounter the party, and mistakenly think they are the ones they are meeting for a hostage ransom. You can pay and go on your pay with the prisoners. If you do pay then the orcs track you down that night and attack anyway. Because.
That's it. It takes three pages to describe all of this. A group of orcs, hostages, some scaling (that's the "Any Level" part) The rest of the adventure is a bunch of full size battle maps to print out. I remember this publisher now, as soon as I saw the maps.
One encounter. Three pages for it. A product description that implies you are getting more than you are. Endless useless text about orc motivations.
Ok, I'm seriously going to make a better effort on this shit. I've hit a string of these "not an adventure" lately and I don't feel like I'm providing any value in "reviewing" them. I'm not going to go all "Melan" and only review good/decent stuff, but I am going to make sure it reaches some bar. Like "an actual adventure." Yes, I've said that before. This time for sure!
I've hit a bad patch with product, sorry gang! It does, though, provide some insight in to me. I'm always thinking that the product is going to be great and, in spite of repeated examples to the contrary, I never do the prep work required to determine if something is adequate before purchase.
This is $1.50 at DriveThru. The preview is all 32 pages. That's a good preview. I should have used it. I'm a fucking idiot.
https://www.drivethrurpg.com/product/324764/Treacherous-Gold?1892600