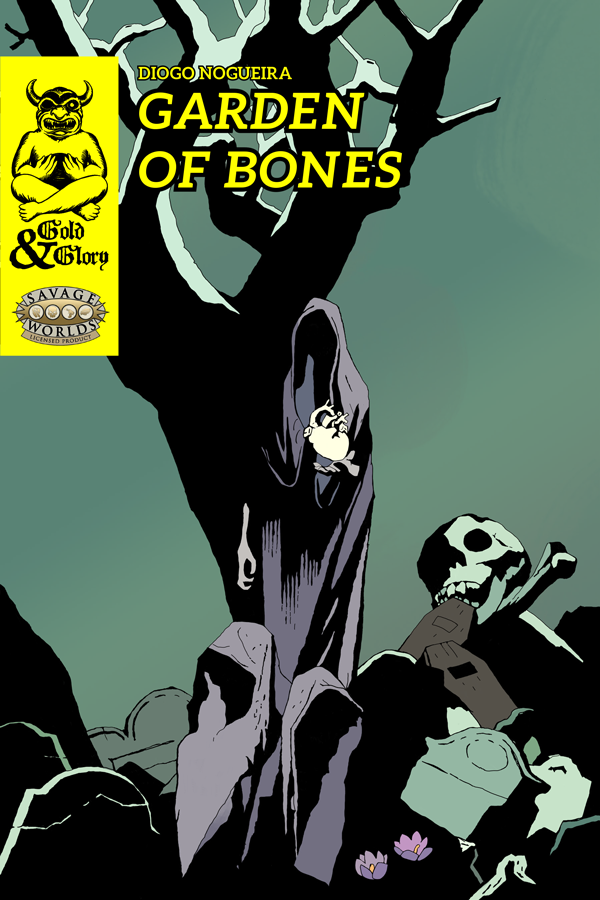 By Diego Nogueira & Guiseppe Rotondo
SpaceOrange42
Gold & Glory
Non-novice Adventurers
The Garden of Bones was created by a powerful necromancer to be given as a present to a love interest of theirs. Once the gift was rejected, the necromancer turned the garden into a place of nightmares and horrific creations they built to externalize their frustration. It fell into obscurity after the ages passed away, and it became a myth. Now, a scholar with sinister interests has located a map they believe to lead to this mythical garden and desires to be taken there to admire the garden and possibly collect the legendary Ghost Lotus.
This 24 page digest "adventure" is just a series of random room rolls. It has a touch, here and there of evocative writing, but overall fails to deliver any meaningful interactivity from it's poor encounters and descriptions.
Gold & Glory is a Savage Worlds D&D-like adaption. It's well disclosed on the product, so no hints of deception in the marketing. The blurb for the game says it delivers an OSR-like D&D experience. Does it?
Well, maybe? I don't know. The adventure certainly doesn't.
It's another in a long line of rando adventures. There's no map, you just roll for a new location every time you enter someplace. And "entering someplace" means "walking through a wall of fog that surrounds the current area you are in." Of course, everything changes behind you. And, of course, this means that the exit is not fixed. The DM needs to roll a 20 on the random room table and then an exit appears. And when you leave that area, not going through the exit, the exit disappears, because the place changes all behind you.
This is lame. I have no idea why designers think this is fun. It's not delivering the exploratory element of OSR D&D. It's delivering a "suffer through the random rolls" element. Just sit there, bored, with no control over your own fate, until the DM rolls a 20. That's fun, right? You need some direction over your own fate in order to create tension. Do you continue or not? Are we pressing our luck? Delicious tension … absent from these random things.
The random rooms are, for the most part, not interactive and just window dressing. "A crushed skeleton under very thick dark vines." reads one entry. "A 3 feet tall fanged skull with a small fire burning inside." reads another. That's the entirety of the encounter. A few years ago I made an observation that helped ruin the DisneyWorld magic for me. You sit down on something and it moves through a track and you look at little vignettes. This is the same thing. Walk in, look at something spooooooky, but there's nothing really to do so you move on to the next vignette. Unless there's a wandering monster. I guess you roll for one of those in each room also.
You roll a d20. If you get a 2-10 then there's a wandering element present. If it's a 5-9 then it's a creature. Why leave out the 1? Why put the monsters in the middle? Why not have it be 1-5 are monsters and 6-10 are "some other freaky thing?" I don't know. Maybe a 1 means something special in the game? You got me. It's a bizarre fucking way to organize things though.
The rumors are not in voice, which is lame, and you have to succeed on a roll to get one. I'm not a fan of hiding fun behind a roll. Just give the party a rumor. It's fun. There ARE some more powerful rumors present, generally on the separate "i go to the library to research" table. That's ok. Maybe a roll that's modified by a skill check success level would have been better. Roll a d6 and 7-8 are the really good ones, that you get to by adding a +3 from reading a book?
The descriptions are meh. At least they tend to be quite short. Too short. Monsters, in particular, you get bad descriptions for. "Half undead cultists" is a conclusion not a description. There's just nothing about them, physically, to help bring home the mystery, wonder, and horror to a party encountering them. AGain, not an argument for a much longer description, but rather a much better one. I don't care about the origin or backstory, what's important NOW is what the party experiences. Perhaps the best example of this is a bone spider that shoots sticky blood from it's mouth. That's decent. The rest, though, are meh.
The general description of the garden is ok. "… extensive valley hidden by deserted rocky hills in a cold, mountainous region. The ground is completely covered by loose bones that rattle when walked upon …" But then, of course, we're told later, far deeper on the page that the place is covered with a constant greenish cold fog. That should have gone up with the general description of the valley. As you crest the hill, what do you see? You look down upon a valley. What do you see? You get an expansive overview of the area … and the general description should cover not, not put the fog in the "Walls" section. Yeah, it's serving the purpose of a wall, but the party should be told about the fog initially, and for ease of use that should go up with the general description.
So, it's a wander around bored adventure, experiencing random things and maybe, occasionally, one of the unique encounters to interact with, until you find the flower you're looking for. Then wander around some more until the DM rolls a 20. How about, insead, I roll a d6? On a 1 you find the flower on a 6 you find the exit. On any other roll I just roll again? That's a fun night of role-playing, right?
This is $5 at DriveThru. The preview is seven pages. You get to see the two rumor tables. Suck ass preview. It should show up a wandering monster page and/or an encounter page. We need to be able to actually see the content we're paying for, not the supporting material or title page nonsense. Bad preview.
https://www.drivethrurpg.com/product/324122/GoldGlory-Garden-of-Bones?1892600