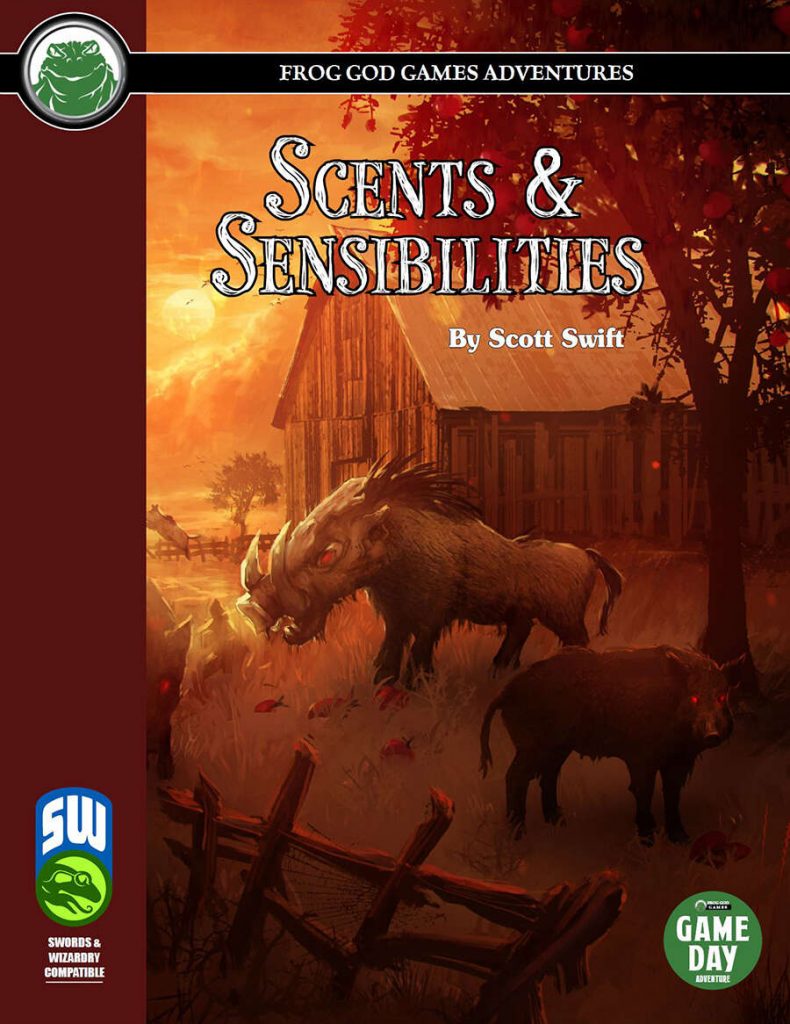 By Scott Swift, Skater Green, Matt Finch
Frog God Games
S&W
Levels 1-3 3-5? Who knows?
The adventure begins with the characters encountering Fumario, a perfume-dealer who travels among strange worlds and even other planes of existence. His manufactory travels with him, and the characters (as heroes do) stumble into a bizarre encounter with him. Fumario's methods and motivations are inexplicable, but this is usually the case with supernatural patrons…
This eighteen page adventure uses four pages to describe one encounter. And that's with a column of read-aloud. 18 pages for a side-trek may be a new low in adventure design.
This is bullshit all around. Three authors' names attached to an eighteen page adventure that actually is only four pages long of adventure content. The level range on the cover says 1-3 while the level range inside is 3-5; typical Frog God carelessness. And, of course, no actual treasure to speak of so FUCK YOU if you wanted XP. Why the fuck do I continue to do this?
Your in town. You see a weirdo. A column of read-aloud later he gives you a magic stick that will tell you, in two days time, that something will stink, and you should bring it back to the weird guy. In two days time it activates and you hear someone yelling for help; a farmer with four giant boars in his field that stink. This is your adventure. Four 7HD pigs.
The pretext here is so thin as to be ludicrous … and not in a good way. NPC gives you something and says that something will happen soon, wait for it. I mean, come on, that's it? And one encounter with some big pigs on a farm that have some stinking cloud abilities. I guess there's a little tack on that has the party transporting the pigs back to town, and if the pigs are captured/alive then there could be some amusement there. But the adventure offers very little in the way of guidance on either capture or on the transport. Oh, it pretends to; there are lots of words, but it doesn't do anything other than tell you the pigs are drunk on fermented fruit and the gate guards won't let live pigs in. This is not support for the DM. This is padding.
I chuckled once. Weird dude has a weird-o-attractor that attracts "violent people who are short on money and prone to walk in to risky situations without making adequate plant, then play it by ear. Yup, still seems to be working!" A little meta is always fun.
But, look, eighteen pages for this? It ends on page eight and the rest of the adventure is just padded out with a long description of the Stank Hogs, NPC stats and so on. Jesus man, is there any doubt why I always seem grumpy?
The farm where the adventure takes place on is full of things like "You can't do that" and "The pigs notice you sneaking if you try" and other BS. No, they don't. They may have an increased likelihood of noticing you, but they don't notice you. Just like they don't notice you when you sneak through the woods. They have a decreased likelihood, if this was well written. The Farm isn't really well described at all, at least not in a way that supports the adventure, or the supposed subtext of you supposed to be trying to capture the hogs.
Eighteen pages to say there are four pigs on a farm with no treasure.
Frog God Games: churning out content for suckers, because it seems to be working so why stop?
And yet, there is always hope. Like, maybe I'll get hit by a car today.
This is $8 at DriveThru. The preview is three pages long. It shows you the weird hook guy and the farmer yelling for help. Just, … it's more of the same after that, I guess. Lots of words not really doing anything.
https://www.drivethrurpg.com/product/316407/Scents–Sensibilities-SW?1892600