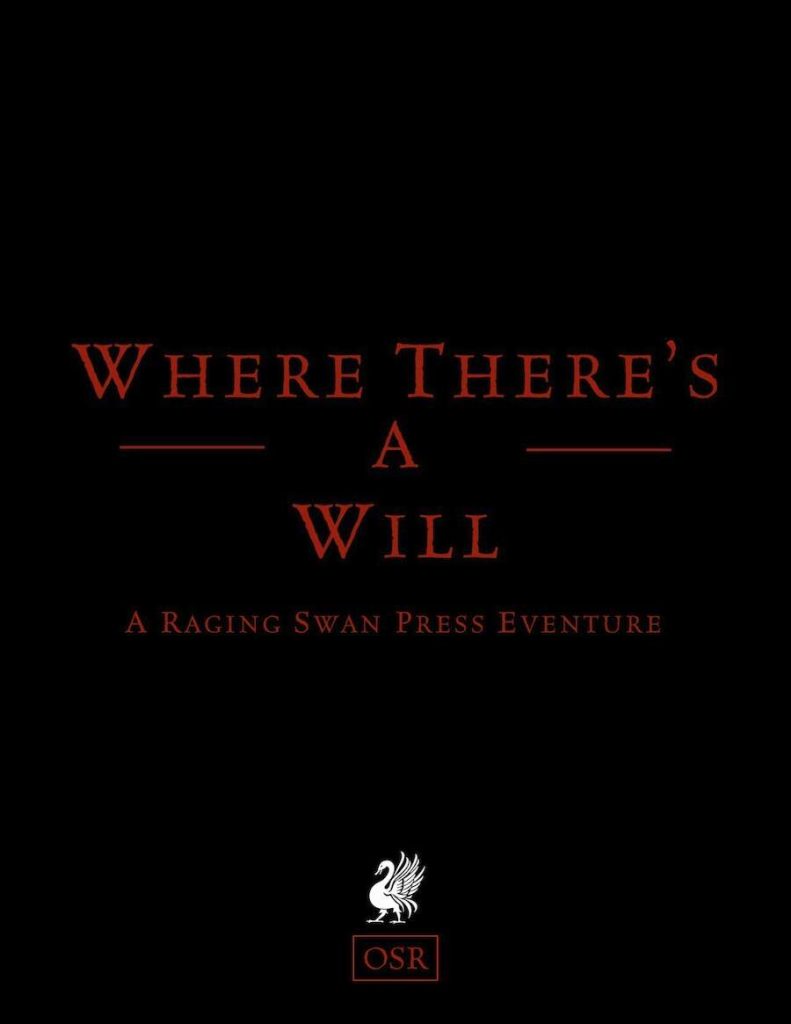 By Jacob W. Michaels
Raging Swan Press
OSR
Level ... ?
Standing on a dingy side street in Low City the Scythe has a reputation as a place for hard drinking and its entertainers. Nights at the Scythe are rarely boring—particularly when the legendary halfling bard, Dricolen Nimblefinger, is playing
Ever get the feeling you've been cheated?
Why yes, El Senor Lydon, Johnny Feelgood, Liz and I do THE THE FUCKING TIME. (Hmmm, looking this up, the lyric is "Johnny Light on." I think it's better as "Johnny Lydon." Kind of a Peaches "My Chrissy behind is fine all of the tie" Chrissy Hynde kind of thing. That fucking earworm has been out of my head for a week now and I just put it back in. Great.)
This thirteen page adventure details … I don't know … some vignettes in a town? It's supposed to be a roleplaying adventure, uh, I mean "eventure", but in reality it's just some one of those hooks from a "101 hooks for your party!" products that's been expanded in to thirteen pages. Just the hook. JUST. THE. HOOK.
Town adventures are one of my favorite things and this product line seems to be trying to do two things. First, no combat, andsecpnd shit that happens in town during downtime, returning,etc. Not bad, especially the second. Shit going on in town helps cement the characters and who they are, with the players flexing themselves a bit and all them zany human relations. Plus, players seems to have more restraint that usual, not ALWAYS picking the "stabby stabby" solution. SO, good ideas! Town! Yeah!
And very VERY poorly executed.
This isn't an adventure. It's not even an adventure outline. It is, I don't know, a hook? Imagine one of those "100 hooks" products and one line in it is "In town, get part of a map to a pirates treasure during a dead pirate captains wake." That's this adventure.
You're in town, somewhere. You hear bells ringing. A notorious pirate captain is dead. You go see his body strung up at a town gate and met some other pirate captains. You go to a bar and the reading of the will, along with other pirates, and a bunch of map pieces get tossed out. That's your adventure!
And it's not even properly supported. There are a bunch of tables at the beginning to add local color to the town: rumors, street scenes, gossip and the like. They tend to be well done, although the street scene tables could be more oriented toward the pirate captain being dead instead of the usual "beggar with his bowl" shit. But, that's the good part. It's full of things like "the pirate tell tall tales" … without anything to get the DM started. It's critically important in these situations to give the DM something to work with. Not a novel, a few words, maybe one sentence. Just enough to get going. But this don't do that. And this happens repeatedly. There are these little two or three sentence paragraph that describe these HUGE scenes, like the stringing up and viewing of the body at the the gates. I finally figured out that these little things ARE the "adventure." These two or three little sentences in their little scenes scattered around the test are what is supposed to occupy the players and their characters. But it's unsupported.
It THINKS it's supporting them though. We get full write ups on six pirates including their history, and other details that mean little to the adventure. MAYBE, in an ongoing campaign, this kind of extra detail is worthwhile, and this IS meant to be a town thing, so, recurring. And there IS a decadent dive bar full of twisty passages, etc, that is more a "city bar location fluff" than "adventure location."
So what you've got here is a fluff product that says it's an adventure and is TRYING to be an adventure but succeeds in only being fluff. Don't get me wrong, I like fluff. Inspiration is good. But it's not an adventure.
This is just an outline. And an outline of a hook, at that, that lasts thirteen pages.
*bleech*
This is $3.50 at DriveThru. To its credit, the preview shows you the entire product. CHeck out page seven of the preview/five of the book. This is the "Traitors Gate" hanging scene. That column of text is all you get (!) to run it. A column should be more than enough … but this column tells you nothing pertinent to running this as a scene/encounter.

https://www.drivethrurpg.com/product/300608/Where-Theres-a-Will-OSR?1892600