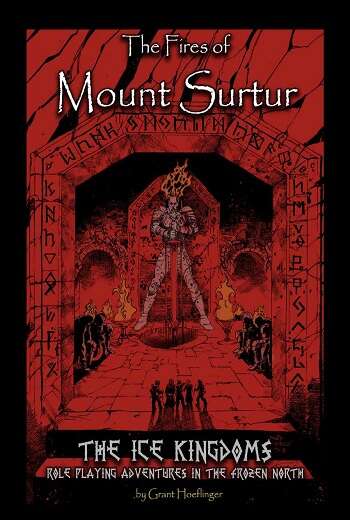 By Grant Hoeflinger
Mad martian Games
Labyrinth Lord
Levels 3-5
Welcome to Mount Surtur. Once home of the evil fire giant lord Hadel, now said to be an empty tomb over a long dormant volcano. But evil omens predict danger and treasure within. Something evil is stirring, and something foul lurks within. Can you survive the Fires of Mount Surtur?
This eighty page adventure features a three-ish level dungeon with about sixty rooms. If someone were to ask me "what does the usual bad adventure look like?" then I would point at this adventure. Extensive useless backstory, embedded history in rooms, read-aloud that is too long, and almost nothing more than hacking down monsters and "the usual" traps that take too much text to describe.
Many bad aventures share the same bad traits. A group of these tend to fall together and create what I like to call "the usual bad adventure." A typical complaint of published adventures i that they are hard to use in play; it takes a lot of prep work and notes to make them playable and understandable. They are too long and hard to use at the table. Many MANY adventures fall in to this category, so many that I would group them as "the usual."
The traits that make this happen are pretty well known at this point (which would beg the question: why the fuck do writers still do it?) Read-aloud. Read-aloud has been a discussion since the early days. There's nothing inherently WRONG with read-aloud … except for the fact that it's implemented incorrectly in about 99% of adventures that use it. This adventure illustrates that fact. Read-aloud here is long. Multiple paragraphs in many rooms and a paragraph in most. People don't listen to long read-aloud. Do you know why players are not their phone? Because you're monologuing in a game that should be about interactivity between players and DM. You get two, maybe three sentences of read-aloud before players stop listening to you. It's a fact; WOTC did an informal experiment/observation at a GenCon and reported on it. (I think it's linked in my review standards page … although the fuckers seem to move the article location every few years in order to break my link. grrr…) Your read aloud, if you use it, needs to be short and evocative.
You know what it DOESN'T need to do? It doesn't need to tell players what they think. And it doesn't need to force the players actions. "You feel cold as you …" No, I don't. "As you pull aside the curtain …" No, I didn't, I used Wizard Eye. "You feel like … " No, I don't feel. Stop fucking telling me what my character does, feels, thinks. The point of this is write so that I, the players, DO feel cold, gloomy, etc. Don't fucking TELL, instead SHOW. This adventure TELLS over and over again in it's read aloud. Long read-aloud. TELL read-aloud. BAD ADVENTURE WRITING.
Then comes the DM text, another staple of the usual bad adventure. The players enter the room. Th DM reads the three paragraphs of read-aloud. The players are already on their phones. Then the DM looks down and starts to read the column or page long room description. Several minutes later the DM find two players on the XBOX. Well no shit. The DM text CANNOT be long. Or, rather, it can be, but it has to be organized in such a way that the DM doesn't have to read the entire thing in order to run the room. "The usual" bad adventures pad out their DM text. They tell the DM what the room used to be used for. What the architects name was. The meal he had on a Tuesday three hundred years ago. In short, the room description is padded out with trivia that doesn't matter RIGHT NOW. The purpose of the adventure is not to have a fully fleshed out history that makes sense. The purpose is for the party to adventure in it. SOME detail can contribute to that, but there's a difference, it has to be relevant to the adventure at play. The only fucking reason we care about the original use of the room is if it impacts play now IN A SERIOUS MANNER. Now look, I'mnot talking about sticking a line that says "Former bedroom." Sure, as a DM i can then stick in some torn up bedclothes or something. Fine. I'm talking about multiple sentences describing the former use of the room, or other useless trivia.
This adventure does all of that and I consider it unrunnable because of that.
But, let's say it DIDN'T do that …
It's still a bad adventure. Almost every encounter is a hack. Just jump in to combat, many of them triggered from the read-aloud. That's not interactivity. Throwing in a couple of traps is not interactivity. D&D is not about getting in to fights. Fight after fight after fight after fight after fight. That's not fun. Opening an iron maiden. Fucking with a glowing pool. That's fun. But that interactivity is almost universally NOT present in this adventure. This is a stereotypical D&D adventure: killing things. D&D was never about that, but that's what this is about.
Other issues: there's a shaft straight down on the first level to a pool of lava deep in the heart of the complex. You can see a small island. You can't climb the sides because its obsidian smooth. Ok. Fine. And what if I fly? There's no consideration of other methods of descent. Rope anyone? How long is it down? Where does it go? Nope. Not here. All of those monsters, almost all of them intelligent and a part of a tribe, with the different ribes working together … how do they react to incurions? You'll never know … no advice given to the DM on helping them run this. AND NO FUCKING LEVEL IN ThE PRoDUCT DeSCRIPTION ON DRIVETHRU. PUT IN T A FUCKING LEVELS DESCRIPTION!
I could go on. Twenty pages of front-loaded backstory. Three pages to have the village chief assign the mission. No use of ANY formatting to help the DM.
Platonically bad adventure.
This is $10 at DriveThru … and made $3k on a kickstarter! I swear, I should just grab another alias and crank out bad shit for kickstarter. Anyway, the preview is six pages. You get to see five ages of essentially empty pages, title pages, etc, and one page (of many) of backstory. So, it's a useless preview, giving you no idea what the adventure is actually like.
Life is pain.

https://www.drivethrurpg.com/product/278972/Ice-Kingdoms-The-Fires-of-Mount-Surtur?1892600