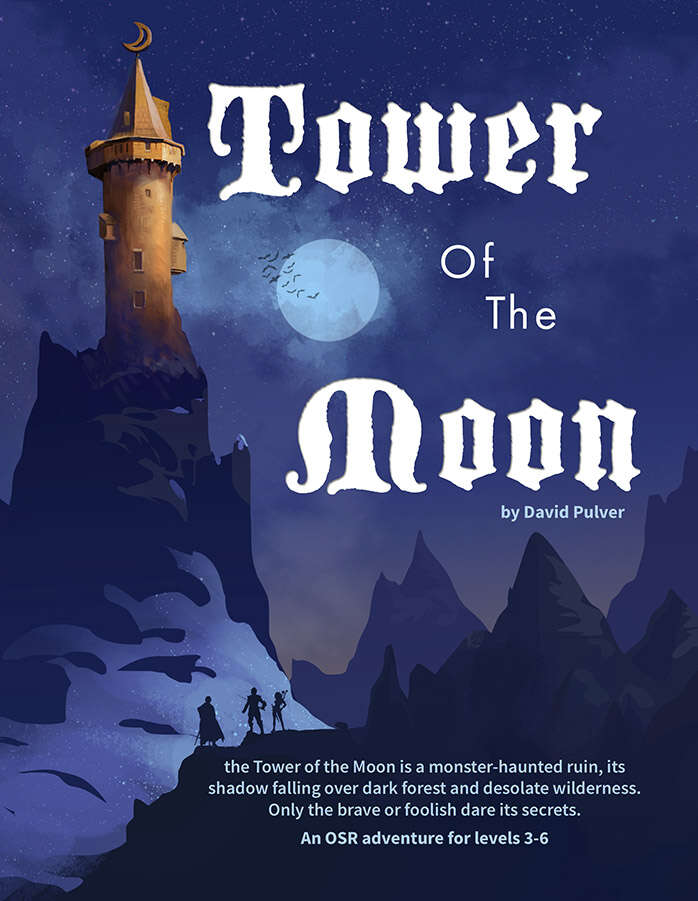 By David Pulver
Night Owl Workshop
S&W
Levels 3-6
[…] The tower filled with howls and screams. Tales say that all perished in the struggle, the frenzied wolves even turning against their pack mates and devouring one another; only a few servants escaped to tell the tale, and recall Mordark's dying words to Artesia before he was eaten alive: "if I could not share the Tower of the Moon beside you in life, I do so in death…" Today, the Tower of the Moon is a monster-haunted ruin, its shadow falling over dark forest and desolate wilderness. Only the brave or foolish dare its secrets.
This delightful 23 page digest adventure details a tower with four levels and about 25 rooms. Interactive, interesting, and not too overwritten, it provides that OD&D like vibe that I enjoy so well. It could also use some work for scanability.
The cover is actually a decent depiction of the tower, imagine that! And the front door of the tower? You enter through the teeth of a giant wolf head face carved in to it. Mythic Underworld here we come! These are but two examples of the decent design that Pulver imbues in to this adventure. Making the art work with the adventure to help inspire the DM and evoke the setting, as in the case with the cover picture. And then there's the wolf head. You're passing somewhere else when you go through it, and everyone knows it. The mood changes. It's D&D time. You're elsewhere now. The rules are all wrong and every perversion is justified.
But, I shouldn't have started the review in the middle. This thing has the OD&D thing going on. What is that? It's a degree of creativity that is not standardized for your convenience. As D&D has aged and the various editions have marched on, the various tropes of D&D have become more and more ingrained. Sword, +1. Hero. Innkeeper. Loyal Knights of blah blah blah. Everything comes from a book. Going the other direction there tends to be more non-standard elements and they tend to be combined in more unusual ways. That first level of The Darkness Beneath does this well. A flaming roll rolling the ceiling shooting off fire blasts didn't come from no book. Nor did cursed plate mail shouting "Here I Am!" or an orange gem that you can use to shoot fireblasts … until it ,elts your hand off. None of this is writ in stone, of course, it's just a general trend; exceptions abound. But it's also a convenient shorthand label.
This has that OD&D feel. There's a magic well with curses and delights. It's related to silver, and the moon, and has a sullen werewolf in it. And, it does magic stuff. One example is that it can turn stone back in to flesh, like the cockatrice statue you found in an earlier room, if immersed. But that's an example, not an exhaustive list. It reminds me of the way LotFP (the system or an adventure, I forget which) used Bless as a kind of general-purpose thing. It wasn't exhaustively spelled out and with the spell you could, well, Bless things. AND WHAT HAPPENED DEPENDED ON WHAT YOU WERE TRYING TO DO. The game world kind of made sense, general guidelines were set up and left for the DM to follow. And this adventure does a lot of things that feel like this.
Interactivity abounds and the monsters are sometimes integrated in to that. A ballroom, with shadowy dancing figures … that beckon you to join them. Shadows. (A nit: if you survive 30 minutes of dancing with them they kiss and release you. You should have gotten something for that, a +1 con or wis or something else. Reward must come to the daring, or else no one will ever be daring.) Rooms are generally written in a neutral tone, not designed against the party but rather existing for the party to exploit or fall for. A statue with a face that speaks? Do you give it a drink? Kiss it? These are the ways of OD&D and these are the ways of this adventure.It's done well and I like it.
One the mediocre side if Pulvers writing and roo morganization. It's primarily paragraph based, three or so per room of maybe two to three sentences each, with monster stats being bolded. Each paragraph generally describes one thing fully. I suggest that this is a poor format, in the form its taken here. Room two is a store room. The first paragraph details smashed crates and casks, blood stains, etc. The second gives more detail, a discarded mace and a broken quarterstaff. And the statue of a surprised elf. HOLY FUCk?!?!! What?!?!?! This format forces the DM to read the entire room description before running it. Not. Cool. We don't delay games because of bad writing. Better to bold important details in other paragraphs, or, put all of the majorly important/obvious stuff in the first paragraph and then use the later paragraphs to follow up, perhaps with bolding to draw the eye immediately to the correct place. Otherwise we need to bring out Ye Olde Highlightere. And what do we say to designers that force us to do that? That's right: Go Fuck Yourself, it was your job to do that for me, the DM/consumer. It's not egregious in this adventure, but its enough to be annoying.
"Bob the wraith Lord put 7 skeletonsin this room (using his magic book) to prevent him from being disturbed." That's fucking trivia. Use that word count to create a more evocative description or increased interactivity, not to justify the existence of why there are 7 skeletons in the room. That trivia has no impact on the adventure being run and is this (almost always) irrelevant, distracting, reduces scanability, and the word count used for better things. It smacks of the crimes of pay per word padding.
Treasure is light. Really light. So light I wonder if Pulver has run a S&W campaign before. And there's a lot of boring old +1 magic items. That's a serious miss and substantial departure from the OD&D ways that the encounter in this feel like. Other than that there's amiss here and there; one room has a high ceiling with an overlook/balcony … that isn't actually mentioned at all until you get to those higher rooms. Oops. Plus, if this had been the other way round, with the gallery encountered first, we would have had a classic Thracia tease. But, it's the lack of balcony mention that's the sin.
Still, A decent adventure for its flaws. Interactivity is strong. Themes are strong. Creativity is strong. Organization and evocative writing are at least not terrible.
This is Pay What You Want at DriveThru with a suggested price of $3. It's certainly well worth that price. The preview is six pages and shows you fuck all of what you are actually buying. You get to see the full tower maps (there are mini-maps for each level also) as well as the bullshit background pretext and hook. But there's nothing of the actual room contents. Major miss with that; that's what we're paying for, that's what the preview should show us a bit of so we can determine if its crap or ok.
https://www.drivethrurpg.com/product/289553/Tower-of-the-Moon?1892600