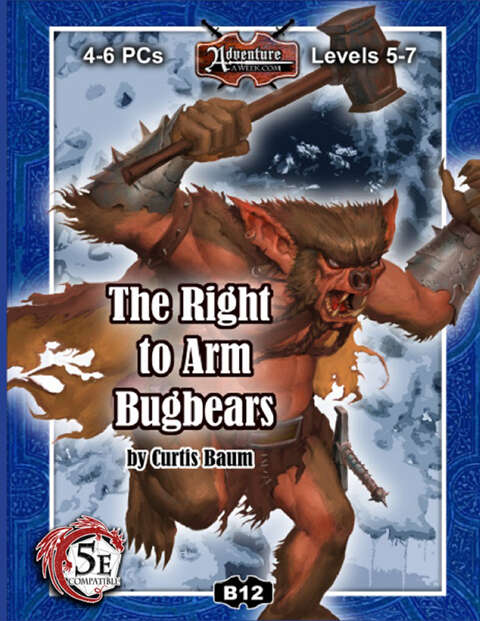 Curtis Baum
AAW Games
5e
Level 6

Strange humanoids are gathering in the nearby Forest of Mists and have been exploring ancient ruins using maps stolen during the robberies. Can the party stop these creatures before they are able to raise an army of kobolds, gnolls, and bugbears?
This 28 page adventure contains seven encounters. I don't even know how to summarize it. There's nothing to it but, essentially, monster stats?
Sometimes I am a loss to convey what an adventure is and this is one of those times.
Let's imagine a minimally keyed adventure with seven encounters. "4 orc guards" and "1 bugbear sargeant" for example. To each of those lets's add some read-aloud. Something like "The bugbear sergeant notices you and says It's time for weapons practice boys!" But also lets make read-aloud lengthy in places at a couple of paragraphs or more. This is, essentially, the adventure. Yeah, I know, if you abstract enough you could describe many adventures this way. You don't need to do much abstracting to this, though, to make it happen.
Each scene (since that's what they are, not encounters), has a little section at the beginning. It describes doors. Lighting. Mood. History. Walls. It's the same offset format for all locations, covering each of the same topics. It's as if someone had a form they had to fill out and they just blindly went down the boxes typing things in. Some of the form boxes are clearly supposed to be mechanical. Giving the DC of a door in some sort of fixed format has been popular for awhile, especially in Tactical Miniatures of 4e. And that's what this feels like. Just a little bit more pasted on, just like 4e adventures/encounters/scenes were, so you could call it something more than a wargame/boardgame. This adventure is just one step removed from the The Fantasy Trip, and it's not a big step either. There's a puzzle at some locations to work ot after your fight. You get to roll perception to figure out some guards talking to you are actually Orcs In Disguise! Monsters attack no matter what, even if you give then a 200gp bribe. Just fight your fight and go to the next DM encounter.
Look, I know D&D covers a wide spectrum. But something has to mean SOMETHING, doesn't it, in order to have some kind of interactive discussion? The scene setting in this is terrible, perfunctory. It takes 28 pages to describe a couple of combats. This is not the D&D I know and love. I don't know, I'm glad people feel enabled to write stuff. I just fucking wish they'd take some time and figure out HOW to write stuff. I just can't go on with this review. THERE'S NOTHING TO THIS FUCKING THING
This nonsense is $7 at DriveThru. The preview is excellent, you can figure out exactly what you're getting from it. I suggest page two for an excellent look at the "scene overview" form, read-loud, and bold adventure styling. 

https://www.drivethrurpg.com/product/286401/5E-B12-The-Right-to-Arm-Bugbears?1892600