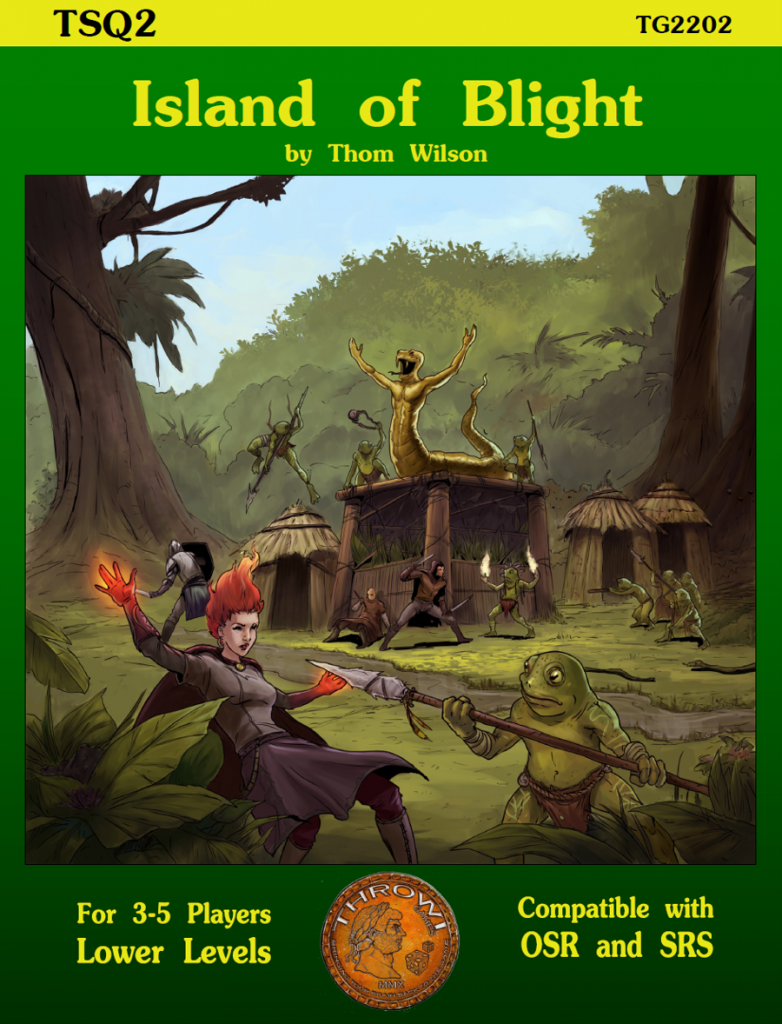 By Thom Wilson
Throwi Games
1e/5e
Levels 3-5
The Red Priests of the Snake God suffered a crushing blow to their plans when they failed to take the small town of Thuil. Reeling from their defeat, they have returned to the deep jungles of Nolgur-Wul to regroup. The human villages outside the jungles know that it is only a matter of time before the Red Priests and their minions return. Now is the time to take the fight to them, deep within the jungles! The characters are urged to delve into the depths of Nolgur-Wul to track the Red Priests back to their clandestine temple where it is said a serpent queen, maiden of the Snake God himself, leads the growing cult. On the trail of the fleeing Red Priests, the adventurers find that a mysterious blight has recently begun to destroy the western jungles, villages, and all life within. What starts as a quick investigation becomes an unusual and deadly puzzle. More importantly, is this blight the Snake God's doing or something completely separate?
This 28 page adventure describes a little overland journey and about forty indoor locations in three locations on a small island. Generic writing, generalized abstractions. In short: it's boring.
Ok, so, there's a bunch of vegetation dying in an ever increasing area. You find some abandoned villages, maybe. You find an island with some ruined buildings on it. There's a bunch of notes and zombies scattered around. In the basement in a machine that's generating the blight and the notes, deciphered correctly, help you set the levers to turn it off.
It's got some monsters reference sheets. It's got some cross-references. Ultimately though it's boring. There's a kind of generalized abstractaction that ribs the adventure of anything interesting. Instead, there's an emphasis on history and explaining why the way things are. "This rock is here because someone kicked it down the stairs three hundred years ago." That sort of thing does not create interesting play opportunities. That sort of thing does not inspire the DM to run a fantastic room or encounter. It's boring.
"Wonderfully decorated doors lead to areas B8 and B10", the text tells us. The second part is clearly just telling us what we can see from the map. The first part "wonderfully decorated" is a great example of that abstraction. It's a conclusion someone might draw rather than what someone might observe. This is TELLING instead of SHOWING. Lapis & amber inlaid bronze doors with minurettes and palms … that's showing instead of telling. That text inspires the DM and then leverages the DM to add more while the previous text instead burdens the DM to come up with it all from scratch.
The text must inspire the DM, that's what I generally mean when I'm talking about evocative text. Text that shows instead of tells. Text that enables the DM to add more rather than requires them to add more.
On top of this the text is padded out with trivia. A secret door is easy to find because it was left partially open when some residents of the temple fled from a blah blah blah. Or, "This escape passage provided Kahleemar with a way to leave his bedchamber quickly or hide from unwanted visitors. The escape tunnel is completely dark" Well that's all fucking great. By which of course I mean, completely useless at a gaming table. There's no furniture because cultists stole it. A rich and deep history of a location is not the same as a location that's evocative, interactive, and easy to use. It's maddening to see all of the trivia included while being faced with the abstracted descriptions.
And then the monsters and other important facts are buried deep in room text. First things first: it's there's a giant flaming eye of sauron (lower case) in the middle of the fucking room then fucking lead with that in your description. THATS what is going to stand out. Burying it in the second paragraph is dumb. "Oh, uh, sorry gang, there's actually a giant flaming sauron eye in the room" or a long pregnant pause while you read three paragraphs of room text in order to give a description to the players? Neither you say? Damn fucking right. Obvious things should come first.
Oh, I could go on and on. Maybe five or six thousand in treasure for a 1e adventure at levels 3-5? This is a do-gooder adventure, light on treasure. The villages you find along the way are boring abstractions. There are lots and lots and LOTS of notes lying around fr the party to find, in order to solve the final puzzle. The titular blighted island has three primary exploration areas on it … and the main one comes before the two minor ones. There's not real explanation of the slight spread or "the blight line", crossing over it, etc. Just a note, buried in a later sidebar, on how to apply disease rolls.
JABA – Just ANother Boring Adventure.
This is $5 at DriveThru. The preview iw four pages. It shows you four pages of a monster reference sheet. This is a bad preview. Show us some room encounters for Vecna's sake so we know the quality of the writing we're fucking buying!

https://www.drivethrurpg.com/product/259774/Island-of-Blight–TG2202?1892600