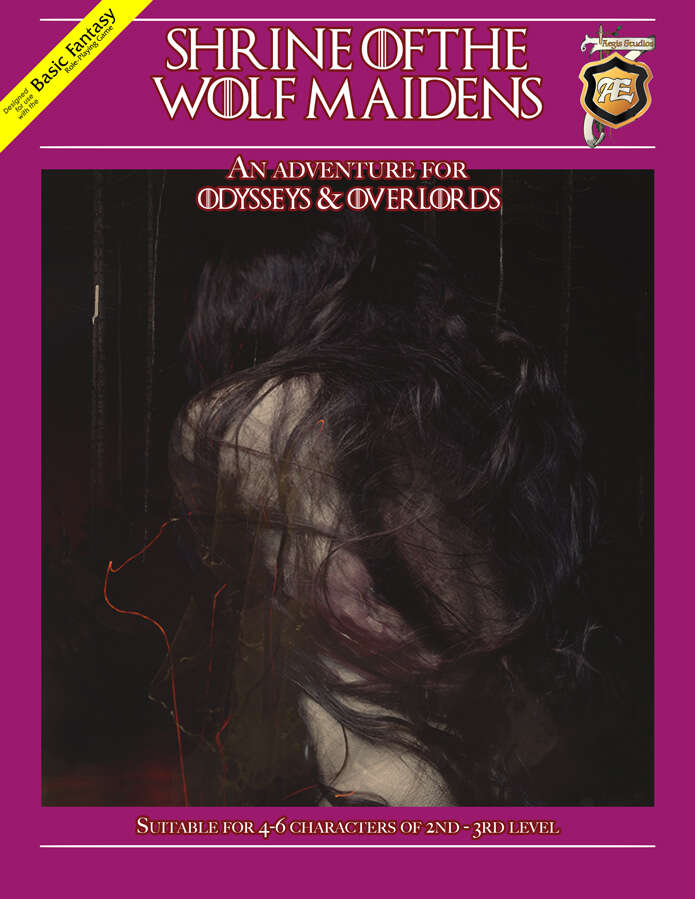 By Catherine Evans
Aegis Studios
B/X
Levels 2-3
An adventurer named Jorasco Vinn was commissioned by Madeina Ilrekar, a prosperous merchant from the town of Dela's Tor, to explore a certain area of the Untamed Gauntlet for signs of precious metals worth mining. All he found was an old shrine to a minor local deity whose name is long forgotten. Now Madeina's daughter Silvega has gone missing and there is no sign of Jorasco. Madeina has put two and two together and made five: she believes he has kidnapped Silvega and stolen her away to this ancient shrine… where human sacrifice was routinely practiced.
This ten page adventure, with about four actual content pages, details about six linear encounter areas in a small shrine. It's ok, nothing special.
There's just not much here to review. Six-ish encounters is not much at all. Meet some centaurs in the woods and talk to them. Then go through a linear five room shrine dungeon and fight some wolves and then a proto-werewolf. 
Read aloud is about four sentences per encounter. Your quest-giver has her information laid out in bullet points. The dungeon is linear and the two combats are, obviously, forced. Usually not a good thing in an OSR adventure.
I like the O&L setting of writs of exploration and reconquering the frontier … but that's a setting thing.
There's a random trap in a hallway and I'm almost never fond of that. "If the thief detects traps …" I think this slows down play. Either the thief is continually checking/rolling/asking or they will be after a rando hallway trap. The thief mechanics for hallway traps just don't work.
I will say, though, that's a cypher puzzle that done well. It's just a simple letter substitution, but it's left to the players, with a good hint, to solve as opposed to their characters. Stuck? Some int/skill checks will have the DM giving you some hints at certain levels. Don't want to bother? Bashing the door down is covered as an option. Can't succeed on your bash? Then the DM is instructed to just provide some damage as the door falls down to the parties attempts. THis isn't the same old roll to continue the adventure nonsense. It's a player puzzle, which is great, with options to bypass it, which is also great. It goes on a little long, but clearly shows a greater knowledge of design.
Can you have a B/X dungeon with five rooms? I guess so. But then it feels more like a "plot" adventure from 3e/5e. Linear. Forced fights. But then the chosen format would get long, at almost a page per room any real length would be hard to manage.
I guess a "its ok" means I don't hate it, but there's just not much to it.
This is $2 on DriveThru. The preview is three pages. The last page shows you the (probable) non-combat centaur encounter. Longish, but ok I guess?
https://www.drivethrurpg.com/product/279695/Shrine-of-the-Wolf-Maidens?1892600