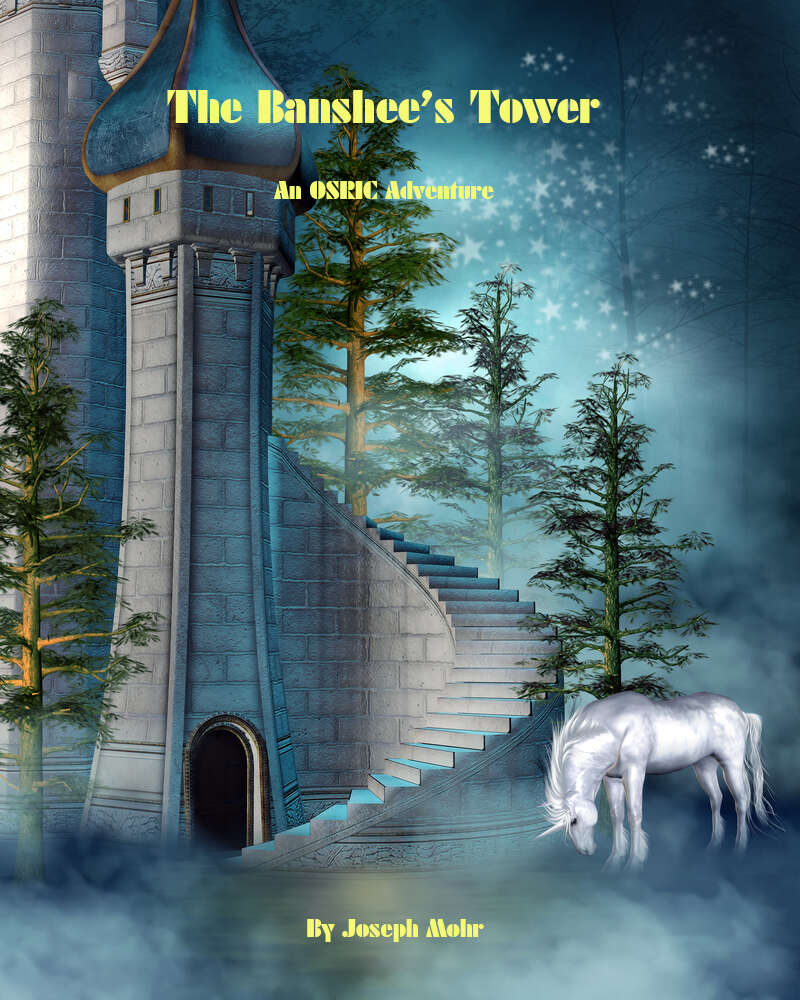 By Joseph Mohr
Old School Roleplaying
OSRIC
Levels 6-8
Travelers have complained recently about hearing strange noises and seeing strange things at an abandoned elven tower on the outskirts of the great forest. Some of these travelers have even reported deaths among their companions from mere firght at what they have seen or heard at the tower. Legends about this tower are that it once belonged to a banished elven princess. The elves of the woods sieged this tower several hundred years ago. Few humans remember the reasons why, But a few bards mention a legendary harp made of solid gold once owned by the princess. And it is said to have incredible magical powers…..
This thirty page single-column adventure details a ruined tower & dungeon with about 27 rooms scattered over four levels. Minimally keyed but with extensive, non-intentional, padding, it had my teeth grinding the entire time.
One of my first college classes was a public speaking one. They used the gimmick of recording your talk for you to review later. Once I heard all of my Ummm, Ahhh, You Know pauses I was fixed for life; I almost never do that anymore in any form of speaking. I'm going to do something similar to that in this review.
"2. Guard Post
This was once a guard post. Men were stationed here to guard the room. They guarded it well. There is refuse from the guards beds on the floor. The guards items no longer remain but the guards do. 12 Wights (former guards)"
Ok, got it? Repetition. Yeahs, it's also a terrible description with the past referenced, trivia and puts the most obvious things at the end. Hopefully you now cannot unsee these things. Now let's look at a more subtle example from this adventure.
"16. Guard Post
This was once a guard post and barracks. Bedding is strewn about the place and water has pooled up in the southern portion of the room. The most trusted and loyal of Shandalar Raloqen's soldiers are still guarding this room."
No? Not convinced? How about the potomac example of a bad room description, from that Dungeon Magazine adventure. Remember it? A long room description describing the contents in all its glory, only to end with "but that was all looted long ago and none of it remains."
And from the adventure "This room was once the armory for the tower. This area clearly saw some battle as a large section of the north wall has been caved in. The source of this collapse is still found in the room. A large boulder once fired by a trebuchet sits in the center of the floor.
This area has many thick webs all across the room. Glints of metal can be seen from racks along the south wall."
This thing does this over and over and over and over again. It feels like every single room is in this form. This was X. But it now Y. And this things in the room was once A. It is now B.
"Where a gate house once stood there is nothing but emptiness. The two structures beside the opening clearly were designed to threaten anyone entering from this point. There are arrow slits still visible from both sides of this entrance. The gates have rotted away. The roof above this area has fallen in. Bits of rubble scattered in this area suggest that this was once a well guarded part of the fortress."
"Defenders of the tower used this fortified area to fire arrows at attackers. Arrow slits point in three directions. Now all that remains here are arrowheads stacked near the wall. These were once attached to arrows and were in barrels for the defenders use. Those wooden arrows and barrels have disappeared over time but the arrowheads remain."
These things are empty. They are nothing. Nothing but padding around rubble.
There's a statue. It's noted as not having any magical properties. Well of fucking course not. That's the usual state of the fucking world. No, wait, I'm upset. I'm upset that all of those arrowheads, rubble, boulders, rotter gates and so on ALSO don't tell me that they have no magical properties. Do they or don't they?
Dead Elf Chick/Banshee's name is/was Shandalar Raloqen. That name appears no less than than 35 times in 30 pages and twenty times in the 27 rooms of the dungeon. "This was Shandalar Raloqen's cup. Shandalar Raloqen drank from it. Because Shandalar Raloqen needed water to live." No, that's not in the text, but it COULD be.
This is padded all to hell and is a perfect example of why one needs an editor. But then again, everyone here knows that, having long suffered my "I don't give a fuck" typo style
On the plus side there's a curse scroll that turns you in to a puddle of water and you drain away in the floor cracks. Dig it! Also, it's on Shandalar Raloqen desk, next to a Candle of Insanity. Why did she, in life, keep that on her desk? Meh. Also, I wonder if that desk is magical …
Ultra minimally keyed and padded, unintentionally I think, out to fill word count and page count.
This is Pay What You Want on DriveThru with a suggested price of $2.50. The preview is six pages long and shows you nothing of the adventure except a wandering monster chart (full of bats & rats! For levels 6-8! Simulation is boring) and the lame-o backstory of Shandalar Raloqen.

https://www.drivethrurpg.com/product/284021/The-Banshees-Tower?1892600