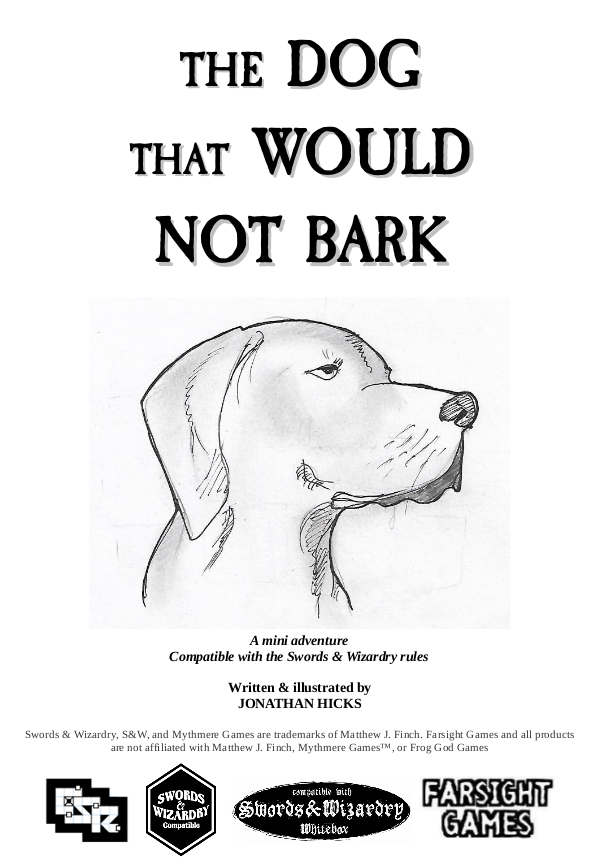 By Jonathan Hicks
Farsight Games
Swords & Wizardry
Level: Who the fuck knows?
When a dog comes running to the players looking for attention, what dangers will they be led to?

This six page adventure has one encounter, with five ghouls. My life is a living hell.

I'm interested, lately, in lower page count adventures. In contrast to the overwritten stuff that seems to dominate the market these days I was thinking about the opposite end of the spectrum. What was G1, like, eight pages or something? And it's one of the best things written. [And, yes Kent, it violates several of the things I judge on and could be written better.] I've been a little intrigued lately by the idea of a lower page count adventure with a higher density of rooms. Alongside that is some thinking about pricing and inflation, again influenced by G1. If you got something really good in six pages, or adequate, what's a fair price for that? Ain't nobody gonna make any money doing this shit, so it's a kind of academic question at this point, but interesting nonetheless. Finally, just how hard is it to make an adventure for publication? How much effort is it to get something short, dense, and at least adequate in a form that other people can use?

With this in mind I selected the Dog That Would Not Bark for a review. Six pages fits the model of what I'm looking for! And $1! Alas, it's actually a six page Sidetrek featuring one encounter. The blurb says it's an "adventure." It's not an adventure, it's an encounter. The blurb has no level listed. Five ghouls … what is that, level 2 or 3?

An agitated dog runs up barking, making no sound. He wants you to follow him to a ruin nearby. Inside are five ghouls about to eat two little kids. ADVENTURE! Wonder! VALUE! Population: you.

Six pages for this shit. Oh! Oh! "If the party did well then you can put a magic item in the treasure by rolling on the table in the core book." This is how you write an adventure?

Yeah, the soundless bark is interesting. As is the ghouls about to eat the kids. And the kids say the dog is actually their uncle turned in to a dog by a wizard. But come on man, six pages? Seriously? There are dungeon with fifty or sixty rooms that come in six pages. That pack this much adventure in to a decent percentage of their rooms.

What a world. What a world. Time to try and find another example to support my thesis and ignore this ever existed. Sometimes science is about conviction.
This is $1 at DriveThru. The preview is but two page long. If it were longer you'd know how much "value" you were getting and not buy it. The second page is representative of the adventure. Lots of whitespace with a couple sentences of text.

https://www.drivethrurpg.com/product/269108/The-Dog-That-Would-Not-Bark?affiliate_id=1892600