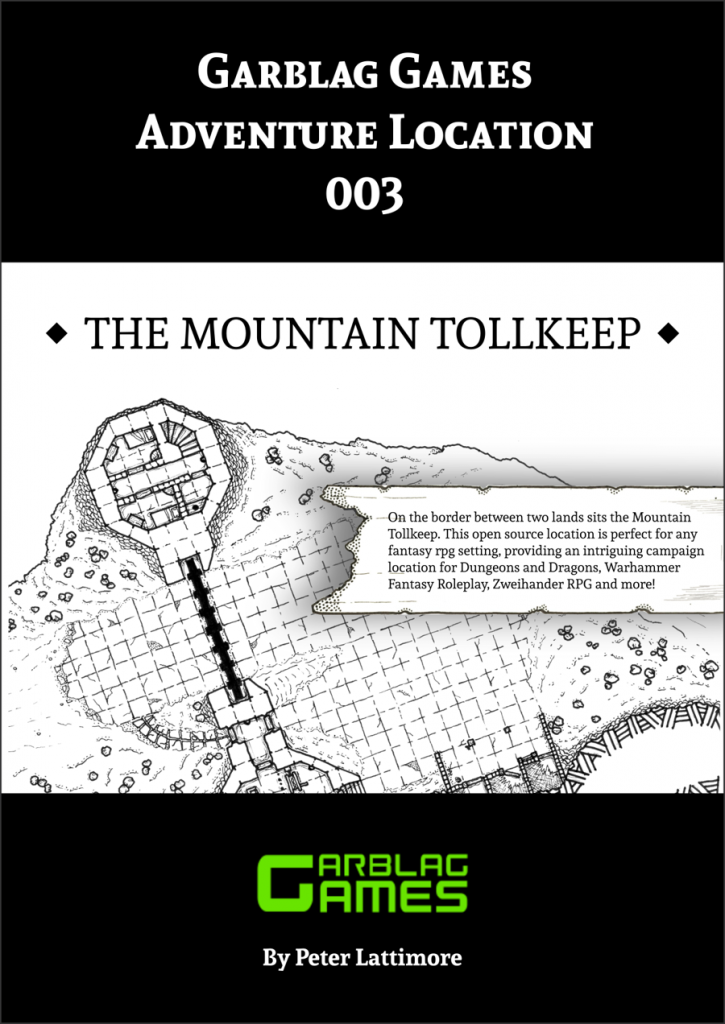 By Peter Lattimore
Garblag Games
OSR/Warhammer

High on a mountain side where the pass skirts the flank of a massive peak sit two towers standing proud against the sky. Between them a thick wall and portcullis bar the path of anyone seeking to sneak from one land to another, for whatever purpose. The walls of this structure have witnessed many things: diplomatic envoys hell-bent on trade deals, generals on horseback with declarations of war, displaced peasantfolk hammering on it's gates with malnourished hands.


This ten page "locale" is not an adventure. It describes a location, barely. Two towers with a wall running between them, closing off a mountain pass between two countries. It is devoid of any but the most basic location information.

Not an adventure. It is basically a map and then some text describing the map in a VERY basic way. Like, the map shows murder holes and the text says "there are murder holes on the wall", or the map has two rooms on a floor labeled "bunkrooms" and the text of the product says "there are two bunkrooms on this floor." IE: the text almost always adds nothing to the map and, while it doesn't describe room dimensions, it does essentially the same thing with everything on the map EXCEPT room dimensions.

There are no NPC's. There's no garrison commander, or drunk soldiers, or anything like that. When it mentions people, and it seldom does, it mentions them in the most generic way possible. "The commander might …"

And it's full of "might." It contains useful advice like "you can change the walls from stone to something else to fit your campaign better" or "defenders are most likely to be seen on the walls", or, in a hook "we'll leave the blackmail option up to you." So, basically, this product is a one page map expanded to ten pages with almost nothing else.

And even the map suffers. The two towers are called Falcon and Eerie, but the maps generally don't note which tower is which.

I bought this on DriveThru and was gonna print it out, but it says i can't reproduce it in ANY way unless I contact the designer, and I can't find contact information for them. Yes, I'm being an ass.

There's nothing here. I'd say it's not even a location, but rather just a map.

This is available on DriveThru for $2. There's no preview, otherwise you might know beforehand what you're buying.
https://www.drivethrurpg.com/product/267577/Adventure-Location-003–The-Mountain-Tollkeep?affiliate_id=1892600