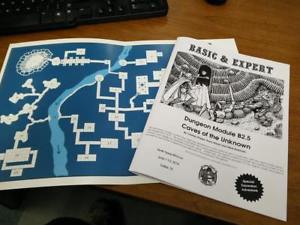 By Charley Phipps, Thom Wilson, Mike Badolato
ThrowiGames & NTRPGCon
B/X
Levels 2-4
This 28 page adventure details the Daves of the Unknown dungeon from B2/Keep on the Borderlands, that was initially left blank for the DM to populate. It has about 44 encounters in the main Caves of the Unknown area, and expands the Lizardman mound and a couple of wilderness areas. This adventure provides an answer to the question: can you be both minimally keyed and wordy?

I picked this up at NTRPGcon. After writing this review I discovered that it appears to be physical copies only … and those copies are hard to come by. Oops. Sorry, I don't usually do that. It looks like BadMike sells them in this storefront. Uh, I mean … SUCK IT FOOLS! I HAVE SOMETHING YOU CANT HAVE! Bwahahahahaha! Until I sell of my collection again. But first I have to rebuy it. Anyway …

Three authors and three separate sections: Charley with the Caves, Thom with the additional Lizardman mount and Mike with the three supplemental "one room" caves.

The second two are easy: they are too long. Column long rooms in the lizard mound and page and column long descriptions of a grizzly bear cave are too much for me, given the basic nature of the encounters.

The Caves of Unknown have more meat to them. And thus more sins. The writing style in all three is quite loosy goosy. Almost stream of consciousness. There's a lot of padding, and I note in particular the Quantum nature of it. "IF the characters search the [x] then they find …" Or a room "appears to have once been …" This is not effective or efficient writing of descriptions. Ray goes over this in his Writing with Style booklet for RPG writers.

The padding is strong with this one and the loose style does not help scannability. The dungeon is pretty close to Vanilla and minimally keyed, which makes the "four to six rooms per page" stand out, even with the larger font size. There's a snake under the rocks near the secret door. Further, there's context involved in the descriptions which often clogs things up. We learn that the lost Thouls get their water from the room with the harpy, sneaking by her while shes asleep. Of course, they attack immediately, so this is a just an appeal to ecology. And explaining of WHY something is. The Thouls must have a water source! The bugbears are working for someone! And so on. D&D seldom needs a WHY.

Otherwise, it's pretty vanilla. Skeletons wear amulets to make them harder to turn. [Not one of Gygax's great moments, and certainly not something to emulate.] Ghouls jump out of sarcophaguses when opened. Treasure is generic book items … and I'm sure B/X got its kiddie reputation based on the preponderance (exclusive) use of book monsters and magic items. They're generic at this point.

And yet, there are hilights. A burned body on the floor … except for his robe, one of fire resistance. The naked woman in the forest ISNT a nymph, but a werewolf, looking not to kill but to infect others to grow a pack. A decent map, with underground river and several different encounter areas/themes … even if 85% of the dungeon does lie behind an easily missed secret door. Seriously … do no clues at all for that door? That seems a bit rough. I mean, the tossing a 44 room dungeon after room five seems a bit much.

It's just another dungeon. And that can be ok, but it should be easier to use. Also, I'm not sure I like inline stat blocks combined with fat fonts. Putting them at the end of the room would have made scanning the room easier, I think?

Anyway, how would you, the reader, know? You're not gonna see a copy of this. 🙂