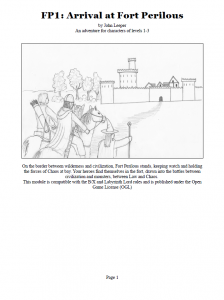 By John Leeper
Grey Goblin Games
Labyrinth Lord
Levels 1-3
On the border between wilderness and civilization, Fort Perilous stands, keeping watch and holding the forces of Chaos at bay. Your heroes find themselves in the fort, drawn into the battles between civilization and monsters, between Law and Chaos.
This thirty page adventure describes a home base/fort, the region, and three dungeons with about seventy rooms between them. It's ok, but tends to the UNREMARKABLE side of the evocativeness spectrum, with it being just a hair more than minimalist in its descriptions.
The fort/home base takes about three pages to describe: one for the map, one for the buildings, and one for the NPC's. That's pretty fucking terse. It doesn't fuck around … either good or bad. The fort locations are all generic, in content if not in attempt. An armory, where things can be bought, sold and repaired. Ok. A church of law, with "five clerics" that provide healing. A paragraph for each of ten locations is about a paragraph too much for each location, as written. It could use a little more that's not "the usual borderlands fort."
The NPC's fare a little better, with a state block, physical appearance and a personality that provides enough to run them but doesn't overstay its welcome. The chief wizard looks like a bank clerk, is crotchety and grumpy, but interested in magic and arcane topics. That'll do. A little bolding of important words, over the two pages of NPC's, would have done wonders to help the DM pick out the keywords while scanning the text.
The region has about sixteen or so locations not fully detailed, each with a short paragraph giving the DM the barest of outlines. It's enough to fill in the blanks and provide an occasional bit of an idea to help the DM kick off further adventures.
The three dungeons are the star of show here, or are meant to be. They feature orcs, hobgoblins, and gnolls, with a few other things thrown in to keep things lively.
It's boring.
Look, I know people like to misinterpret what I say. It helps them carve out a niche for their own ideologies. It's the whole generic/vanilla thing again. Generic Bad while Vanilla can be good. The adventure doesn't have to be full of explosions. It doesn't have to be gonzo. I doesn't need any of that shit … but it does have to have SOMETHING. Let's boil this right down to the core: if a typical room is "3 orcs" is that a good room? No, it's not. It's Vampire Palace level descriptions in 2018. If you're putting that shit in then you're engaged in some kind of performance art or making some kind of point. I don't need a point made. I need some fucking content that helps me run the fucking adventure. Now, that's a rather extreme example, but let's look at a description from this adventure:
"Larder: This room has 2 orcs and 1 orc leader. The normal orcs have shields and hand axes. The leader has a shield and longsword. Hanging from the ceiling are a variety of dead animals, including deer, half a cow, rabbits and birds."
This is just one step beyond the minimal keying. The only additional detail is the dead animals, and, while an attempt, is not the soul of evocativeness. The entire adventure is like this. I appreciate the attempt at terse writing, but not to the extent it is in this adventure. The adventure needs to have something to hang its hat on, or, more correctly, for the DM to hang their hat on. There should be SOMETHING for the DM to riff off of. Without it you've got what is essentially a minimally keyed adventure and I'm not fucking paying for that. That's not adding value. If a random monster generator online can generate your dungeon then why are you charging for it?
The answer is not the minimally keyed dungeon. The answer is not the expanded minimalism of describing the mundane contents of rooms. The answer is not the endless room descriptions that plague other products, clogging them up like a fried peanut butter and banana sandwich. (Mmmm. 60 pounds of impacted fecal colon sandwich …) There's a middle fucking ground. Terse, but evocative. Something for the DM to use without sending them in a Joyce-like pit of text.
This ain't it.
This is $2 at DriveThru. The only preview is that shitty "quick" one they offer and it doesn't even work.https://www.drivethrurpg.com/product/258956/FP1-Arrival-at-Fort-Perilous?affiliate_id=1892600