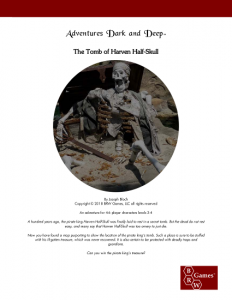 By Joseph Bloch
BRW Games
AD&D
Levels 3-4
A hundred years ago, the pirate king Harven Half-Skull was buried with his ill-gotten booty in a secret tomb. Your band of adventurers have a map that claims to show the final resting place of the pirate king, and you're off to claim his loot. But the dead do not rest easy…
This ten page tomb dungeon has twenty two rooms in three pages, and features undead and water themes, it being the tomb off a pirate king. Workmanlike in its design and presentation, it does a good job of emulating the style of the early AD&D adventures: short rooms with not much fucking around in the writing.
The pyramid tomb is a favorite of designers. Except this time it's not a pyramid but a sea cave And it's not egyptian but a pirate. But, still, tomb with undead, traps and some loot.
This adventure emulates the style of the older AD&D adventure, G1, S1, and so on. The descriptions are workmanlike and to the point. The rooms are not too complicated, te writing not that inspired, and everything with a briske style.Room six tells us "There is a colony of green slime on the ceiling at this point." and that's it. The underground river tells us that "This is a fresh-water river that flows into the sea a half-mile northeast of the tomb. Except in areas #7, #10, and #16-19, there is no air above the surface; the river completely fills the tunnels. It has a slow current moving from the southwest to the northeast." I don't know how to label this style. It's not exactly fact-based, I tend to use that (negatively) for styles that emphasize things like "the statue sits on a dias 6.3cm high with a diameter of 2.6 meters." It's not expanded minimalism either; that's reserved for people who offer too many mundane details in their room descriptions. This is, insead, a kind of, oh, I don't know, baseline room description? It tends to the terse style, concentrates on what you need to run the room, mostly, and doesn't tend to embellish much at all.
It is that lack of embellishment that I have problems with. Adventure writing is such a tightrope. There are so many ways to go wrong. The adventure does nothing wrong (mostly). It also does nothing to recommend itself. This style, and thus this adventure, does nothing to make me want to run it. It comes off ass … dry? Dry isn't right, that's a different design sin. I just don't care about it. This is clearly not a disaster, I don't feel cheated (as I usually do when I'm spouting profanity.) My expectations have not been crushed. I just don't care about running this. I know there's a segment out there that worships early T$R adventures and like this style. I don't get it. It seems like nostalgia worship to me. I don't need laser pistols, gonzo elements or grim dark to make me like something, but you gotta have SOMETHING … and that's what this lacks. Something to make you want to run it.
I can quibble with some of the choices made. That green slime encounter is nothing special AT ALL. I'd like to see it kicked up a bit, a little more evocative, better word choices. Certain rooms (Fresco Room, I'm looking at you. You too Shrine Room) could use another pass at the editing to tighten up the descriptions. They either get too wordy or they don't put the most important things near the top of the description. [Things the DM needs first go high in the description and expanded details go lower.] I don't see an editor attached. If that's the case then Joe did a decent job by himself, and clearly has some vision of what he wants, but lacks the outside eyeballs and detachment that a good editor can provide. Not that there are many good editors, so I'm speaking academically of course.
It's pretty clear Joe understands how certain D&D elements work. There is a chamber you can only get to by following the (completely submerged) underground river … with a shelf high up with a body and a magic item. In another area there are keys hanging underneath a bridge the party crosses over. Rewarding exploration and people that go a little bit farther is good design. Likewise, he's got a golden crown with jewels with magic powers … and has an EGO/is intelligent … and a bit evil. This is a great item. First, it;s the kind of thing that the part will keep and adds to the fun of future adventures as someone wears it around all the time, in town, in the tavern etc. Second, it's intelligent, which again gives you more hooks in the future to play with. Third, its evil and so the party has some FUN moral issues to sort out. Arguing about orc babies is not fun. What to do with a SLIGHTLY evil magic item IS fun. Or maybe that's just my obsession is the Eye and Hand.
I will say that there is something weird going on with the undead; I don't think they are a challenge? This is for Adventures Dark and Deep, which I'm going to assume is an AD&D clone and follows AD&D turning. This is also for levels 3-4 … and has more than a few challenges with skeletons in it. Don't they turn on like a … 4 or something, or auto-turn? That's not really an encounter at all … but maybe its supposed to be that way? Turning undead in D&D doesn't work, I think. Even at low levels skeletons are not a threat if you have a cleric. That's too bad. They are a classic monster and deserve more love. Even Gygax knew they were broken, with his +1 amulets in the Borderlands.
Anyway, hey Joe, time to return from your vaudeville show. Now that you can emulate old D&D you might try kicking things up a bit. Kick up those rooms descriptions a notch or two. No need for more words, generally, just better word choice. That green slime encounter, for example. A little more evocative to make people excited to run it .. .by which I mean putting a strong image in to their heads.
This is $2.50 at DriveThru. The preview is one page and show you the first eight or so rooms. Which is exactly what a preview SHOULD do, giving you the ability to understand what you're actually buying. You can check out the Fresco room, room three, to see what I mean about the need to tighten up the writing in places, and the rest of the rooms show the workmanlike writing style.https://www.drivethrurpg.com/product/257274/The-Tomb-of-Harven-HalfSkull?affiliate_id=1892600