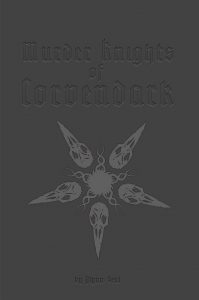 By Glynn Seal
MonkeyBlood Design
Swords & Wizardry
Level 4
No one knows from where they came. All feathers and spite. Their vile beaks spit angry screeches, and beneath their wing beats, acrid miasmas swirl. […] Since the coming of this otherworldly realm, the Grimwater Lake region has been plagued by the atrocities of the 'harpies' — as they have been incorrectly named — regularly raiding the surface lands. None have been ravaged more so than Wychington, a small town on the northern lake edge at the mouth of the Lesselling River. […] The Lord of Wychington, Corben Truss, has sent out word of the need for aid and assistance to any that will heed it. Maybe, just maybe, that is you?
This 49 page adventure describes a couple of adventuring locations with about seventy rooms. A small town gets attacked by things they think are harpies, but are actually crowmen. It's vaguely interesting, but hard to get in to. Something is wrong and I don't know what.
This should be a cool adventure. The crowman thing is interesting. The maps looks good, both the color regional ones and the location maps. It's got some decent ideas in it. The town has some barely covered viscera and blood from the attack the night before. The crowmen burn people alive. They feed on innards. "The attack is as violent and damaging as it can be for the townsfolk." That's pretty nice. Good advice for the DM to convey a mood.
But … when I look at this my reactions is that it's a combination of hipster story-game adventure and some Pathfinder adventure. And I can't point to ANYTHING that makes me think that. It doesn't click, or resonate. The descriptions might feel flat? I don't know.
Here's one for a certain room: "This chamber is covered in niches with burning red candles. Bits of viscera cover the floor and rusting iron chains hang from the ceiling with half-eaten cadavers hanging on blood- soaked hooks." That's one of the better descriptions, and I'm not sure I would characterize it as sanitized … but it also doesn't come off as … I care about?
I don't know what the fuck it wrong.
I DO know that other bots are misses. The DM is advised to have the characters arrive in town at dusk and if not then fuck with them with attacks, horses running off, etc, until they do arrive at dusk. And that's not for any real reason that I can tell. Yeah, the first attack happens at night, but … so? There's viscera over town, people are cleaning up, but there's no advice on what they relate and so on … which would seem to be a natural question if you walked in to town and saw a bunch of blood being cleaned up all over the place. The actual night attack in town doesn't happen until page 18, so the adventure can get a bit long in tooth in relating irrelevant things. The town map is not helpful, separating the key from the map, and the town entries are not in any kind of order I can detect … just a rando list of place names to dig through to find something. And some rooms go on WAY too long, like the one with the exhaustive list of what two dead adventurers are carrying.
But the main issue is that fucking text. I don't know. Font, background images, spacing and margins … it all points to something too interested in itself. But that's not something that impacts the text. It actually gives decent advice in places, like an order of battle for how the crowmen react to incursions.
Here's another bit of text: "A three-day old, disembowelled human female corpse lies here caked in blood and bits of guts. This is a Wychington villager that was dragged down here as a later meal." What a fun introduction to a new location!
Maybe they feel abstracted, or disconnected from the rest of the text?
You know, it feels flat. Even with the more colorful descriptions. Flat in the way that Barrowmaze sequel, Spider Caves? felt flat. Or maybe it doesn't feel cohesive?
So, look, it's probably a fine adventure. I'm probably just off today. Maybe.
I have no idea what to think about this. It has parts that seem cool … but it just doesn't click for me. At $5, with no preview, it's kind of much to take a chance on. If you're rolling in cash, buy it and tell me whats wrong with it. My eyes glaze over.
This is $5 on DriveThru. The preview is broken.https://www.drivethrurpg.com/product/254507/Murder-Knights-of-Corvendark?affiliate_id=1892600