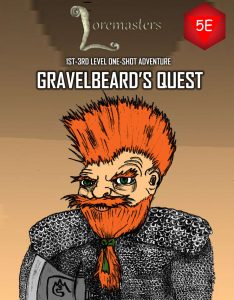 By Lyndsey Stern
Loremasters
5e
Levels 1-3
Take your adventurers on a daunting quest through a dangerous, uncharted cave system to discover the mystery behind the missing city guards. Will they emerge victorious or become yet another group swallowed by the depths of the tunnels?
This fifteen page "adventure" contains one encounter. Perhaps a new low in Page count to encounter ratio?
A page and a half of read-aloud to get in to the adventure. The usual nonsense hook of THIS IS IMPORTANT BUT I DONT HAVE TIME.
I wish I could truly relate the map to you. It's a battlemap of a 50 foot secret room with two orcs in it a two pits (containing oozes) in a hallway outside. Encounter the pit and then the orcs come out.
This is what passes for an adventure in 2018.
There's an inn at the beginning with Mr I Cant Be Bothered in it. There are rumors to be had. All in fact based text for the DM. Why is it called the Troll Stew Inn? Not because "A bit of elf a bit of dwarf, a bit of human … just like a tasty troll stew." No. "Troll Stew Tavern and Inn was humorously named for the fact that it caters to a large variety of different races all mixed together; much like a troll might make its stew." In character adds flavor. It sets a tone. Sure, it can go too far and there's a place for DM text, but in rumors? That should be dripping with Voice, not facts.
The text engages in explaining; justifying itself in a game in which elfs shoot fireballs. The pit is covered with a major illusion, etc. In fact, let's examinejust one of the six paragraphs that take up three quarters of a page to describe the pit:
"Physical interaction with the major image spell effect reveals it to be an Illusion because things can pass through it. A PC that uses its action to examine the image can determine that it is an Illusion with a successful Intelligence (Investigation) check against a DC of 14. If a creature discerns the Illusion for what it is, the creature can see through the image, and its other sensory qualities become faint to the creature."
It's a pit covered by an illusion (DC14.)
Describe the pit paragraph. Inspect the floor paragraph. Viewing the pit paragraph. Fall paragraph. Ooze tactics paragraph. Escaping the pit paragraph.
There is no joy.
On the plus side the read-aloud is offset in a color box, making it easy to find and read, and the orcs try to drag unconscious bodies to the pits to toss them in … a nice orcish touch.
I was hoping for more with this. I'm always hoping for more. I'm hoping this is a new writer that just has no experience and has never seen any adventure other than the Adventurer League dreck.
This is $3 at DriveThru. The preview is three pages. The third page is the only one that shows you anything, and that's just some inn text. It's joyless.
http://www.drivethrurpg.com/product/241634/Gravelbeards-Quest