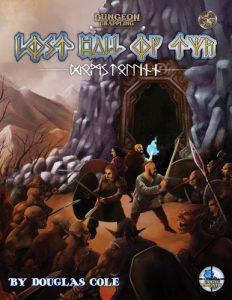 By Douglas H. Cole
Gaming Ballastic LLC
5e
Levels 4-7
The Hall of Judgment: Here Tyr himself guided human and dwarf in the ways of honor, law, retribution, and justice in war and life. It has been lost for centuries, hidden by the power of Asgard from those without permission to enter. Until now . . .
Well it's Saturday. Time to review another bad 5e adventure. Joy. Oh wait, it's not utter dreck!
This 62 page norse-flavored adventure has sixteen or so linear encounters (with a few optional ones), mostly wilderness ones, before one room temple with a demon in it is encountered. The actual linear adventure is only about 16 pages, the rest being the lengthy introduction and the bestiary and battle maps at the end. The writing, while long, tends to be well organized in the individual encounters. But it also tends to make certain assumptions that leaves out critical information, leaving the DM confused with some of the baseline assumptions.
There's a three page backstory that read like fiction. "Una's bond with Aeiri strengthened over the distance …" I don't bitch about this stuff anymore, since I can just skip the "failed novelist" garbage. Well, except when I can't skip it because the fucking adventure is mixed in to it. What are you supposed to do, with what, and how? Well kids it's all mixed in to that backstory. NOT. COOL. The adventure needs a short summary so the non-masochists among us can avoid the backstory. We're on a quest to find the Domstollinn, whatever the fuck that is. I gathered, through the 60 pages, that we're going to this hall at the behest of some priests and they gave us something to give us some kind of True Seeing kind of power. Summaries are critical to these sorts of adventures. Orient the DM BEFORE they get in to the text so they know what to expect. Yes, if you are an expert you can have it unfold via the text and not do a summary. New Flash: You are not an expert. I accept you're the hero of your own story, but do the rest of us a favor and put in a summary.
There's a map of the region. I guess it's a map, there's no key. It doesn't really matter anyway since, as far as I can tell, it doesn't show where you are going. Or any of the encounters. It's just a picture of the region without any relevance to the adventure. It's MORE confusing this way since I spent time studying it, trying to figure out where things were. It was hard, because it turns out they weren't on the map. At least I don't think they were?
The first encounter on the way (event based, remember), has a "striking rock format" and three out of place groupings of individual trees. First, let me nit and note that "a striking rock formation" is a garbage description. Striking is a conclusion. Tell us what it looks like and let the players determine it is striking. But, the real issue is the mistletoe. The trick to this encounter is finding the direction of the mistletoe. What mistletoe, you may ask. I don't know. There is about two pages of info on this encounter and one bullet point, near the end and in the middle of the text says "The three trees, with mistletoe at the tip …" This is TERRIBLE design. When I say it makes certain assumptions, this is what I mean. Clearly, the designer had a vision in their head. They knew three trees had mistletoe and this was a clue. But they have not clued US in to that fact. The adventure does this over and over again.
There are some riddle-like things that are quite difficult. There's a one word hint, Yggdrasil, that is supposed to clue you in that those trees are the right ones. Later on there's a different one that says "Willpower through suffering increases joy." This is your hint that you need to lift a rock and touch a door to open it. Those are both some pretty tenuous hints.
If you can get past the omissions of those base assumptions then the actual text is decently organized,or at least not poorly organized. Whitespace and bolding is used to good effect. There is still A LOT of text for what are simple encounters, but it's not nearly as bad as the page count would indicate.
The encounters proper range from the riddle-like things I mentioned earlier, to straight up fights (with enemies teleported in to advantageous positions by a fae queen. Ug!) to skill challenges like climbing a cliff or crossing a rope bridge. The temple at the end is one room, with a trapped demon in it. A little anti-climactic after a one-month wilderness journey.
All is not hopeless though. There are some sections on using alternative means to cross the bridge, climb the wall, etc. It's duel-stat'd for S&W and to the designers credit they seem tp get at least one aspect of old school play: no die roll is needed if the party describes well what they are doing. Die rolling is for looosers who don't role play. Die rolling means a chance of failure.
This is a good example of the modern method of making an adventure. The Mcguffin is referred to as 'the Mcguffin' by the designer. The entire thing is about little set-piece-like events that take place. You have some small freedom in the individual events (unlike many adventures and to this designers credit) but the thing as a whole is just one thing after another with little choice involved. The text is long, but not atrocious by 5e/Pathfinder standards, although it trails by a long shot what I would consider good … although a decent job is done at organizing it. Except for those assumptions that each encounter seems based on. The editing job/proofreading was very poor not to catch that; maybe it was just copyedited?
"Not as bad as the usual 5e fare" isn't exactly a ringing endorsement, but it IS runnable. Kind of. Once you figure out what is going on. That's a damn sight better than most.
This is $10 at DriveThru. The preview is eight pages long and, to its credit, shows a couple of encounters, including the notorious #2, with the Ash & Mistletoe. It's on about page five of the preview if you want to check out the weird assumptions made. https://www.drivethrurpg.com/product/226510/Lost-Hall-of-Tyr?affiliate_id=1892600