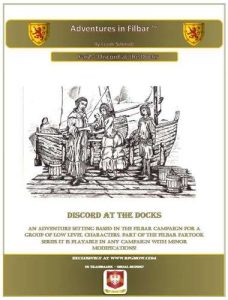 By Frank Schmidt
Adventures in Filbar
1e
Levels 1-3
The adventure begins as your ship docks in Phoenix and you and your group debark. …The PCs were on a delivery mission but mistook a subject on the dock as the intended recipient. The true owner is not pleased at the foul up and demands the party fix it IMMEDIATELY.
I accidentally bought this piece of garbage, not realizing it was a part of the Adventures in Filbar line. (I know, I know, how could I NOT realize it?) I previously reviewed a 5e AiF product, finding it linear with no ability for the party to make decisions. This one is the same. This may be the worst series of adventures ever written. It's coherent, it just makes NO pretense of giving the party any control over their adventure. Anyway, it's fourteen pages and deals with a linear etch quest on the docks.
The opening intro/scene tells you all you need to know. In a monologue you arrive, by ship, on some docks, in order to deliver a package you've been paid for. You hand it off to a guy on the docks. And thus you start the adventure … with read-aloud telling you that you handed off the package. To the wrong man, it turns out. We're told, in the next read-aloud, where they are confronted by their REAL contact: "While the PCs may have felt they were successful initially, the contact with Costas should cause them great consternation."
Does anyone like this? Failing off screen? Being forced in to actions? "You see a cave full of orcs. You run in and strip naked while cussing them out in orcish; what do you do now?" I'll tell you what I do. I leave.
At GenCon this year I was in a game, a heartbreaker, in which the DM did flashbacks. He explained "players didn't like it when I described what their characters did, they called it a railroad. But they seem much more accepting of flashbacks. They are the same, so I don't see why they care …" I kept my fucking mouth shut. That poor fucking dude didn't need to know what a tool he was.
Here's another gem from the adventure: "If the PCs fail to role play a convincing argument for the mistake the captain will intercede and point out that the PCs will go retrieve the package immediately." If you don't take the hook then the sea captain steps in and sets the hook for you.
At one point the read-aloud describes you going in to a tavern, so you can have a bar fight. It doesn't present an opportunity for you to go in. It's not hiding info in there for you to seek out. It just says that you go in. So the designer can have a bar fight.
You're confronted by a tax collector. When you get off the ship. If you resist guards suddenly show up. They have 27hp each. Another guy, and enemy, in the adventure has 44hp. AC 14. And yet this claims to be a 1e adventure. It's clear that this is some 5e garbage with a 1e label stuck on it.
The actual adventure is just a fetch quest.Bob have it to Tom. Go "find" Tom (ie: advance to next scene.) Tom gave it to Ed, advance to next scene with Ed.
I've got a very special list I keep. It contains the names of publishers I don't buy from. To get on it there must be a clear indication that the situation is hopeless. It's pointless to review more, an exercise in masochism. Filbar EASILY makes that list. It IS coherent, it just fails in every other way to present an adventuring environment.
It's $2 on DriveThru. The preview is two pages and you get to see the railroad intro and the railroad hook. https://www.drivethrurpg.com/product/221626/Far2–Discord-at-the-Docks?affiliate_id=1892600