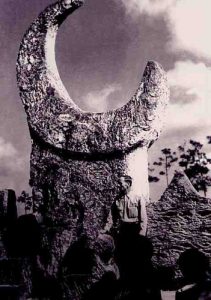 By Oswald
Self Published
OD&D
Level 1-3
A man built a temple to a woman who died. It became a shrine for those who lost a spouse too soon. Later. Much later. A young couple came. Their tribes warred so they could only marry in death. It was poison. Which angered her. They walk the temple ever since, cursed by a shrine spirit. She has a hatred of suicide only dead widows can know.
Heads Up: This adventure went through my Critique Partner service.
This is an eight page PWYW exploration adventure in a shrine/tomb that kind of channels the backstory of the Taj Mahal. It's got great imagery and lots of little scenes that lend this wonderful vibe of mourning and loss to the various areas. There's some great construction in this, making things work together to an overall effect. It's dreamy, haunting, frightening, and does it all through interaction with the characters, forcing nothing on them. It tempts.
Eight pages with twelve rooms makes this a pretty focused adventure. A title page, a map page, a rumor/mechanics page, and then four pages of keyed encounters and one more half page describing a couple of more mechanical pieces. The adventure describes Coral Castle, an old shrine and temple. What do we know about it? Well "the superstitious lot of local muck dwellers have this to say about it …" says the intro to the rumor table. I'd like to note that one intro sentence provides more gameable inspiration about the local village than dozens of the throw-away villages I've seen. "Muck dwellers" … maybe on stilts, on the edge of a bog, muck, literally? Oh yeah. The rumors, twelve, add to the fun. They are written in a kind of folk manner, embedding some part of the teller in to their wording. Reading rumor nine "We were a proud people once …" it starts out. And you get, through it, a detailed image of the speaker in your mind. A mournful kind of person, maybe a bit in their cups, knowing what kind of people they once were and how they've fallen to what they are now. To be clear: there's nothing more of the local village presented beyond this rumor table. And this adventure does not, in any way, need it.
The imagery in this adventure is great. Rot swollen door. Cherry blossom leaves fall in slight wind. Sky blue splotches of color bleeding through the coral wall. A bowl of rot. A floor dirt soaked and hardened with animal blood. But that's only the static descriptions. The Crypt of Widowed Virgins, underground, as some water on the floor. Skeletons in the lower alcoves crawl through the water, making no ripples, attempting to drag players in to the lower alcoves and drown them. Nice stuff! Short. Strong imagery. Great play opportunities. In an alter room skeletons in frilly pastel trousers playing pipes and carrying a litter with a skeletal bride and fight the party to get her to the altar to marry. Strong use of language compliments the more dynamic room elements, that are themselves well done, to bring about this excellent picture built up in the DMs head.
I tend to harp on terse and evocative writing. I do this because boring and lengthy writing is a common problem in most adventures and making it terse and evocative is an easy contrast that can't be confused. There are Other Ways though. You can write sticky. You can create a little element that, while longer, only needs to be read once in your lifetime and it will remain with you. Old Bay, the hill giant in the crab-men caves from Fight On #3 (itself one of the best dungeon levels ever) is one of those characters. Once read you will never forget the old crab-leg loving guy. Likewise there are at least three things described in this adventure, a little longer than normal, that you will only need to read once, maybe just referring back to stat at some point but never needing to come back for their character. You grok them. There are two lovers trapped inside the shrine, cursed. There is a maze that can appear between doorways and a "minotaur" in the maze. All three are sticky in the same way as old bay. The woman, Alaesis is determined. Steely eyed obsession. She refuses to feel despair. Aturio is panicked and worried, desperate for help. Knows he is hunted. Has died 86 times and is a broken man. The minotaur is their child (not A&A, but the Taj Mahal builder dude and his dead love) that was never conceived. Perfect-looking, 20, Strong, beautiful, intelligent, kingly. Never fails morals. He could have been anything. He would have been great. There's more text for all three, but I've given you some of the highlights. VERY strong characterization for the DM to work with and expand upon, without having to refer back to multiple paragraphs of text.
There's a great element of the weird in this. You can steal gems from the night sky mural on the roof of one of the rooms. "Afterward, looted stars no longer show at night. Ever." Nice! Or w window you can crawl out of, in to the void you see through it, to see the UNDERSIDE of the castle … and the secret is holds. There's no real attempt to explain this, or the stars, or other details. And there doesn't need to be. It doesn't fall in to the trap of trying to explain the WHY of the weird in a game where elves shoot fireballs. And yet it's not arbitrary. There's a story that can unfold, through the various rooms, if the party pays attention. They can figure out some of the secrets hidden away
The adventure relies on temptation for a lot of its action. There's loot laying around. Looting, in what is essentially a large memorial crypt, while the deceased is present in spirit form, leads EXACTLY where you would expect it to. When you loot, or do other things to piss of the dead lady, some of the room 'activate.' IE: the cherry blossom trees in the garden have their leaves fall and blow … acid leaves that burn the skin. That crypt of widowed virgins? They've mostly got valuable wedding rings on … I love it when a adventure puts this sort of temptation in front of the players. Everyone knows something bad will happen. The players are making a deliberate and informed choice (implicitly informed, sometimes) and tus THEY control the action. And if it were playing I'd gleefully loot the place like a cackling madman. Consequences be damned, they only add to the fun!
It's a good adventure. My critiques are nitpicks. Maybe a little more formatting for certain sections to make the Treasure and Activated sections stand out a bit more than they already do. There's a maze mechanic that you have to read a couple of times to get ahold of it. If I were doing it I'd probably devote a sentence or two to the approach, to try and generate a mythic underworld transition and/or enhance the otherworldly aspect; maybe put it up high on a cliff with a narrow coral path and lots of mists and sea spray or something like that.
This was a solid adventure and the revisions to it have really kicked it up a notch. I think it compares favorably to the adventures Gus L does at Dungeon of Signs. Short/terse. Evocative. Punchy. Memorable. Not forced but presenting opportunities.
The preview on DriveThru is a little TOO good. It's eight pages long. And the adventure is eight pages. Not cool if you believe people are jerks, but WONDERFUL for a Pay What You Want adventure. You'll know EXACTLY what you are getting. Check out the last page for the minotaur description or page four for the Aturio & Alaesis description. Or the second to last page for both the wedding altar and crypt of widowed virgins.
https://www.drivethrurpg.com/product/204557/Curse-of-the-Shrine-Goddess?affiliate_id=1892600