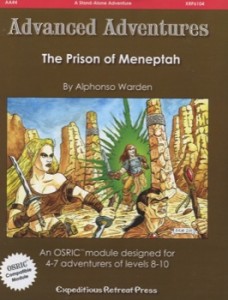 Different strokes for different folks.
In ages long past a backstory was prepared. Through careful cunning the author outlined much trivia that is no longer relevant and not needed for play. Cleverly, major portions of the backstory were interspersed throughout the module, providing a duplicate of much of trivia presented. Verily, the backstory was mighty detailed and contained two separate plot lines, held together through tenuous strands. And thus the lovers of terseness were driven mad. In their despair they turned to the mighty warlock Synopsis, who spoke thus: "The party is sent somewhere to find out what happened to the last party."
The party is transported to a barren desert like wilderness to look for The Last Guys. A small hex map is provided along with a small wandering table. Most of this is not needed, since the planned events lie on a nearby road the party is told to look out for AND there's an immediate encounter with nomads who will direct the party to the appropriate places. There is a brief description of overland travel rates, which I always appreciate in wilderness adventures since I'm always forgetting how many miles a party can move. I'm serious, movement rate to hex scale conversion always seem to throw me for a loop. A couple of the wandering encounters are environmental, and one if with a potentially friendly band of clerics, but most are of the "they fight to the death" variety, with very simple motivations. Actually, Motivation, singular. They fight to the death trying to eat the party. I prefer a tad more variety.
The planned encounters consist of a briefly detailed, but not mapped, ruined city full of undead (with a crap load of ghosts, of the Monster Manual variety.) There's also a ruined palace, a ruined tomb, and a ruined temple before reaching the prison complex.  These could all be bypassed by a smart party, but it's likely they will be investigated as the players try to look for The Last Guys. The ruined capitol is nothing more than a chance to roll a 4-in-10 wandering monster check every 30 minutes, with 'Undead' being the result. The ruined capitol has still more undead, of every variety, including another Ghost. It also has the first moment of "Ug! Not again." for me, a permanent illusion that can't be detected along with a non-detection spell. It also triggered in me a final realization of why I have a problem with many of these modules.
Too much backstory! I don't care why the permanent illusion was created. In fact, by offering me an explanation you are forcing me to therefore question, and in many cases ridicule, the explanation. This sort of 'why the room is the way it is' drives me nuts. I don't care! It doesn't need an explanation! By reading it I must then analyze the reason given, which certainly then makes me mock it. Magic is magic and weird shit happens. Nuff said. There! I could have made the module 15 pages shorter.
The ruined palace has about six keys and is full of undead. Another Ghost appears.
The ruined tomb starts out wrong, in my eyes. There's a poison on the door which has a save or die effect. Fair enough. But it also says something to effect that even if you are wearing gloves you must save or die. Ug! Counterproductive! I wore the damn gloves so I WOULDN'T be impacted by contact poison! That sort of jerking control out of the hands of the party is a big no-no in my book. The ruined tomb with the impassible door has trolls, sandmen, a bodak, a mimic, and a trapper all waiting around for someone to come by. The additional backstory provided indicates that the tomb was built 3000 years ago, so those creatures have been here a LONG time. Wonder what they were eating? Yeah, yeah, I know, I'm being a killjoy pointing this out. I'm not too much of a stickler for this sort of thing, but this jumped out at me. DId I mention the ice elemental and magma elemental princes sitting alone in their throne rooms, just waiting around for the party to come by? Oops, I think I left my naturalism out … This portion, like the palace, is just a hackfest. There's also another Ghost. Better read up on Magic Jar. The map is purely linear, with 15 keys.
The temple isn't too bad. It starts out ok, and has a decent little mini-plot going on. It's short, just just six or so rooms. Yes, the inhabitants want to kill the party. This little section ALMOST gets things right, with a nice little sub-plot of a captured demon and it's lamia lover. It squandered by the hackfest though.
The prison proper is the final location and touches on just about everything I don't care for. The walls are warded against teleportation/passwall, etc. I don't like this sort of thing because of the lack of options it presents the PC's with. It smacks of the designer wanting the party to solve the dungeon their way, rather than letting the party come up with their own solution to problems. This is further exacerbated by the ANOTHER magical ward, which prevents all extra-planer contact. There's will be no Communes, Auguries, Contact Other Plane, or other magical knowledge gathering in this place; you solve the puzzles the way the designer wanted or die guessing. And you'll do much guessing and therefore much digging of graves for fellow party members. There are five linear paths through the dungeon and each must be explored to get the parts of the key which solves the riddle of the complex. You don't need to do this; The Last Guys are in the beginning of one of the linear sections. Find'em, heal them, and sending them on their way solves the module. Of course, the parties going to want to 'explore', and I use that term lightly. Each of the paths is set up for one of the four core classes, with the fifth being full of puzzles. I don't like this sort of thing. First, the linear levels preclude actual exploration. It's just a railroad. Second, the rooms are set up to force the PC's to do certain things. One of the thief rooms forces them climb a wall. Fly, etc don't work here. ARG! No creative play for you! Suck it and do what the designer wanted you to do! There's lots of save of die situations, lots of traps, lots of hacking up monsters, which are released from stasis as soon as the party opens the door. Lame. The entire prison is just a series of puzzle rooms, with varying definitions of the word puzzle. A mini-arena with an announcer that the fighter must enter, etc. There's a PC Mirror of Opposition at the end of most of these, and members of the 'wrong' classes must save or be petrified. I loathed the puzzles because there was a correct answer and no way to shortcut them, thanks to the teleport/commune ban. It's just trial and error for the most part, if you're not thinking the way the designer wanted you to, with each 'Error' resulting in lots of damage/death. For example, a riddle. Guess the correct answer or take damage. There's too many doors slamming shit behind people and doors appearing when you kill the last creature. It all feels like a fake set up.
I did not enjoy this.
This is available on DriveThru.
https://www.drivethrurpg.com/product/55549/Advanced-Adventures-4-Prison-of-Meneptah?affiliate_id=1892600