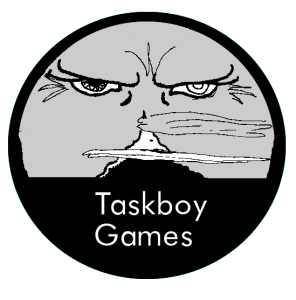 by Joe Johnston
Task Boy Games
Labyrinth Lord
Levels 4-7
Uh … DeRp? A one page hex crawl in a foul swampy region. It gives it the old college try but falls short in its lack of verbs … and content.
I usually try and avoid reviewing one page things, but evidently I'm too dense to understand what I'm buying. It's hard to justify a review with twice as many words as the product you're reviewing. it just feels like I'm picking minutia apart, which is unfair to the designer.
The language used in this is pretty good: "baleful vapours issuing from Mt Foul" is some great imagery, as is some of the laconic humor: "your party has been stranded here until the next ship from capitol arrives (17: chance; check once per month.) Ouch! That's a mood setter, if a bit subtle. 🙂
There's a distinct lack of content here. Repeats of the map take up a lot of space. Repeats of swamp travel take up extra space. Things on the map are unexplained. But the real sin here is the lack of verbs. The folks in the hexes just sit there, as nouns. To paraphrase: "There's a dragon in this hex" or "there's undead in this hex." In this way the crawl is similar to Isle of the Unknown, which also suffered from this problem. The good parts of The Wilderlands, and Nod, etc, are where there's some kind of verb involved. The undead are collecting heads to build a ziggurat, or the dragon tends his near mortal wounds with rare herbs. This turns the description from a static feature to a dynamic encounter with possabilities for the DM to expand upon.
This don't do that.
This is available on DriveThru.
https://www.drivethrurpg.com/product/113026/The-Evil-of-Witches-Fen?1892600