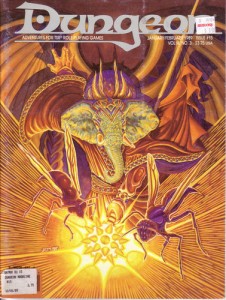 The Wreck of the Shining Star
Richard W Emerich
AD&D
Levels 4-8
This is an empty little adventure on a ship wreck. Over three levels and about thirty rooms you encounter an octopus and an undead. The Rooms are devoid of anything interesting to play with and there's hardly any interesting descriptive text. The adventure mostly consists of a list of what each room contains. Perhaps an adventure that actuaries might find interesting? There is one interesting thing in the adventure, a unique magic item, and it takes half a page to describe. Perhaps someone is trying too hard … and in the wrong ways?
In Pursuit of the Slayer
Carl Sargent
D&D
Levels 6-9
This is a case mystery. The party encounters the remains of a massacre and an obviously evil person. As they follow and chase him to bring him to justice they get information that the evil dude has been known as a good dude for a long time. It's got a time based element so the longer the party dallies the harder the final fight is. It has some decent monsters from the Creature Catalog which mixes things up a bit … for a moment I thought there was some originality here. Bits of this are ok but it seems to telegraph its intentions well ahead of time.
The Dragon's Gift
Thomas M. Kane
AD&D OA
Levels 2-7
I like a lot of the OA adventures in Dungeon, mostly because they have a strong fairy-tale like element. The Celestial Bureaucracy, talking animals and spirits that do more than just "Roll for init as they attack!" add the whimsical element that I am usually looking for. This is a bit of linear railroad, but a mostly enjoyable one with some great encounters. What do you do when you mean a giant along a narrow path, with no room for either to pass by? The "paperwork" trope which always seems so tiresome in most adventures with monster bureaucrats doesn't seem out of place or forced. I suspect that you could mine Dungeon Magazine for OA encounters and sprinkle them throughout your own games and get a lot of the whimsical element that I look for. There's a kind of enforced politeness in these because of the OA character classes/honor nonsense, but if you instead just see it as "you can talk to all the monsters" and VERY few things immediately attack, then you can see the attraction to adventures like this one. Maybe that's because, even though it's linear, the addition of the social elements provide the Choice critical to a good adventure. Oh, yeah, in this one you travel up a river to meet a water spirit who wants to give you some treasure. And he means it!
The Glass House
Wolfgang Baur
AD&D
Levels 4-6
I'm not sure what's up with this one. It's just a simple raid on a house that a giant inhabits. There's a huge backstory with love, selkies, undead, and tragedy. None of which matters because the hacking is going to be short and sweet as the party cuts down the giant and his wolves. There's are elements of the norse in this, with a frost man named Sigurd and a magic cauldron. With some good theming you might be able to salvage something here. MAYBE. If you set the guy up as some place the party had to go, complete with his lazy troll servants, and then added the tragic element to it later then the party would have a nice little quandary on their hands.
Roarwater Caves
Willie Walsh
AD&D
Levels 1-4
A decent adventure! In Dungeon! Woo Hoo! It all starts with a good name: Roarwater Caves. It's a dungeon crawl/raid. I swear I like things are NOT dungeon crawls, but not in this issue. There this guy in town that's buying fish from Xvarts nearby for a fraction of their value and undercutting the local fishermen. Lately his shipments have stopped because the Xvarts have been taken over by bugbears. The xvarts want him to find someone to come kill the bugbears. That's a pretty decent set up. Monsters that are not psychotically evil, some good human natures stuff in there as well. There's also a good end-game chaos play where a large band of kobolds raid the Xvarts as the players enter The Big Fight. Then a bunch more Xvarts from another faction show up, creating even more chaos! AND there's a bunch of shit in the dungeon that the players can use to make things even more Chaotic. Sweet little set up. It's supplemented by a GREAT rumor table that applies to the adventure and is not overly simplistic, some good rooms in the dungeon that are not straightforward, a great map with lots of elevation changes and pallisades/barricades, and the dungeon getting cut off by high tide … and ALL of this has some clues dropped around to let the players know what's going on ahead of time. It's got some good flavor as well, like a container of pitch dyed yellow (which explains the old xvart adage "as yellow as pitch." It's that sort of thing I get really excited about. Nice job. Worth grabbing. Oh, there's a bunch of crappy shit I left out, like the Xvarts double-crossing the players. That's lame. The players need to learn to love again and reinforcing the Kill Em All attitude because of a double-cross is uncool. There is a cute section that has the xvarts detaining the players 'for medical reasons.' which is a nice jab.
The Elephants Graveyard
David Howery
AD&D
Levels 5-7
This is an isle of Dread clone, maybe mashed up with the old Source of Nile bookkeeping game. Go on a jungle adventure with pack animals, encounter hostile cannibals and natives, find the lost valley and collect loot, then explore the ruined temple with some Indian Jones traps thrown in. It seems mostly like an exercise in tedious bookkeeping as you manage your pack animals load, supplies for your porters, and the bullshit disease and heat rules from WSG which do NOTHING to add fun to the game.You might be able to lift the hook. Imagine lots of copies of a fake treasure map going around town, being sold to suckers. Except one sage KNOWS its not fake, or part of it isn't anyway, and hires a group of Tomb Raiders. I like the hidden knowledge aspect of that as well as the 'wagon train of idiots' that could happen because of it, ala Gone Fishin'!