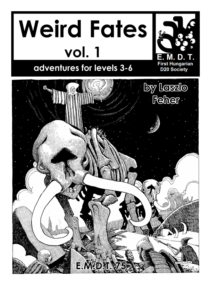 By Laszlo Feher
First Hungarian d20 Society
OSR
Levels 3-6
A cornucopia of four short, open-ended adventure outlines leading to lands of pure imagination, this collection should astound and entertain any company of players interested in exotic locales, strange individuals, and a generous helping of satire. Herein, you will journey to a tropical island to answer the eternal question, "What is Art?" (or die trying); confront a reclusive artist with a peculiar scheme to enlarge his audience; find the fabled graveyard of the elephants and partake of the fruits of the Tree of Forever Return; and judge a pie-baking contest in a rural backwater where nothing could possibly go wrong… or could it? Some assembly required!
This 44 page booklet has four adventures in it: an island, a jungle trek, a frog-pond and a village pie baking contest. Leaning farcical, the descriptions could be better even if its creative heart is in the right place.
This is a compilation of four adventures, with the common theme being "Farce." In the first you are whisked away to a remote island by an efreeti, who wants you to create/find art so he can present it to the sultan of the city of Brass. In the second you face a toadman noble with a penchant for poetry who is turning others in to frog-men also. In the third you trek through a jungle in search of the elephant graveyard. In the fourth you end up as judges in a pie baking contest in a small village … with a lot of oozes present and infiltrating.
Among the ten thousand nations of the OSR empire there lies a portion that are devoted to farce. I loathe these. I don't do joke adventures. The black comedy of a (slightly) serious Paranoia/Brazil is fine. We can have a bunch of farcical things and people running around an adventure., That's ok also. But, straight on comedy? Nope. And, if the adventure proper turns in to farce, then, I'm out as well. I prefer a light hearted D&D that is still, I don't know, realistic? That's not the right word. We're allowed to have fun, but this isn't a three stooges movie. But that's not the vibe we've got going on in this compilation. We're more than a little over the line here in to comedy, or, perhaps, so much farce that its comedic. The first adventure, for example, has the party finding/creating/passing off things as art to the efreet critic/collector. I'm not too harsh on the concept. I think it would be great as an individual encounter in a different adventure. But when the entire adventure is about this concept then we've gone a bit too far over the line. Now everything and everyone in the adventure shares this farcical outlook and every encounter bends this direction. I'm not going to go down the path of "D&D is serious!" … because those people are fuckwits. Errr, I mean, you should all have fun the way you want to have fun.
There are many ways to write a good encounter. My favorite is, perhaps, the ones with a certain slyness to them. They are giving you a little wink in way that lets you read more in to the situation than is actually written. And that's certainly the case here. This is somewhat related to the encounters being situations instead of static things. It allows the DM to build upon an encounter, bringing more to it than the actual words on the page.
But, also, the actual DESCRIPTIONS of the places here are not altogether that strong. Each of these adventures tends to have places described instead of rooms. A village, for example is described as "Houses crudely hewn from red volcanic rock are living quarters for …"There is more here, describing what's going on in the village of pirates, but the actual village description, what it looks like, is just what you're being given. The House of Embers, where the efreeti lives in the first adventure, is given "structure resembles a M?ori longhouse, keeps glowing and smouldering without end" or a "big two-masted pirate sloop." I'm pulling descriptions from the first adventure, because I'm lazy as fuck today, but the other adventure descriptions are much the same. For while you get a decent little situation description, if a little farcical, you don't get much of a physical description.
I think that doing a little more work on the physical descriptions and vibe, and pruning back a bit of the situation descriptions (which by far make up the bulk of each location description) would go a long way with this one. There's nothing to be done about the farce: either you're in to it or you're not.
This is $6.50 at DriveThru. The fourteen page preview will show you the first adventure. All four, I would assert, are in the same style. You can see that the thing was constructed well and inspired, just a bit off in tone and in practice.
https://www.drivethrurpg.com/product/390271/Weird-Fates-vol-01?1892600