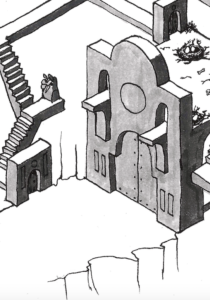 By Simon Carryer
Simon Carryer Games
Labyrinth Lord
Level 3
The Great Dwarf Road! A fabled trade route beneath otherwise impassable mountains. For years it brought wealth and prestige to both sides of the range. But now it is shuttered and abandoned. Home to black forgotten things, crawling subterranean creatures and freakish outcasts. Only dire haste or desperate ambition could prompt someone to attempt the road.
This eleven page adventure details seven areas in Moria, with around eight locations per are, for about forty locations overall. It's one of the better "lets travel through Moria to get to the other side of the mountain" adventures, although it lacks that feeling of scale that text and media Morias have.
I generally don't review one-page dungeons; there isn't really enough going on. But, a collection of one pagers that make up a larger context? That's Stonehell, and I'm all in for that. For some reason you need to travel The Great Dwarven Road to get to the other side of the mountain. Maybe there's a blizzard up top with giants, or Saurmon is watching with his crows. Whatever. In you go! It's got a familiar mix of encounter objects in it, from an entrance door that is stuck closed, to a broken bridge over a chasm. No balrog, but you do get a dragon! The water is the water is now a flock of harpies, ready to lure you off the cliffside, and so on, so, it's not a Moria rip-off but rather a kind of Inspired By A Trip Under a Mountain.
The maps are a highlight of the adventure, at least in terms of Moria-like. You get a series of of them, one for each of the seven main areas, presented in an isometric kind of view. He does a great job with terrain, from aquaduct/canal like things to same level stairs, towers, debris, and elevation features. More than most, this helps bring that complex Moria-like environment to life. The individual area groupings are on the small side, maybe seven or eight rooms per, so you can't have that looping complex map that exploration adventures provide. Your going from point A, one side of the mountain, to point B, the other side. And that maps supports that style of play well.
It's a one page dungeon format, so, you get one map per page. Surrounding the map are the individual adventure keys, with a couple of page sin the back to help support things, like magic item descriptions and wanderers and travel times between the major areas, etc.
The implications here should be obvious. The magic items are all decently described, after all the product take a page to list them all and gives them each a paragraph. Mantaster is "A crude cleaver on a long haft, adorned with grisly fetishes and trophies of past victims. For the enemies of Man, this weapon is a famous relic. It twitches and throbs when a human is within 60' …" Neat little thing and an ok description. Or a curled horn of beaten bronze, covered in a blue-green patina. Like all of the best descriptions, they seem to be imagined. While there are mechanics, they don't overshadow the item … and therefore the players lust for it.
The individual encounters here are decent. The creatures are engaged in activities sometimes, like bickering, Or they have something going on … like being infested by parasites. Ick! Each map is generally themed. The dragon map. The cultist map. The goblin map, and so on. There are others in those areas also, but you do get a good zones vibe going on. And the interactivity from the encounters is pretty decent as well. A pool full of tiny parasites … that you can barely see. That's a little different than the usuall Stab It/Talk to it cycle. The harpies are on a cliffside, and the bandit leader is paranoid of traitors. This is a good example of including just a little bit more in the description, a few words, to help the DM bring the encounter to life and give it variety. And he does it pretty well.
The writing style is supported by evocative descriptions …; where evocative is defined as … a little bit more to the environment. "The red light of cooking fires, the sound of murmuring voices, and the smell of woodsmoke spill from the arched entrance. Ropes and pulleys hang overhead." That's not so bad. The main gates are rain-wrm and of pitted iron, towering. And, eve the monsters, from the "man-legged centipede" to an ogre that "… is elderly and gaunt, his face a mess of scars, one of his eyes a horrible wet hole." We're doing well here!
What's missing here, though, is the scale of Moria. Hmm, no, not the scale, but the VIBE that comes from the scale. The art/maps and text descriptions don't really convey the tower buttress or collosol emptiness of the halls. The maps HINT at it, bt there's not much more than a hint. You never get the sense, at all, of the massive undertaking fallen. That void of nothingness and hints of the majesty of days of old just doesn't come through at all. Perhaps, we can reframe this somewhat by calling this "just another mountain tunnel" instead of the appeals ro Moria. IN this case things are a little better, from a vibe (although Moria still hangs heavy in the back of your mind) but now we're on the Just Another Tunnel Complex thing, and, while this is an ok zoned dungeon, it still doesn't really FEEL like a place.
This is Pay What You Want at DriveThru with a suggested price of $3. The preview is seven pages and more than enough to get a sense of the adventure. Good job.
https://www.drivethrurpg.com/product/449106/The-Great-Dwarf-Road?1892600