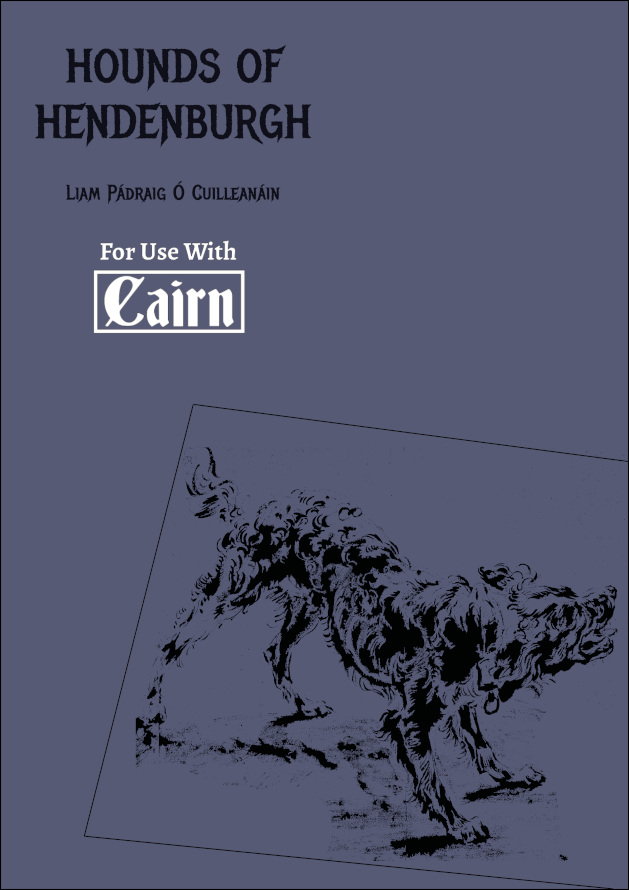 By Liam Padraig o Cuilleanain
Self Published
Cairn
Low Levels
Terror roams the dark and brambled paths of the Kryptwood. A pack of giant spectral hounds rule the night, savaging those foolish enough to brave the forest. The villagers of Hendenburgh cower in the shadows of the ancient boughs as each morning heralds a newly savaged corpse.
This 22 page adventure presents a delightful little romp through a colourful town, a dreadful forest, and a small haunted dungeon/crypt. Would that everything I reviewed were at least this good. A credit to county Donegal!
Ok Liam, I'll strike you a deal. I'll give this one a pretty good review and in return you don't roast me for not including the fifteen different accent marks in your name.
We got a small village. Folk inside it are being attacked by ghostly hounds. Oliver the poacher took out a mob to the forest to hunt them down, and they killed a few, but the mob got seriously fucked up. Hola bitches; it's time for you, the party, to show up and fix things. Or, so it seems. What we have here is something quite interesting: the adventure is not the adventure. The ghost hound thing, while a real situation, are but one of things going on. They are, essentially, a pretext, with the rest of the excitement of the adventure coming from the townfolk and others hanging around. And it is magnificent. Simple, but engaging enough situations to add complications and shit to any adventure that party might want to head in to.
Let's see, the local lord is ancient and senile. But, he got an "inappropriately young wife." That's fun! Both singularly and in combination with each other! And, also, she's "a student of the new learning who regards reports of the ghostly hounds as mere peasant superstition. She attributes the savaged bodies found in the woods to the work of a particularly vindictive badger." Great! And, Oliver the Poacher, who's ready with a posse of the three Winstaple sons, Gregory the Blacksmith, and five village toughs in case the party throws around too much weight. A fuckingpoacher man! And "the Winstample boys." Fyuck yeah. That's how you add specificity. That's how you make a situation. The pastor, who could banish the ghosts, is a hoot. He's a heretic. The villagers informed on him and he was punished by the bishop. He's fucking bitter as all fuck. And a drunk, making his own wiskey. Convince him to help them and load him up with grain alcohol! (And, at the end, the villagers love him, turn to his heresy … only to have the bishop send in the inquisition, eventually. Sweet!") The miller is sad, his wife is gone. I guess the hounds killed her. Turns out shes left him and moved in with the local bandit leader. He's Sly Willy, with his men. More bluster than ability, but he DOES have a lot of men. Also, he reneged on a deal to marry one of the three crones that live in the woods. I didn't mention them? How about "Naked apart from the cloud of flies that cling to her old leathery flesh" or "Eyeless crone who wears a tattered black leather cap and robes sewn from seaweed and taut human flesh." Great! Perfect! Three's about six or so more townspeople/things in the woods that you can deal with, including the ghost dude in charge of the hounds. Just break the circle around his tombs dn he'll fuck off along with his dogs. And he's a man of his word! There's SO. MUCH. going on here. And it's never overpowering. It's never so much you can't handle it. It's all delightful, terse, and sets up a great situation for the party to handle. You've got lots of paths to weave your way through this little area and whats going on. There's no assumed solution, although there are notes to help with the most common ones.
This is all fucking great. The designer has a knack for these situations, human nature, and a terse but evocative description. Treasure is well-enough described, just a couple of extra words. Like a gold wedding band or a gem-encrusted jewelry box. All told, you get nine hexes described (and about nine more empty), with one of them being the town and another the main dungeon/crypt of nine rooms.
I'm a pretty ig fan of this. But it could be better. Maybe a one pager with the major NPC's on it. And, at heart, beyond the townfolk shit, this is a horror adventure. It's fucking ghost hounds in the woods attacking folk and a crypt at the end. It should feel scary. And while the descriptions and the ilk tend to lean a little in that direction, it doesn't really push that theming very far. A few extra notes … a little bit of a lingering phrase to help bring home the dread and anxiety would have helped quite a bit. You want to keep that theme going int he adventure, after introducing it, instead of it just coming out as a hack. And the designer could have done more to help bring this forward, especially for the DM. There's nothing to stop the DM, and even some theming to help, but it really just needs more in this area.
Big fan though. Looks like this is his only adventure?
This is Pay What You Want at DriveThru with a suggested price of $2. And with a sixteen page preview, you can see more than enough of the adventure. Nice job.
https://www.drivethrurpg.com/product/444913/Hounds-of-Hendenburgh?1892600