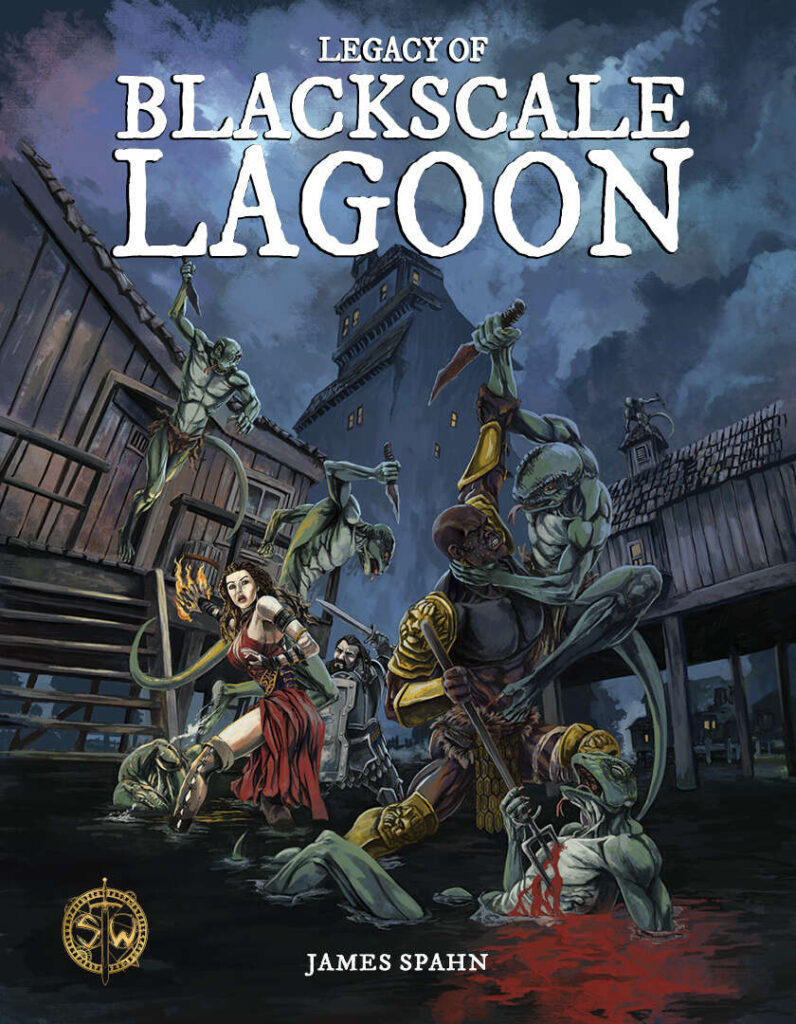 By Peter Spahn
Mythmere Games
S&W
Levels 1-3
What starts out as an ordinary venture into the backwater (and very watery) swamps of Blackscale Valley turns into a complex mystery about the events that took place in the Valley about a hundred years ago. Not everything is what it appears to be, and peril awaits the characters at every turn!
This 24 page adventure details a small wilderness region with six locations, two of which have around a nine-room dungeon each. It's not a disaster, by normal standards of the industry. But by OSR standards … I have a hard time imagining how it got to the way it is. Long and … meh?
This feels so much like a converted adventure, in terms of the plot. Lizardmen worship a dead dragon and they subjugate some goblins to act act their hench, raiding a village to try and find the dragons egg. That's right out of a dozen or more modern era adventures. So much of this feels like a modern era adventure … and I don't mean a conversion. It's weird to see Spahn and Finch on this as the primary designer and editor. It looks like it's being advertised as "the new B2!" and is some kind of add on, I guess, to a S&W kickstarter? That makes sense. I was surprised to see something from Mythmere and it makes sense that this is just a throw-away thing tacked on to a kickstarter, given the quality.
You start with a quarter page read-aloud and then get attacked by goblins and a lizardman. If someone in your group dies then the town guard shows up to drive the attackers off. These are not good portents for the future of the adventure.
The town has a couple of good hirelings to grab; short entries with just a sentence to describe a really good hook for them. "Tends to invade personal space and look people in the eye too long" or Slick Jimmy the halfling ". Slick Jimmy is arrogant, glib, but surprisingly cautious. Loves to play dice." This is exactly what you want in a an NPC description. It's terse and leaves out all of the eye colour bullshit that tends to plague descriptions. You get a description instead that allows the DM to riff on it and being the person to life. You immediately know what to do with them to run them. This is perfect for an NPC and, in spirit, is exactly also what you want in a room descriptions. You want something easy to scan that implants itself in your head immediately and allows you to riff away on it easily. Otherwise, the town, is a problem. And serves as an example for the rest of the adventure.
If we look at the general store in town we can get a good idea of what is going on. It is just about a column of text. And that text tells you that it is the usual general store. There is nothing special about this place. The chick in charge doesn't have anything special about her. There's no hook to pick up. There's nothing interesting at all about it. But it takes nearly a column to describe that. What is the purpose of this? It feels like something I haven't mentioned in quite some time: pay per word. The padding out of an entry just to fill space. The other entries are similar. I should note that the parties reward to investigating the goblin/lizardmen attacks are 100 gp each … even though the dude offering doesn't have but 164gp in his loot box. That's not very "loot the B2 Keep", but, then again … the main cleric dude sends you off on this quest … only to attack you when you return. You see he's got a dragon egg hes hiding. Which means you face a newborn dragon, a L3 cleric, and 2d4 militia when you return to town, in a chaotic battle scene. I like the concept here, if not the execution.
The encounters, some of them, have a littl bit of something different to them, here and there. There's a ruined tower, partially collapsed, the lower floor with some standing water … and a giant leech. That's not something you see every day. The entry if far, far too long for its providing, as it is with all of the encounters in this. But, also, it's nice to see something other than the usual giant spider attack … even if there ARE stirge later on. Otherwise we're not looking at anything very interesting. Fight some goblins and fight some lizardmen and avoid the collapsing rubble.
The formatting is not the strong point here. It's almost time for GenCOn, and I bought a couple of adventures at genCon last year that I still haven't reviewed. These are for systems other than D&D. There's this thing that happens where someone gets some money and publishes a new system. You know, all hardback with a lot of art and glossy pages with full background images. And then they publish an adventure or two for it. And they all look the same. Some section headings and not much formatting beyond that. Long stretches of paragraph blocks with almost nothing breaking it up. This is disastrous for running an adventure. You can't find anything and you have the pause the game for long sections of time while you absorb the information … only to learn that there is nothing really interesting or interactive going on in the room.
We do, however, get a short boxed section on the morality of killing lizard men babies, a reference to the killing of children from Henry V. Absolved, I find three, orc baby killer!
I shall finish by noting that this has two four star reviews on DriveThru … a more serious critique could not be given. The adventure is quite disappointing. I was excited to see something from Mythmetre and Spahn. But, for whatever reason, they seem to have forgotten everything about OSR adventures. Or, they are taking things to the next level by emulating the glossy big product drops of those third-party systems/games I referenced earlier.
This is $8 at DriveThru. There is no preview. For shame!
https://www.drivethrurpg.com/product/446307/Legacy-of-Blackscale-Lagoon?1892600