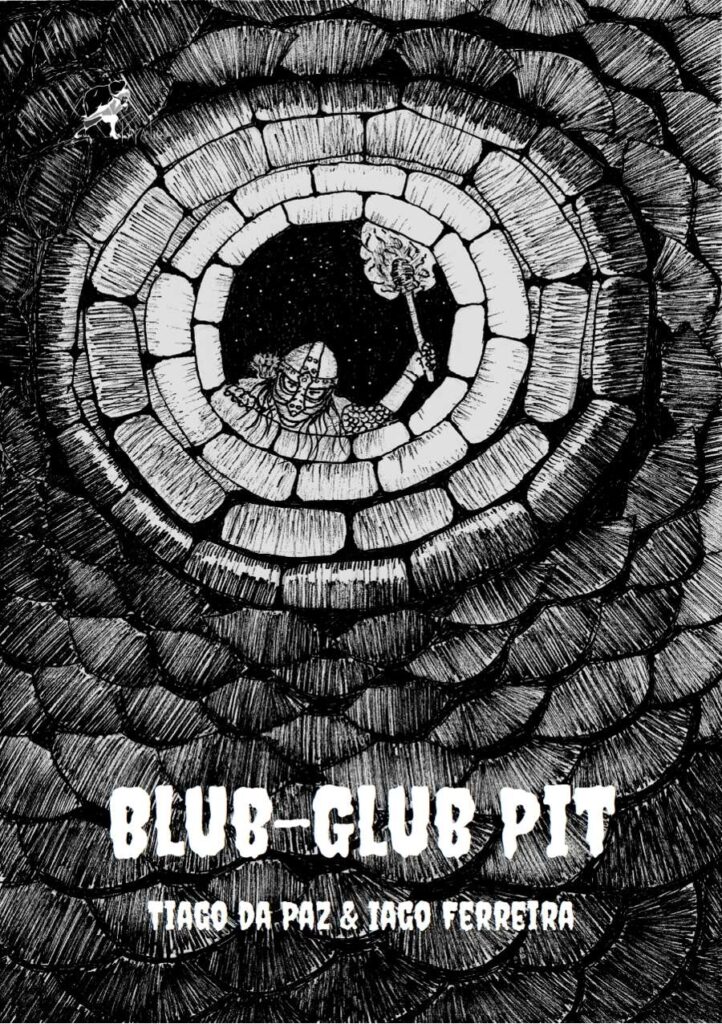 By Tiagp da Paz and Iago Ferreira
Papa-Figo
OSR?
Level ?
In the middle of a forest, which grew where an old city perished in ruins, a pit of stone resists time. Vines slowly wrap it while its dark and wet interior hides the savagery and devotion of fish-like humanoids. Mud and mucus mix chaotically!" Grab your torches and come to explore this dank and dark dungeon!
This 22 page digest adventure features a kua-toa themed dungeon with about eleven(?) rooms. I don't know what to make of it. I'd say it leans to the bad art-punk style of things, expect it actually has a keyed dungeon with "Descriptions."I might call it an art-forward project, except it's low on art.
Based on the cover I had high hopes. The canonical dungeon, for me, is a hole in the ground that some losers go in to explore/loot the mythic underworld. Which is probably why I like that first level of The Darkness Beneath so much. Anyway, that cover brings it, doesn't it? The rest, though, is just bad. All parts of it.
The map is bad. Well, I mean, it's got that isometric thing going on, which I like. SHowing elevation changes with a couple of steep muddy slopes in the dungeon. But, beyond that, it's not keyed traditionally. And, while I don't have a problem with that, in theory, I do have a problem with this in practice. It's grouped in to a number of zones, six I think. Each zone has a mini-map noting rooms in it. So, we're flipping to the correct zone, on the correct page (which is cross-referenced, thank Blibdoolpoolp. But, then, we get a weird mix of keying. SOme rooms are Room A, Room B, Room C. Not my favorite, since "Room A – Mucky & slime guard chamber" brings more descriptive text to the table than "Room A". And, then, it goes on to call some rooms "Kitchen" or Guard Room. This kind of shit drives me crazy. I don't want to have to hunt to find the room/feature I'm looking for while the party explores. So, you can do it, but you have to do it in such a way that I'm not killing time during play trying to find the fucking room the party is appraching. I HATE it when the adventure forces the DM to have "Dead air time" hunting for information. The end all be all of dungeon keying is not the traditional room/key, but, fuck, it also works well and if you're gonna do something different then don't lose what traditional keying brings to the table during actual play.
It uses randomness badly. Our hooks, genetic as can be, are presented as a table. Why? You really want me to roll on it for a hook? Sure, I can pick, as most sane people will, if they use the designers hooks, but why a random table for them? It smacks of a lack of understanding of what randomness is used for in play. And don't get me started on the fucking treasure table. When you make it to the final room/temple then the DM gets to roll on a random tables for what treasure is on the alter. "2d8 luxury objects, like chalices and mirrors" Fucking great. Wonderful. You do know that the purpose of a published adventure is to bring things to the DM that they can't do on their own? To save time? To think about it and agonize over it before hand so that, during the play, the DM is able to present the party with something that they actually care about? That would seem to get at the core purpose of an adventure: assisting the DM. But, again, no, Roll on a table for a random treasure item. O can't express enough how much I hate this. It's a complete and total lack of understanding of what the purpose of a published adventure is.
And the descriptions. Ug. "Room A – Serves as the kua-toas hunting weapons storage." Well fucking thanks for that. I am inspired. That will result in a great description from me, the DM, to my players. Or, how about "Kitchen – In this part of the cave, the Blub-Glub cook their food. What is gathered from the hunting is taken to the kitchen and properly prepared." Yes, you did just describe the purpose of a kitchen. It's like saying "Bedroom – This is where people sleep." What the fuck is the fucking point of this?
And it's all generic. "Moderately difficult to fall down the slope." Just sta the fucking thing for B/X or Labyrinth Lord. We all know how to convert the fucking thing.
Yeah, it looks like a dungeon. It has a key and descriptions. And that's about the fuck all it is. It's like people have never ever seen a real fucking adventure before.
This is $2.50 at DriveThru. The preview is nine pages. You really only get to see the suck ass hooks table and a mini-map. Good luck with figuring out if you want to buy it based on that. And this review.
https://www.drivethrurpg.com/product/438142/BlubGlub-Pit-Dungeon?1892600