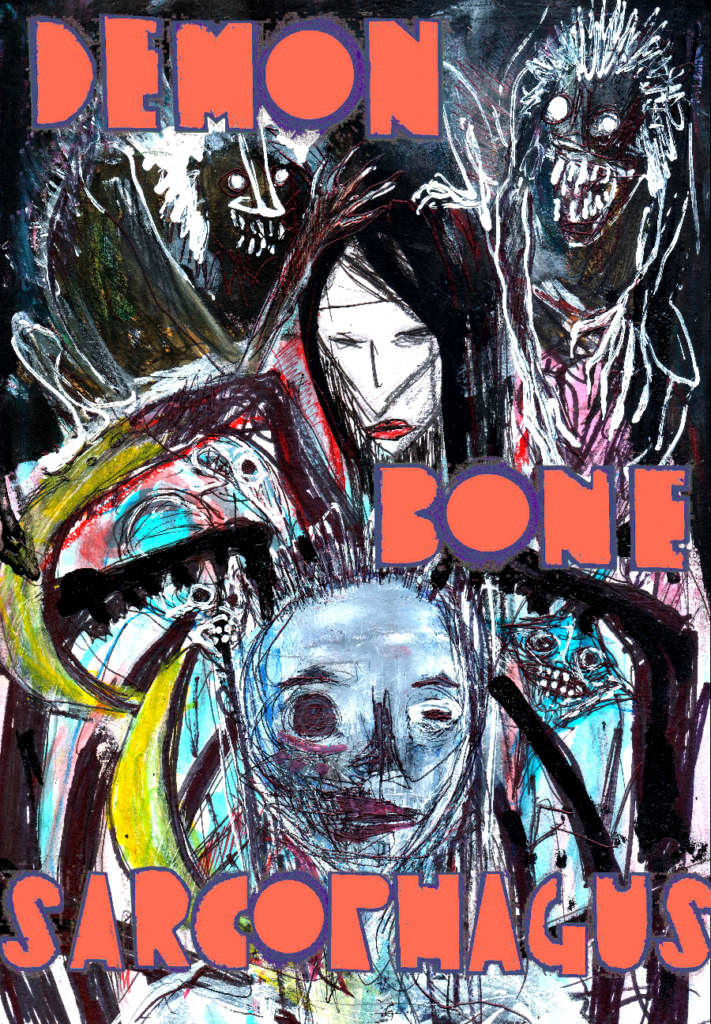 Patrick Stuart, Scrap Princess
False Machine Publishing
D&D
Level 1?
A pile of dead bodies in the desert! Results of a triple-cross! The PC's investigate! Glass Women! Tunnels in the Earth! A scrap of torn paper in a dead hand, only one fragment of a plan to rob an evil corporation of incalculable wealth! A mysterious tomb beneath!What strange drama lead to this catastrophe? What secrets of primeval forgotten history will be revealed beneath in the tomb of the First Queen of Fire? Will they all interrelate in the (hopefully) third book of the series? Explore the tomb! Meet survivors of the battle above! Make choices between factions that will (hopefully) influence your journey through the next two books! (Hopefully) recover the Heist Plans!
This 144 page adventure uses about sixty five pages to describe a dungeon with about sixty five rooms. It is a rich experience, with evocative writing and great situations, a true dungeon delve worth exploring. It is also overly written with some confusing layout and dubious choices made in presentation and detail. Absolutely not something to pick up and run with minimal prep, but, also, almost certainly rewarding if you're willing to study the text. A lot.
The situation here is that a lot of people from different factions met up/encountered each other on a plain and they got in to it, in a big way. A big battle ensued, which was complicated further by a creature popping up from underground. Turns out that the plain/spot of the inciting incident was directly over a big tomb complex. A slaughter ensues, and several of the people end up in the tomb, through various holes in the ground/collapsing sections of the plain. The party stumbles upon the plain/battle just after shit goes down. They investigate the battle remnants and then head down in to the to to encounter the shit down there, both the NPC's from the battle that have fled there/fallen in and then also the tomb stuff.
Everything here, EVERYTHING, is non-trivial. Everything is fleshed out. The NPC's are all fully detailed with wants, goals and little snippets to help you run them. It's done in a good way, meaning that the content is directed towards the party interacting with them and them interacting with the adventure. Everything in the tomb is don in exactly the same way. Richly described. Interactive. Situations. Room after room does this. Encounter after encounter. "Naked girls of glass wander in the chaos, smiling absently at nothing at all." or "A Man Hangs in the Claws of the gigantic HYPER-SLOTH! He is alive. Eyes fixed on a woman, she has been eviscerated and drags her body across the ground smearing blood, holding an obsidian knife. She is CRAWLING TOWARDS the hanging man." Your soul is dead if you can't something of those things, while running them. Those description, in particular, are rather short and get the point across in a magnificent manner. And that's what you can expect here. Sentence after sentence of things of this rich tapestry. All perfect for running. Dudes wearing dark masks, difficult to pull away from their faces as if the mask were resisting more than they should. Their faces covered by back scabs once you do. That's good. And the interactivity here is spot on. From things to talk to, ally with, things to stab, and a rich amount of interactivity beyond that. Shit to fuck with, and non-standard treasures. You couldn't ask for more. "Crystal shards scatter the floor making it a blinding starfield. A cracked porcelain woman sits upon a crystal demon skull."
Except …
This thing got issues. Hella issues.
Ignoring the backstory/flufl up front we get to the maps and the description of the battle. This is a mess. The maps are a pain. It feels like there wasn an attempt to overload then with information and make them somewhat artistic also. But these choices end up, I think, confusing the maps more and subtracting from the primary purpose that the maps are supposed to provide. There's a db UI overhaul at work. The overhaul makes it easier to support the code in the long term, a lot easier to support. And the UI proper is more than a little outdated. But, also, the UI overhaul has negatively impacted the primary use case: the ability to locate and analyze massive amounts of data at a glance. The font, colo choice, kerning, line spacing .. it's not substantially less easy to look at a massive amount of data at once and get what you need out of it. The cognitive burden is much, much higher. Which is the primary purpose of the UI, in this case. Thus the secondary and tertiary goals have, seemingly, trumped that primary goal. And that's what it feels like is going on here with the maps. The map layout is a bit unusual, a giant triangle made up of smaller triangles that represent the individual rooms. That's a choice. But I'll go with it as a mythic destination. But the map choices, the detail added, from color scheme to in-room details, seem to detract from the overall primary purpose of the map. That could have been a lot better.
And that is a theme of the presentation of the entire adventure. Those wonderfully rich NPC's, focused on actual play? There's just too much to them. You can't grok the NPC in a few second,s you've got to absorb A LOT of information about them. All play oriented, but there's too much. Even with the formatting, a clear effort was made to help the DM. HERE"S WHERE YOU LOOK FOR WHAT THEY SAY WHEN YOU QUESTION THEM. The headings are all there. But there's just A LOT.
And that rich tapestry for the rooms, their contents and descriptions. Sentence after sentence richly described. There's just a lot to wade through. The most simple of rooms is going to get a column of information. All wonderful. But way too much to ever use. I absolutely fucking love ALL of the contents. But I can't use it all. And it detracts from my ability to run it.
You get a page on locked doors and tomb keys. You get a page on unlocked doors and combination doors. You get a page on wall murals. You get a page on Darkness, and dimensional tears. You get a page on the tunnel descriptions. You get a page on trap maintenance tunnels. You get a page on … You get the idea. It's all wonderful content. But there is no fucking way in hell I'm holding all of that in my head. And I don't think there's any way I'm paging through to look up the information as I run this. And then flip to the rooms NPC's. And then flip to the treasure. And then flip to the …
This may be one of the most richly described, effectively richly described, environments ever produced for D&D. But this is not a Tuesday night gaming location. This is something that the DM is going to have rto pour over, time and again. Note taking. Cross-references, and so on. You are gonna have to put in work. A LOT of work, in order to prep to run this.
And I have a lot of misgivings about that. I love this. I love the descriptions. I love the interactivity. I love the richness. But there's only so much foie gras I can eat in one setting. It ends up detracting the whole. A god strong edit was needed on this one (in more ways than one), but in particular to focus the rooms down, focus the NPC's down. Or, maybe, a few more pages, to summative the NPC's in to a form more readily usable, with extra detail present elsewhere for those that want it.
I'm regerting this. I'm going to study it much much more.
This is $12.50 at DriveThru. The preview is thirty pages. You get to see the battle remains location, which is one of the more … complex portions of the adventure, in terms of layout, presentation, and detail. It's wonderful, I think you'll agree. But also it's A LOT, and could be presented much much better. The rooms are laid out much better and thus the battle scene is not the best representation of the core of the adventure but does, perhaps, serve to illustrate the difficulties in grokking whats going on to run it.
https://www.drivethrurpg.com/product/407992/DemonBone-Sarcophagus?1892600