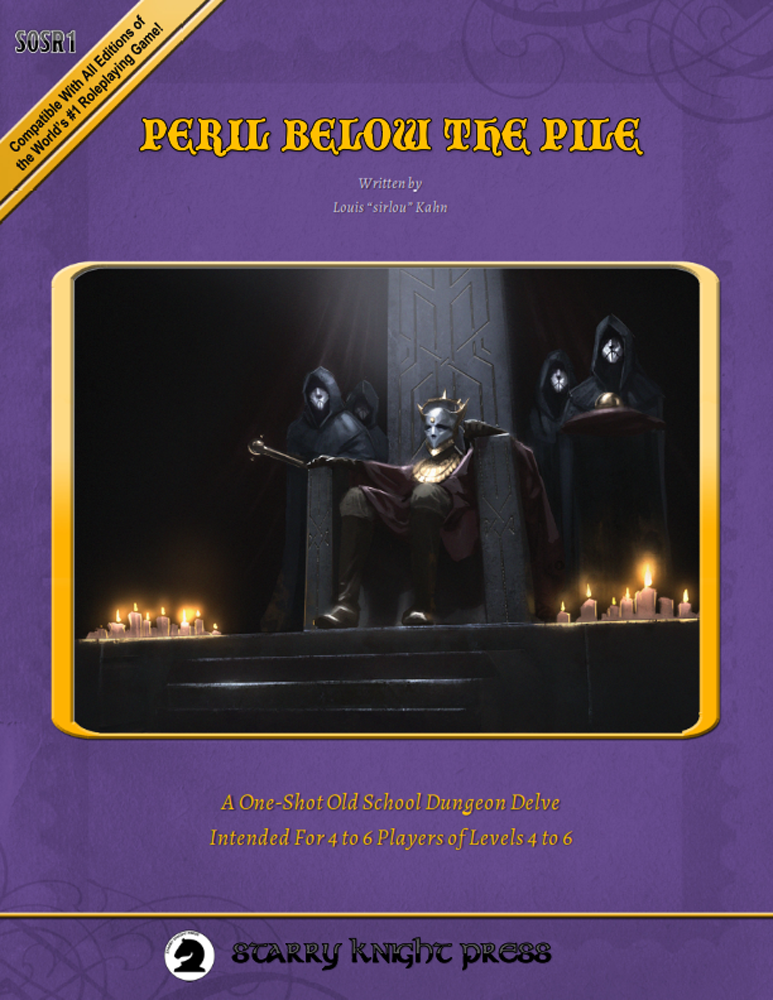 By Louis Kahn
Starry Knight Press
OSR
Levels 4-6
The Pile is a lone hill which overlooks the forest village of Naofahill, which lies on the far eastern border of the free nation of Dùn Bhriste. Locals believe powerful magical wards still guard the place and they avoid going there, believing it to be cursed. Recent earth tremors have opened the place up to exploration, and a pair adventurers went there to explore, and they were never heard from again. Their kin, the local village blacksmith, has offered you a sizeable reward for finding them, if you dare!
This twenty page adventure features a ruined castle with about fourteen rooms. Column long rooms. Page long rooms. A page and a half long room. Sometimes, Ithaca looks pretty nice …
I got a guy I know. Last year he organized a big group camping trip. Bought out the campground. At the end, the owner said "I'm never doing this again if I have to talk to that guy again." A year passes. The campground has some bigger issues, with code enforcement. Owner gets things open again. The guy I know contacts owner and tries to rent out the campground again. Dude says "Sure, I'm sure it wasn't as bad as I remember." Three days later he gets reminded just how bad it was. Enter Starry Knight Press.
Cracking this open is a weird experience. First, it starts immediately. Like, G1 immediately. A little intro, an overview of the outside, and room one, all in the first column. That's fucking weird, right? No long bloated backstory? But, then, you notice the font. It's TINY. Really, small. It's a fucking PDF with no real limit on page count, but the font size is still small? And it's some weird font choice. Almost, but not quite, italics. The entire text. Essentially, italics. In a small size. And random words seem to be bolded in the text. In the description of the courtyard the word "courtyard" is bolded. Multiple times. For no real reason. It's like the designer is actively working AGAINST comprehension., taking a list of everything that makes something more readable/scannable and turning it on its head so it works against that purpose. It's fucking weird.
Speaking of weird, every room here is about a column long. At least. Many of them are a page long. One is at least a page and half long. Of small font. In italics. With random bolded words. And you're supposed to be able to run this?
And it's padded the fuck out. "There does not appear to be anything of value here." or maybe "As discussed above, recent earth tremors caused parts of this tower and nearby curtain wall to collapse. If the rubble is examined by the players then …"Backstory. Explanations. Justifications. If/then clauses. This thing is like a textbook in how to not write something. Except, assigning it to the students would get you nowhere because they would not be able to suffer through it, and thus not learn any of the lessons.
It's truly, truly bad.
When you complete the adventure you're gonna get about 6000gp in loot. Meaning XP. Jesus h fucking Christ.
I had sworn off Starry Knight. I was doing good. I had forgotten. I had told myself that surely the designer has gotten better. Time healed my wounds. But Starry Knight remains eternal, pumping out the substandard product, month after month, without seeming improvement.
This is $7.50 at DriveThru. There is no full size preview 🙁
https://www.drivethrurpg.com/product/428555/SOSR1-Peril-Below-The-Pile?1892600