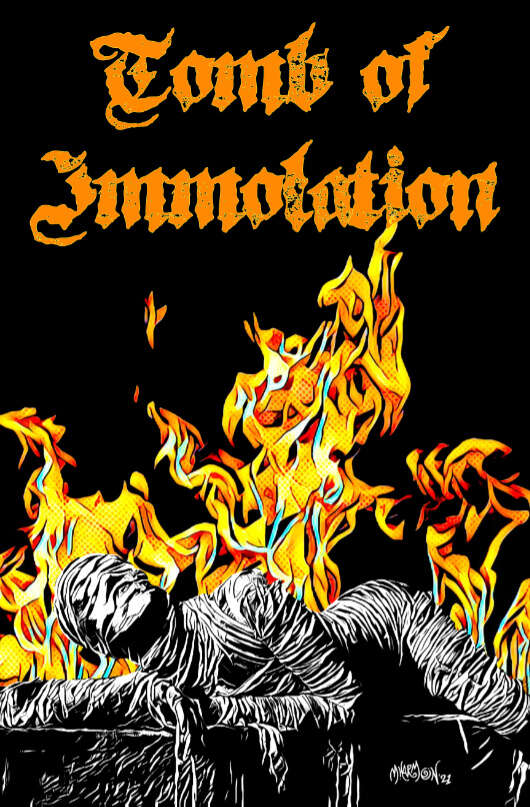 By Yog'du Games
Self Published
OSE/5e
Level 5
[…] Teluthel would build the ultimate punishment, a prison-tomb for Saba Nocri and her followers that would be an inescapable torment. He spent years designing and building the Tomb of Immolation, and his obsession eventually destroyed the order. The Knights of Dorwine eventually completed the construction of the tomb, captured Saba Nocri and her followers and apprentices, and then sealed them inside and cursed the Tomb. The prison entrance was buried under rocks and dirt, records of its construction and existence expunged, and all knowledge faded into history when the Knights of Dorwine disbanded shortly after Teluthel's death about a year later.
This 84 page digest adventure features a dungeon with eight rooms. Eight rooms. In 84 pages. It's a puzzle/trap dungeon. So, hey, enjoy that if you want that. In 84 pages.
Yup, 84 pages. TO be fair the last forty pages are pregens, a bestiary for the 5e version, a bestiary for the OSR version and a thank you list of kickstarter backers. But, still. Room three is eight pages long. Room one, a set of stairs going down with some zombies in it, is three pages long. Three pages. For a set of saints with zombies in it. Three pages. Every trick in the book to pad this out. Multiple long read-alouds. Mini-maps of the rooms. Separate, long, trap sections for 5e and the OSR version of the room. Repeating information found in the preamble. And a zombie tracker so you can write in your book to keep track of their condition. Jesus h fucking christ. It's a fucking set of stairs with zombies on it.
The final room, with the mummy dude who lives in the tomb? One page.
You can't make this shit up man. SLogging through three pages for a staircase? SLogging through EIGHT pages to run a room? Absolutely the fuck not. There is no way in fucking hell I'm doing this during a game.
The dungeon, proper, is a tomb with traps. Front door trap. Boulder rolling a stair trap. Lava flowing in to a room puzzle trap. And there's a devil who wants out who can can free to get hints about the tomb. But, then again, you're level five. Just ask god and do some magic shit. So, you want a basic puzzle/trap dungeon with a lava/fire theme? Great. Here you go. You want to actually be able to run the fucking thing during the game? Absolutely the fuck not.
One of my favorite parts of this adventure is the initial read-aloud. It describes the door, closed to the tomb. And then it goes on to describe the inside of the tomb and the stairs leading down. The trapped front door. That is closed. Did ya read your own adventure man, when you were writing it?
There appears to be a disturbing trend these days. People are taking their 5e shitfests and slapping "OSR" on it and listing it in the OSR product section. This one at least tried to do a kind of conversion and stat it out/provide rules for OSR. But, man, I don't think I know anyone who is putting up with this kind of shit in the OSR. 5e, sure. No one knows better. As a 5e DM you're faced with nothing but shit like this. OSR, though, man … you get to see some fine work. Shit that is PUT. TOGETHER. Great writing. Goot formatting. Great interactivity. In only a few pages. And then something like this comes along.
Absolutely the fuck not. I'm not wading through this shit for a mediocre puzzle/trap dungeon with eight rooms.
This is $8 at DriveThru. You get to see room one in the preview. Enjoy that.
https://www.drivethrurpg.com/product/350747/Tomb-of-Immolation–5e-and-OSR?1892600