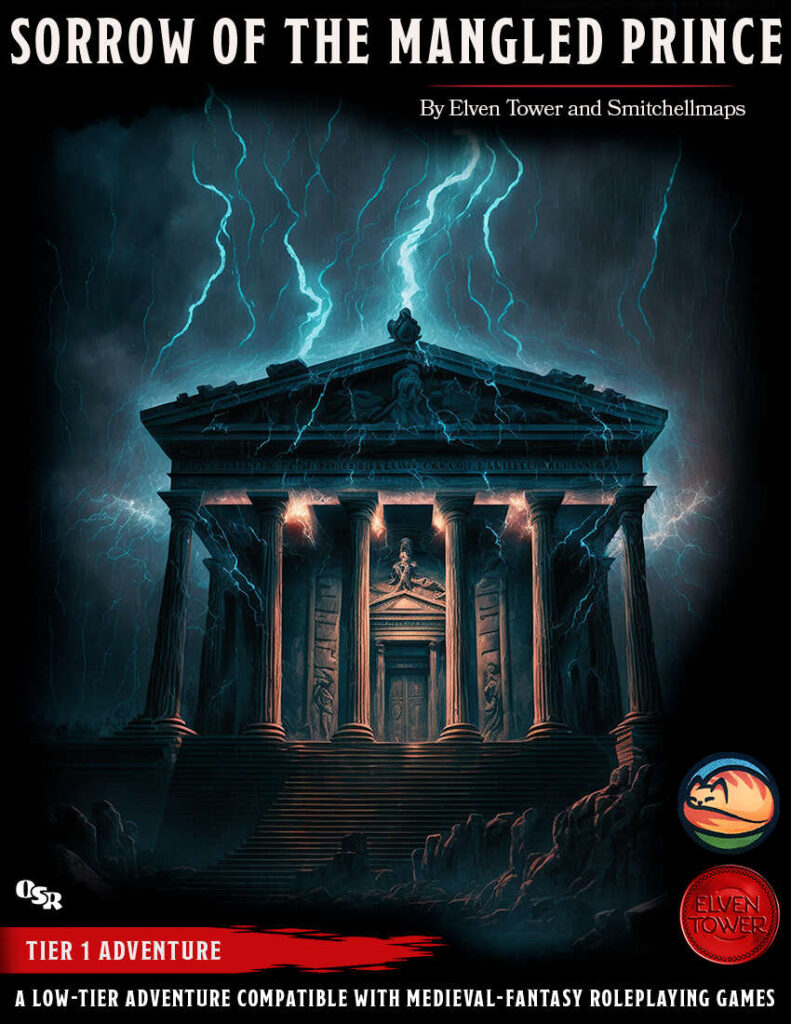 By Elven Tower
Self Published
Star Frontiers
Tier 1
The Forbidden City was once the royal palace of a bygone family. The place is shunned and thought to be cursed. But now, for some reason no one understands, children ran away from their homes and into the Forbidden City, and no one dares approach the place. The events have caused people to remember an old cautionary tale of a prince from a bygone era that was robbed of his legacy and became a spirit of hatred. The characters walk into a dangerous place willingly under the promise of a nice monetary reward. They soon discover that the mausoleum compound under the Forbidden City is protected by deadly traps and undead guardians that fight with a strength and brutality that defies explanation. Within, they shall learn what happened to the mangled prince almost three centuries ago and whether it is possible to save the children in time or not.
This nine page 5e adventure features sixteen rooms on two pages. It's generic fucking garbage by someone trying to make a buck. Who can fuck right off.
It is important to recognize that, generally, people are not bad. Sometimes, people do things that are bad. But that doesn't make them a bad person. And, sometimes, people create something that is not good. But, a critique of the work is not a critique of the person. We can separate the two. This is a very important distinction that this blog makes. And, really, that everyone should make in their day to day lives. We can critique a work, savagely even, without passing judgment on the person who created it. With this context in mind, thus I say …
Elven Tower can fuck right off and is a piece of shit who actions make the world a worse place for their presence in it. The audacity of the blatant grab of money is beyond. Just … BEYOND. This represents the worse, the absolute worst, that we can expect in mainstream D&D publishing. Which, of course, just means that it is a portent of things to come in the future and we can expect this behaviour to become mainstream. Because that's the way the world works. Are you a tired old grognard railing against the world? Are you an ignorant artpunk reveling in your cleverness? Well my bucko's, time to come together and dig up Gygax's skull to summon Kramer and call back Guy from whatever dimension his tower is in.
This, it seems, is an OSR adventure. Why is it an OSR adventure? Because the designer has listed it in the OSR category. I know, it's somewhat generic cover looks like the puppymill 5e crap that is churned out. Or, the product page which looks like every other 5e generic product page full of fluff? Wrong! It's OSR. And, yes, it is for Tier 1, which I believe is 5e nomenclature, but, still, it's for OSR. And, it's written with skill and ability checks/saves nd tuned to 5e, but, still, the designer says it's OSR and put it in the OSR category, so, it's OSR.
I noticed this, and a bunch of other shit from the designer hitting the DriveThru OSR category. I didn't pay a lot of attention to it. Then I saw a comment. Some rando (who, if reading, I would like you to know you are now one of my heroes) called it out in the comments, noting that it's not an OSR product and is miscategorized. Which caused the designer to post a long response rebutting that, and claiming to be Star Frontiers. Errr, I mean, OSR.
Well, fuck you Elven Tower. You are, no doubt, looking to expand your sales. Your 491 products that you have churned the fuck out to make a buck are not producing so you've decided, no doubt in the wake of what I assume is a 5e sales plunge, to expand in to new frontiers. Fuck you and fuck your puppy mill of shit.
But, I digress …
There is nothing in this adventure. It is an empty and hollow shell of generic abstracted garbage with no sense of what an adventure is or how to write one.
We start in an inn. It seems that dozens of the local children have gone missing. Everyone thinks they went to the Forbidden City, an hours walk away (ug!) but, also, everyone is too scared to go there. Uh huh. Let me help you there, Tex. This ain't the way the world works. If this were to actually happen then, along the time the second or third kid disappeared, for sure, if not the first, then there would be a fucking mob forming, farm tools, torches and shotguns in hand, and 50% of the people in town, at least, would be off to solve this problem. They aint waiting the fuck around to pay 1000 coins to some randos that showed up. When Maude runs in to the tavern saying her kid is gone then a bunch of fucking drunks go get their buddies and they go solve the problem. But, whatever. You don't care. You just need to churn out the next thing.
There's an inn! It's fully detailed. FULLY. Two and half pages. For ten rooms. Full of exciting descriptions like "Valoura brews wine here." Just to be clear, nothing about it is important to the adventure. There might be two sentences, up front, about adventure specifics. Otherwise we get generic and abstracted descriptions about the owners bedroom. It is absolutely textbook in not understand the purpose of a description. Full of meaningless descriptions (well, "full" isn't quite right …) that have absolutely no bearing on the adventure. Fucking garbage.
And, then there's the rumors. "A minority thinks this is all an elaborate, practical joke organized by the children that eludes explanation." I am inspired! Yes, please! More abstracted text! I understand people give me shitfor my in-voice desire, but, this is the results without that. Generic abstracted shit that it meaningless and does nothing to help a DM run an adventure. Oh, did I mention that the inn is full of laughter? When two dozen kids are missing.
Good news though! You do get to pick up a mary sue in the tavern in order to accompany your party. Who has a magic necklace that puts the big bad to rest forever. Uh huh. Fuck off man.
Oh, on our way to the forbidden city! Here's the description "they find a barren wasteland of what once was a rich settlement and the farmlands that surround the royal palace. They are dilapidated ruins, mounds of shapeless rocks, and overgrown fields. Only the Forbidden City itself, because of its size and scope, remains a recognizable feature in the area." Yup. Ok. nothing to see. Move along. Move along. Absolutely nothing. This is supposed to be the centerpiece. The place people are afraid to go.
You randomly find an entrance to the dungeon, one of three. Cause the LSR is random, I guess. We now transition to a generic map. The most boring generic map ever. But hey, it shows torches. Why are their torches? I don't know. But there are. Everywhere.
We now transition to the most evocative room descriptions ever. "This is a long corridor that connects several sections of the dungeon and a semi-natural cavern in the south." or "The hall within contains three ornate sarcophagi." or "There are three unlocked wooden chests in this room. The chests and their contents are magically preserved." No doubt too wordy for some of those among us. This fucking shit adds nothing. No specificity. Conclusions and abstracted content. For what should be the main part of the fucking adventure.
Wanderers are rolled for every turn. Not a chance. Rolled for. With about a 50% chance of a monster or trap. Ghouls and Shadows. Giant Spiders (2d4 of the fuckers!) The dungeon proper features a Wraith. And an "Underground Stinkray", whatever that is. No stats. No idea what a stingray is supposed to be. A cloaker?
Anyway, no sense of what an OSR adventure is. No notes for the OSR. Just a 5e adventure that you could, if you wanted, stat up for the OSR. If your level one to three OSR adventures include a wraith. And a 50% chance of monsters every turn.
Absolutely no fucking understanding at all. Just fucking garbage. A shameless money grab to say its OSR to expand their conveyor belt f muck to a new category so they generate a new $1.50 a month in sales. Fucking bullshit. A bad adventure. And a bad person in their blatant late-stage capitalism abuses.
This is $2 at DriveThru.Enjoy your six page preview, showing you the inn in all its glory and the wanderers table. Every ten minutes. Fuck off man. Fuck off.
https://www.drivethrurpg.com/product/425592/Sorrow-of-the-Mangled-Prince–Tier-1-Adventure?1892600