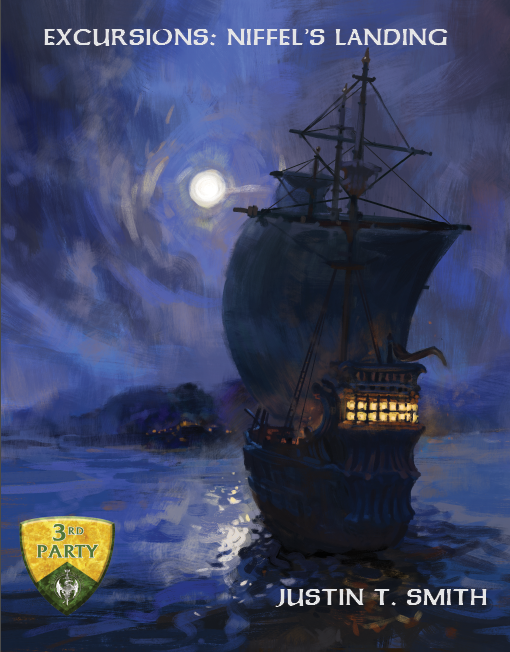 By Justin T. Smith
Christina Stiles Presents
Castles & Crusades
Level 1
In this excursion, the players find themselves running an errand at a whaling outpost. When they arrive, a cold fog rolls over the island and no people are about. As they explore the outpost, they discover the truth about what happened to the inhabitants.
This twelve page adventure has six sites. It is a textbook example of how to not write an adventure … while still having an editor who knows how to spell.
So, Frank killed a whale. Then he built a tavern at the site he killed it, on some rocky shore, and it's now a whaling station. But, also, Frank didn't say the Prayer Of Thanks, so now the whales ghost hates him. The ghost whale sings the song of madness, or some shit. Frank is now dead. Franks wife is dead. Franks son is dead. Most of the people at the station are dead. Except for six who are now insane. And Franks daughter, who the whale ghost loves. Of course she does.
This all take twelve pages. Which seems a bit much for six rooms. But what is I said seven of those were just padding? The cover, title page, license, etc. That's only five pages, right? Except one is a full page map of the tiny island. SO, six rooms in four pages. Which is still too fucking many pages for what you'r egetting.
There are no decent descriptions. You get some victorian lists of contents of rooms which, no doubt, is historically accurate. Which is an insult is they bear it, because the point of the game is not historical accuracy but rather fun, to which historical accuracy can contribute, sometimes, if done correctly with the end goal in mind. So, we're not talking The THing here. No swirling mists with dead mean walking out of them. Just boring.
There is no interactivity. I mean that more than most times I say it. You get to stab a couple of zombies and six crazed whalers. That's it. Oh, and if you wander out in to the rest of the island then you might get attacked by a zombie. All stabbin. Those six crazy whalers? They are in to factions that hate each other, hole up in opposite ends of two warehouses. But you'll not get any good roleplay out of that because they attack immediatly. To the death. Blah blah blah. You know the drill.The whale cries out every hour with a 10% chance. If you fail your save you go mad. Wonderful.
You're supposed to bury the whales bones to lay it to rest. If you don't then the little girl does. So, you know, no need to actually go on the adventure, right?! Which would be a good thing because there's no treasure in the adventure. Gold=XP in C&C, right? Not in this case, buddy.
And, while I'm on it, a Level one sidetrek that takes plac ein the arctic? A side-trek at level one? In the ARCTIC?! Uh huh. Not that they put THE FUCKING LEVEL RANGE on the cover, or in the description or anything, so you won't actually know what fucking level the thing is for.
Oh, oh, to actually win you need to convince all of the whalers everywhere to give prayers of thanks when they kill a whale, and it needs to be maintained for a generation and passed on to their kids! I kind of like this, in an assholey LotFP kind of way.
The rest of island is location number six. It says that if you enter there is a one in six chance of meeting one or more zombies. This sentence is emblematic of the entire adventure. The designer doesn't give a fuck about you. One or more. How fucking many? I know, it seems like a small thing. Just throw some in, Mr DM. But, seen from an adventure writing standpoint, why would the fucking designer not say how many zombies there are? It's one of the most basic parts of any adventure. How many things are trying to bite my face off. But they don't do it. Because they don't give a fuck about the adventure. Not that there is one here anyway, since theres no XP and the little girl solves the immediate problem. But, everything about this adventure is NOT oriented towards the DM running the actual game. It's just bullshit.
THERE IS NOTHING HERE.
As the page ratio implies. As the descriptions imply. As the treasure implies. As the lack of level range implies. As the Zombie encounter implies. But, hey, maybe repeat that room two backstory a few more times in the text in case we didn't get it the first few times you repeated it. This is a one fucking page adventure. If that.
It's 2023. And this shit still gets made. You think raging against the dying of the light has any impact? Absolutely the fuck not.
This is $2 at DriveThru. The preview is one page. The credits page. Absolutely fucking worthless. The point of the preview is let the potential buyer get a feel for the adventure to see if it fits them. Showing me your fuckign credits page is a fucking insult.
https://www.drivethrurpg.com/product/423776/Excursions-Niffels-Landing–CSP3007?1892600