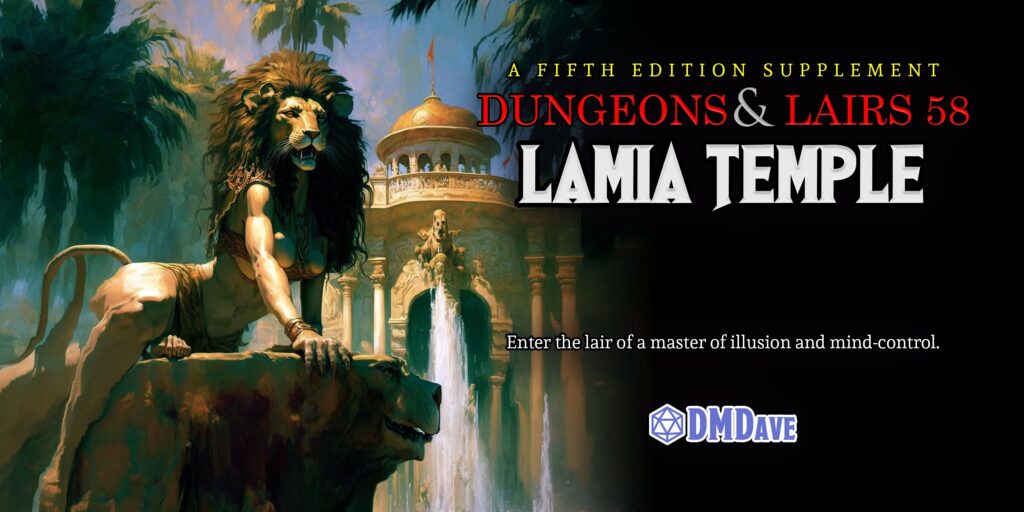 By DMDave, Ninetoes82
Self Published
5e
Level 3
To the locals, the Temple of Healing is a myth, a cautionary tale they tell their children. The legend says that the temple appeared one day on the edge of the desert. At first, the locals thought it was a mirage, as it was the miracle for which they had prayed: their city was in the grips of a horrific plague that had already decimated their population.
This ten page adventure features a symmetrical temple with sixteen rooms. It's fucking dumb. Poor formatting,inconsistent descriptions, and a shitty implementation of the idea.
"Hey Bryce, is DMDave the Real Deal or just good at marketing or both?" Well, he's got 4,500 patrons, so, we know he's good at marketing. Dude is banking $12k a month, at least. Nice! He probably tells his visitors that he loves them, they are awesome and make him feel so special. He interacts with them. That's how you build a fucking following. And, ultimately, how you make bank. No matter the quality of his work, I'm sure he's outearned everyone in the OSR by a factor of at least ten. No single work produced can outearn $12k a month, month after month. So, you wanna make bank? Be a DMDave. You can stop reading now.
But, there is something else. In generations to come, will someone find the copper tablet-box and slip loose the ring-bolt made of bronze? Will they draw out the tablet of lais-lazuli and view the works cut therein? Will they be DMDaves? (The jokes on Shelley; .gov moved his monuments when the high dam was built!) No, obviously not. Baby needs to be a black sheep and a whore, outside of society. The cultural hero cannot be OF the culture. Build your walls, plant your orchands, cut your works in to the tablets; it's as close as we're getting to the bitter herbs … cause the snake always eats them first. But, fuck it, it's something, right?! (This essay on selling out and mortality brought to you by Ramses 2, Patty Smith, and Melanie Martinez.)
Ten pages, fifteen rooms. The temple is symmetrical, which ALWAYS bodes poor;y. Symmetrical maps suck shit and are boring to play. There are brief exceptions for small symmetrical sections, especially when hinting at secret areas, but the entire thing symmetrical is boring
We got no hooks. That's reserved for people who pay DM Dave. (Evidently this is the free version of the "you give me money" version.) So, ok, we don't need that. We only bitch about hooks if they are actually included. Moving on, though, we see that detect magic doesn't work inside the temple because everything is magic. We see, right here, that DMDave is not, actually, a good DM. DMDave insists that you experience the adventure the way he intended and fuck you for thinking otherwise. Get on the fucking railroad and follow the 'Story' tha the DM tells themselves is wonderful. We don't do this. Not in the OSR, not in D&D, not in ANY RPG. The party makes the decisions. This is one of the key elements of ALL game play, I would assert. Otherwise it's not a game, DMDave. The party earned the abilities. They get to use them. If you can't write a level twenty murder mystery adventure because of SPeak with Dead then guess the fuck what? You're not writing a level twenty murder mystery.
Ok, so, back to the actual adventure. Lamia takes over a ruined temple. She cats a powerful illusion over everything to make it looks like its new and fresh and I guess people come to it now for some reason. I don't know why. I assume she eats them or makes bank, but that's not really covered well. JJust shit the fuck up and "experience" the game.
The writing sucks ass. "During it's heydey this section of the gardens was used to grow and harvest verbs used in healing and potion-making." Fucking wonderful. A history lesson. We don't care about that. We care about actual gameable content. NOW. When the party enters the room. Whats going on NOW. The number of fuck ass adventure that still do this fucking shit, in this day and age, is fucking absurd.
Ok, so, illusions everywhere, in where room. Covering every creature, just about. The description tells you what you see. Sometimes. Sometimes it doesn't. Sometimes you just get the illusion description. Sometimes you get get the non-illusion description. I guess DMDave can't actually be bothered to be consistent? Or his editor "The DMDave Team" can't bebothered to actually do their jobs as editors? What ya doing here man? Pick a fucking path.
We also get justifications for things, like a cursed pool. "And has been cursed by the lamia with powerful magic." Wonderful. We already know its cursed. What did that sentence add? You don't need to justify things. Just do it. Cogito. It is. Stop fucking justifying things in a fantasy fucking game. (Or, any RPG for that matter.)
The kitchen is real. Maybe? Illusions are supposed to cover everything, but it says the kitchen is really kept up? A couple of cooks make food. Its kind of gross. And they are guarded by two cocatrice. Seriously? As intelligent guards now? Are they covered in an illusion? What the fuck is going on?!
Your reward is a +1 mace. So, you know, full of the majesty and wonder of a game that enables the imagination, this one. That's the fucking point. The +1 mace, appearing in this, is full on representative of everything wrong. Ok, sure fuck wits, you can have a different opinion when the adventure is stuffed full. But, as a single magic item? This is the thing? A +1 mace? DMDave does NOT know what makes a good D&D game.
The formatting is all over the place. It's just paragraph form writing, with no effort to enable the DM to run the adventure effectively at the table. We get some building, but that's just "Trapped Room" or something. It's an ineffectual format, as it has always been. To use it effectively you have to really focus the writing and that's just beyond the casual form of writing, and production speed, that DMDave is going for.
Is it good? No. Is it bad? Yeah, kinda. Is he making bank? For sure. So, as a means to that its great! But, if you actually want a good D&D game? No. It's just Kabuki, like the Pathfinder "most people just read them" shit. It enables the revenue model. Is he as cynical as Paizo? I hope not, so, I'm not going to give this one a Crook tag. But, also, DMDAve must, in some way, like the game. I hope he makes something that embodies that, rediscovering his love, rather than the production line stuff he seems to be crapping out.
This is free at his Patreon.