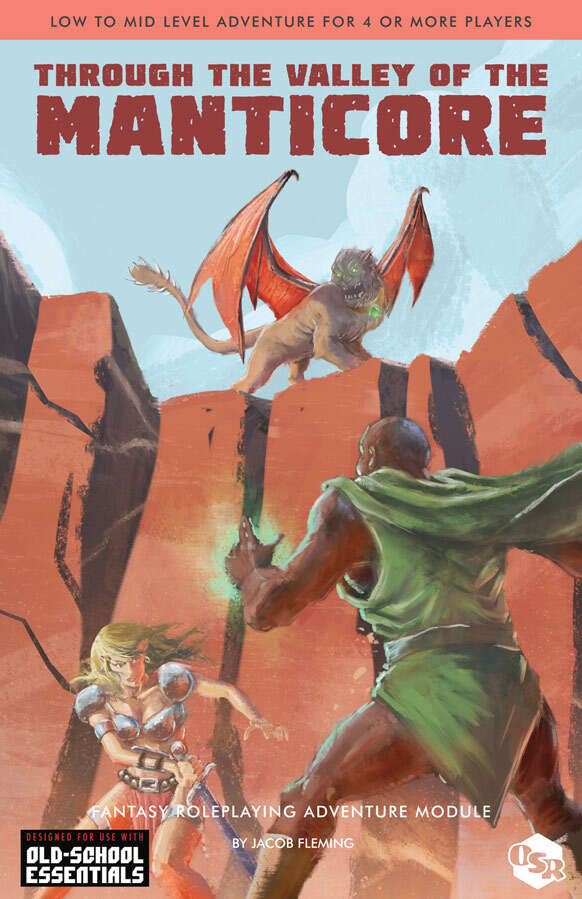 By Jacob Fleming
Gelatinous Cubism
OSE
Low Levels (ha!) to Mid Levels.
In the desolate and forbidding canyon lands, Hurloror Canyon is home to only the bravest and most hardy. The road that leads through it is the only way to navigate this dangerous wilderness. Travelers and merchants alike must face the canyon so that trade and commerce between city states can carry on. Much depends on the road remaining open and unimpeded. Fort Davelmag, the only safe refuge in the canyonlands, stands as a beacon for weary travelers and a testament to the will of the lawful. Once a military fortification built to hold off the advancing forces of chaos, now a way station for merchants and caravans, with a small detachment loyal to the crown stationed here. Now the residents of the Fort face a far more devious threat than the harsh environment or hungry beasts. Through the Valley of the Manticore has players traverse winding sandstone slot-canyons and explore natural cave systems rumored to contain hidden relics of immense value and magical power. Sooner or later they may realize that they are mere pawns in a game being played by an unnaturally intelligent monster. They will need cunning as well as strength in order to overcome this bizarre and terrifying tale.
This 48 page digest adventure, not really a hex crawl, contains a small region, a kind of valley in the desert, with a few small dungeons and a few quests in a trading post related to them. It's formatted rather well, generally, and is trying to be interactive in places, but comes off a bit bland, which i snot helped by the minimalist descriptive style.I don't hate it, and it's intriguing in some ways … but not enough to run it.
Hex map, six mile hexes, with the map being six hexes wide and four tall. There is a town, a small desert watch/caravan stop, described as well as four dungeons, ranging from four to sixteen rooms. The dungeon maps are rather simple and the hex map has some roads through it, with the dungeons hanging off the road … with a couple of exceptions. Two two not on side roads consist of "head up in to the hills and figure out why the spring aint flowing anymore" and "follow the manticore back to its lair." I mention this because this is listed as a hexcrawl when, in fact, it's just a small region. All of the dungeons are related to subplots going on in the fort.
The forts your home base. The militia at the fort are on edge; a manticore has shown up and ate two of them. And, also, Frank the guard killed one of the caravan people stopping for reupply, they are pissed and not leaving until justice is done .. and he claims he don't remember doing it though he obviously did. Also, the forts water supply is drying up. Also, the caravan leader wants a tomb robbed. Also, some other merchants kids went off to rob a different tomb.
Formatting is good. You get a little description for each room and some indents and bolding to help call out some special features that appear lower down in the text. Essentially, it's paragraph form, if the paragraph is short and references other information well. And has appropriate cross-references. There's an exception to two the formatting being well done … the overview of the fort, for example, is essentially all paragraph and could have done with some indents/bullets/bolding, etc to help call out the more important pieces. But, overall, not bad at all and fits the needs.
Interactivity is ok. Meh, better than ok, I guess. Each dungeon has a couple of traps and a secret or two to explore. Teleporter, Well of Souls, etc. There's an altar in one that you have to make a sacrifice at in order to open a secret door. The advice given is to be generous in how you treat the word "sacrifice." I can handle that, and prefer things that way … let the DM interpret the player intentions. Money, a dead body, spilt blood, whatever. It's the intention that counts 🙂 I guess I'm unhappy with the interactivity because of the lack of depth here. It's all pretty self-contained and, given the small size of the dungeons, theres only so much room to get your interactivity on.
The real issue with this thing is that its a minimally keyed adventure. A minimal key that LOOKS like more than that.
The entries FEEL like they have some weight to them. About six per page, or so, in two column digest format should be ok. And they are all a couple of paragraphs long with some bullets following for more information on specific room details/secrets. That should be cool, right?
But it's not.
Let's take a look at a couple of entries, shall we? "Giant Scorpions [incline state block] are kept here as pets. The floors here are slick with rotting blood and scattered with bones." or "a group of gnolls [stat block] are eating meat from a recent hunt around a fire."
You see, now, I hope and pray, what I mean by a minimalistic description. These are about at the level of the more interesting B2 description, with orcs shooting dice. And while that level of description is better than just "5 gnolls", it's not by much. Especially in 2022. When looking at these descriptions it/s pretty obvious what the issue is: conclusions. "Are kept here as pets" is a meaningless statement. It attempts to explain why there are scorpions here. As does "From a recent hunt" in the gnoll description. Descriptions which draw conclusions, explain history, and meaningless backstory are not good descriptions. Good descriptions actually DESCRIBE. What, about the room and scorpions, would make a player say "oh, they are pets!" That should be the description. Put them on chains. Put a collar on them. Something. The same with the gnolls. Put a carcass, hung upside down with an arrow in it, in the room, with maybe something fun done with the guts. "Ah!" the players says "they have just killed it on a hunt!" It is the job of the designer to bring the environment to life and inspire the DM so they can do as much for the players. And this don't do that. Again and again it don't do that. Again and again it is a minimalistic description that, in some cases, somehow takes up A LOT of space.
"The door to this room is trapped. If triggered there is a poison needle that will stab whoever tripped it. However the poison used on the needle is from one of the scorpions kept in room 3 and is not a lethal dose. [Poison effects follow]" This is all garbage. It is all meaningless. It is all padding. It is built up justification. It's a door with a poison needle trap [poison effects.] Done. IF triggered … really, IF? We don't do if's when writing.
It does this over and over again. Padding to no effect. Minimalist descriptions. The adventure LOOKS good. The formatting is nice. The art is nice. It's on the right track to providing a little sandboxy region to have some fun in. But, it's weak. Very much so. Writing good descriptions is hard. I think it's the hardest part. I don't hate this, but, I'd pick something better.
Oh, shit, I do want to mention, though, that this has some great monster selection. A roper shows up at an interesting time. The use of a scorpionoids, a black pudding, akrell. The fucking manticore itself in an arid environment. Really good monster selection here.
This is $10 at DriveThru. No preview because it's broken. 🙁
https://www.drivethrurpg.com/product/400889/Through-the-Valley-of-the-Manticore?1892600