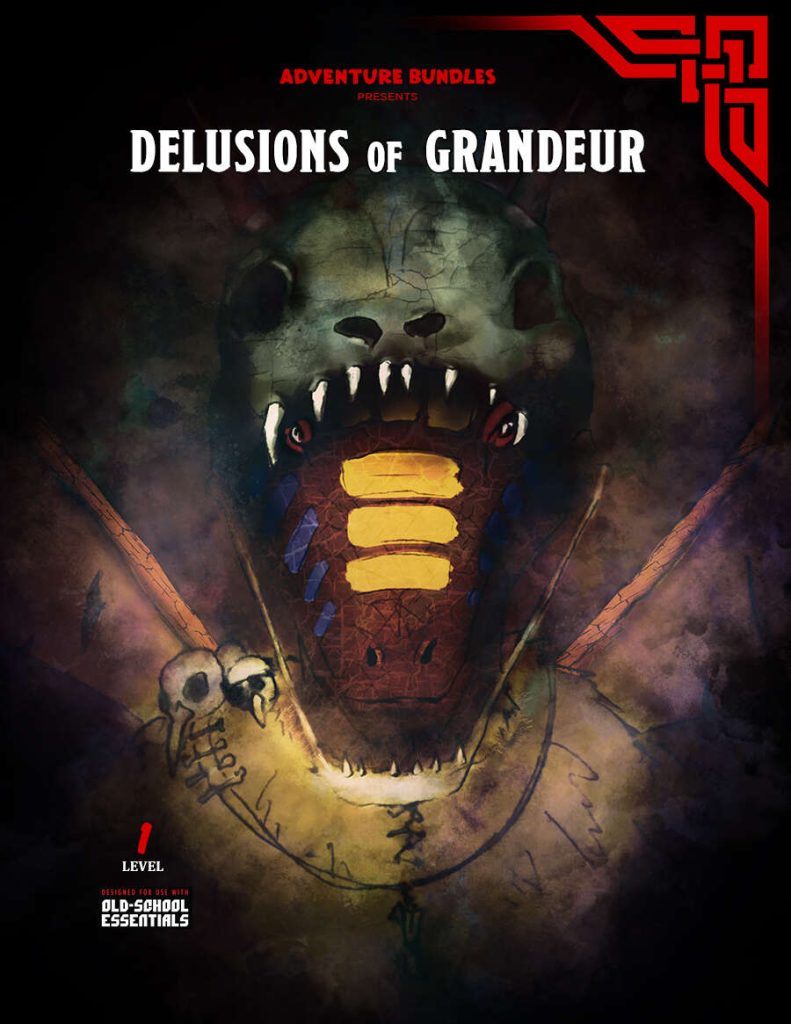 By Adventure Bundles
Adventure Bundles
OSE
Level 1
There is a kobold clan living in an abandoned dwarven mine. They call themselves, Iga Shuvne, which loosely translates in common to The Big Ones in the Mines. The name is new. The kobold chieftain changed it after the discovery of a wand, as he thought it better describes what the clan now resembles. It was about a month ago, when a scouting group of kobolds exited the mines to patrol the surrounding cliffside and desert. There, on the ground, near a patch of dried bushes, they found a wand which allowed them to change their size. Although they have made themselves smaller while testing the wand, the actual interest was on the property that allowed them to enlarge themselves. They brought the item back to their chieftain, and since then, he boasts with confidence, pride and has even started declaring dangerous ideas about attacking the nearby villages of men.
This eighteen page adventure features a two level mostly linear dungeon with about sixteen rooms. It is the usual 5e take on kobolds, but in OSE. IE: dumb, comwardly, and with some silly traps. It lacks strong descriptive text and is pretty straightforward. The single exception is a Drowned Maiden, that shows potential, but suffers the same.
We've got some light hooks around behind hired because the kobolds are getting more uppity and hanging around and stealing things and such. Off you go the old dwarf mine (don't humans and elves ever mine?) and journey three days up the mountain/desert with a few wanderers. A colorful little 5e-style map has two levels, mostly linear, with some water features in it. And kobolds.
Modern kobolds.
We wanna be dragons and we make traps like we're tinker gnomes. I loathe tinker gnomes, and modern gnome culture. And modern kobolds. Your mileage may vary. But, they are weird rube goldberg trap heavy. Vats of molten honey. A wire from a fake gem to a dropping killer bee hive. (Save vs death.) A compressed elk bladder that contains a mixture of snake poisons. A charming little feature is the inclusion of Grimtooth style drawings for the trap; an appeal to the nostalgia of the olden days. As things go, I'm rather fond of bee hives, and even snake venom. The more rube goldberg nature of the traps is a bit of a let down, as is the somewhat heavy nature of the traps, in quantity. It approaches a schtick. I'm open to being called prejudicial here, for while I find them charming I also sigh more than a little bit. Anyway, a lot of traps to go with your "i wear dragon wings and a dragon mask" chief. And vats of molten honey to fall on you. And weak floorboards. And …
The text is a little on the nose for me. Mechanical minded and to the point without much charm to it, or evocative writing. I can't say it's BAD, but … the read-aloud is short and the text well formatted for quick play. There may be a thing or two out of order (if the trips is first then the tripwire should be first) Rooms with read-aloud do a decent job, but that's not all of them The egg room, for example, is just DM text "There are 5 nests here, containing all current kobold eggs of the tribe. There are green, red and black eggs at the moment, and all contain little kobolds in the early stages of development. If the kobolds in Area 4a, Kobold Living Area have been alarmed, then some will be waiting here to defend the eggs.
Otherwise the chamber has no enemies" Like I said, devoid of life and a little too mechanical minded. Compare this to a room WITh read-aloud "The sound of waterfalls feeding the underground lake emanates around the cavern. A couple rock pla?orms with jagged edges protrude from the crystal clear water, while makeshift bridges made of ropen rope and planks extend to connect them." That's from room three, a particularly well done/formatted room. Maybe the read-aloud could be a little more active in it's verb use, but it's ok.
You're gonna get traps and fighting. There is a shaman that might get you to go kill the chief, and vicey versey, but only if you don't make omelets in the egg room. There IS the inclusion of a Drowned Maiden, which I take it is a 5e thing. I love the concept, it being a classic. The description, though, is "As soon as the party approaches or comes out of the water, a drowned maiden named Drowned Constance will emerge from the water. She has ventured too far away from her lair that connects to these underground rivers and is lost and hungry. She will ask the party to bring her an egg of the "scaly little ones" to feast upon so that she can return to her lair." Not very evocative at all and a little boring and one dimensional, but, it's not fighting. More thought, going in to this, could have really elevated it, and the design … which I think is pretty much the same with the entire adventure.
As a 5e adventure this is probably pretty standard, or even much above the usual quality levels. I can't say though that it seems like a good OSE adventure. A little linear and prone to fighting. Maybe a better kobold cave than B2, but, also, maybe not. It's needs a text uplift, and a rethink of of the overall design and situation within the cavern.
Oh, the delusion is tha the chief has a wind that makes him/kobolds bigger or smaller. It shows up on the chief, probably in the last room, and is not really handled at all. Not so great for the main gimmick/title gimmick.
This is Pay What You Want at DriveThrue with a suggested price of $3. Le Preview is the entire thing. I suggest checking out room three on page seven of the preview. I think it does a good job of showing all of the good with the formatting/read-aloud as well as the more difficult parts of the design.
https://www.drivethrurpg.com/product/401027/Delusions-of-Grandeur-OSE?1892600