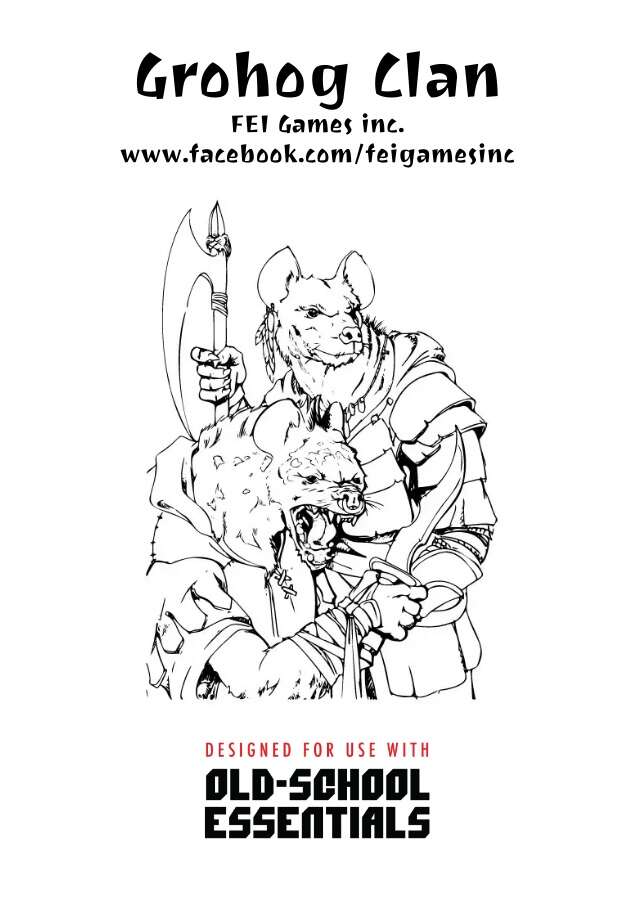 By FEI Games
FEI Games
OSE
"Mid Levels"
Simply put … A band of Gnolls have made the area their new home and the villagers want them taken care of….
Seriously? You want this reviewed? What is wrong with you people? Did I date your mom or something? I promise, I really was just going to the corner for a pack of cigs. Something came up. Ok, it's on the list and it's time to pop from the queue has arrived.
This fifteen page adventure uses four pages to describe rooms in a gnoll lai,r, about half of which are occupied. It's boring.
But, then again, you already knew that, didn't you? I mean, you can just TELL, right? I mean, like, the cover could be cool. It harkens back to some older products from the 70's and 80's. So, like, cool. But, come on, yo unjust know what's coming, right?
Villagers want yo uto go stop some bandits that look like canines. They give you 20gp, a mule, 3 beaver prlts, 3# of dried venison, 5 live chickens, 5# of dried grain and 5# of gooseberries as payment. Bring on the dancing horses! Also, you get free lodging at Jax's tavern. Which really surprised me. Cause one of the rumors was that jax was behind the raids and I had no idea who Jax was. I guess he runs the tavern. Whatever. I'm not going on this adventure. What if we just kill most of the townfolk, enslave the rest to work the fields and call ourselves Baron Froffbooty and take a more traditional view of the situation. I mean, whoever IS the local lord should be looking in to shit, right? I mean, these people are paying taxes to him and, at a fucking minimum, he wants his taxes from them. So, if he don't care then how about we take or swords and take his place? Then, because I am, deep down, a traditionalist, when he complains and tries to kick us out then we hirre a lawyer and make a legal claim to the land. And we bribe the judge. And whoever the local lord is as Sir CantBeBothered is supposed to paying fealty to. That's right kids, we're playing OD&D Kissinger style! Pragmatism, without being (overly) bound by moral and ethical consideration. In some possible world that's a good act, so, you know, I'm Lawful Good.
The rumors are full of great things like "The leader can be bribed to leave the area." Like, what the fuck? "The leader?" who the fuck is the leader? How the fuck does our rumormonger know that? Do they deliver it like that? No? How about "Henri? You means Balls of STeel? Henri, with the hairlip? He got raided by them and instead of killing him he took them to an ATM and gave them $400 and they left him alone. "Right? Jesus fuck man, how is the poriginal even a rumor? I get it, but, also, why not put just a modicum of work in the adventure to elevate it above all of the dreck available today? "The old mine has a rich gold bein yet to be discovered." Huh? Then how do you know that? Boring, and makes no sense at all.
Inside the "mine" is six rooms. Oh, no, wait, hang on. There's a giant clearing in front of the min entrance. If you just walk the fuck across it without trying then their guard out front has a 20% chance of seeing you. … Serious? Anyway, anyway, Inside we are met with just dazzling writing as "As you make your way you can hear the voices of multiple gnolls." No? How about "Once they notice your party they pull their weapons as they quickly move to attack." *sigh* nothing better than some you's in a read-aloud. Or Them automatically noticing you. Or the standard ATTACK action. Dazzling.
The encounters are just the monsters attaking, present in about half the rooms. Gnolls. Just gnolls attacking, with not real order or battle for them to respond. The leader and his two bodyguards do all have rings of invisibility that they use to sneak out though. THREE rings of invisibility. And 12k in personal treasure. Yes, that's right, 12k in personal treasure. And that's in addition to the 15k the treasure room has. So, like, there's no fucking detail at all, butt, het I guess raiding has been kind to these gnolls? What if we become the local lords AND raid the roads of the kingdom next door to make bank like this? I'm gonna need a XP ruling, gentle readers, on how much XP we get from taxes and raiding merchant caravans of the nearby lords lands. And don't gimme no shit, you know that's why B2 has an extensive keep.
Yeah, so, shitty read aloud. No real DM notes. No real encounters other than a minimal keying that is padded out.
Nothing to see. Move along, move along.Bring on the new messiah.
This is $2 at DriveThru. The preview is three pages and shows you nothing.

https://www.drivethrurpg.com/product/396813/Grohog-Clan–An-Old-School-Essentials-Scenario-A5-Digest-Sized?1892600