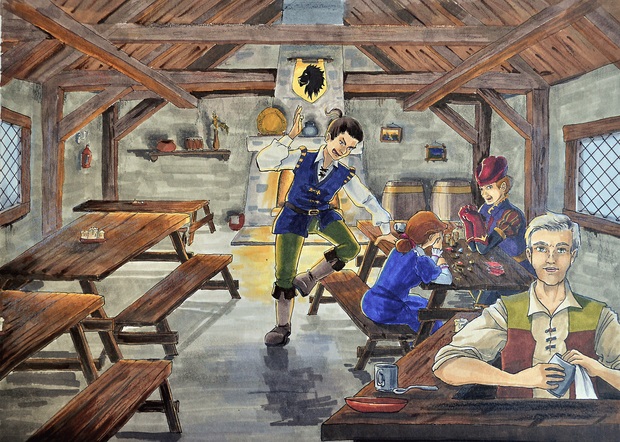 By Maitre Corbeau
Self Published
5e
Level 3
A nice inn, a warm fireplace and someone to bet your precious coins, what could be better to start an adventure that this ? I offer you Altrair's hideout, a quest filled with puzzles and tricks, deceptions and big rewards… maybe ?
This eight page dungeon features eight rooms. It's a funhouse dungeon. I am filled with the regrets of a thousand lifetimes. The mourning of the deaths of all possible futures given the choices of the past and their inevitable consequences for the predestination that they lead to. If you're feeling like I feel then run your life like it's a dance floor. And if you need a little heat in your face, that's what I'm here for.
A Request! For 5e! It's not clear how many more of these I'm going to handle. I'm not devoid of sympathy for the 5e designers, but, it's also not my life's mission to provide individual feedback. Hmmm, maybe I should start up my design consultation/feedback thing again. Maybe, one thou a pop? Like they say, fifty though a year will buy a buy a lot of beer, And maybe even some shades. And maybe some therapy? Or, I could finally get the brakes done on my truck and the rotors on my car. Now I'm just rambling. If you're feeling like I feel throw your fist though the ceiling! Some people call it crazy but I call it healing.
It's not clear I recognize D&D anymore. Time counts and keep count. The seasons change, as do people. Well, except for me, from the day of my birth Gilgamesh was called by name. But D&D? … This adventure features one combat with four thugs. They surrender when reduced to a third of their hit points. Which, I guess is nice to see since I usually complain about fanatic opponents fighting to the death. They also deal non-lethal damage, which, I think, is a trend these days? At least, when I play 5e, I get chastised for my "I stab him 76 times in throat with my pocket knife" style of play. So I think it's a thing. And since this is my blog and the rest of you are just undigested bits of roast beef, that's all that counts. And keeps count.
Seriously, that's the combat.New readers just arriving will now think I'm some kind of kick the door in and kill the monsters guy. A thousand times No! But, man, a bit of the old ultra-violence keeps things interesting! When it's not the only note in the cymphony. (<—Ha! Get that one you fuckers!) What ever happened to fire and torture? Who wants to start … oh, hey, that's a really great idea!
Ok, fuckers! Who wants to be an asshat with me? You gotta be a HARD piping OSR player. A team player, engaging, not a wall flower. Thinking outside the box murder fucking hobo par exelance! It's gonna be fucking great! And, it will distract me from reviews like this one.
Look, man, this dude don't deserve me. He's just some designer from Quebec writing adventures in French & English. No doubt they love D&D. And some dickhead somewhere told him to send his adventure to me for a review, maybe. That person is a dick. And, I've got a soft spot for the Quebecois. I don't know, preserving some unique culture shit while getting fucked over by the rest of "friendly" Canada and their martial law bullshit.  Is there some pro-Quebec slogan that isn't from de Gaulel?
It's a funhouse dungeon. Eachroom is a puzzle. There's one combat. The number seven repeats in most of the puzzles, which is fun and i support. You see, you're in a bar and play some wacky game involving 7's and multiples of 7's and that theme repeats inthe dungeon, with a stair of 77 steps trapped in the same way. And seven mirrors each with phantasmal killers. And the seventh door the right one. And … you get the idea. I'm supportive of the repetition
But, the actual dungeon? It's a linear set of rooms, one after the other. The DMS's mao is labeled one through seven while the rooms in the text are not labeled with numbers but just names.
The read-aloud is not overly long but it does over-reveal, with things like "some of the steps do not have footprints on them. "No. We do not say that. We say there are footprints on the steps and thenwhen the players ask we reveal that some steps do not have footprints. We do not over reveal information in read-aloud since the back and forth between DM & player is the sould of the game.
There's also some very confusing text, especially in the upper levels/outside the dungeon. This may be an EASL issue, which I am generally very forgiving of. "The stone floor underneath the arch is trapped …" except this the first time we've heard of the arch, there's no map and no arch mentioned anywhere. There a rtap food in an abandoned house AND in the shed in the garden … and I'm not sure which one goes to dungeon, or if they both do, or what. Or maybe it's the same hatch? It's not as big a deal as I'm making it out to be, i mean, after all, there's a fucking door to the dungeon and the party enters it, right?
I' m less forgiving of the abstraction. One room has cool looking magical weapons. That's the desccription. Nope. You have to DESCRIBE what they look like, in way that makes people think "cool", rather than putting that work of fon the DM. In a related note, there's the usual "characters worst nightmare attacks them" shit. I hate this. I know, its supposed to be meaningful, but it never is. Just come with a phantasmal killer concept and shve the character in to it all Pyramid-head style. Any time I see an adventure want to engage in any "tell me what your worst X is " I roll my eyes.
There's also a decent amount of magical set up. Like the baddie having a magic bell that alerts his thugs, or a ready made scroll of major image to conjure a vampire illusion. It begs the suspension of disbelief.
So, eight-ish puzzle with one combat, generic abstracted treasure, and nothing else. *Yawn*
Oh, wait, one of the hooks is that Luke, the local priest, lost a bunch of money gamblng. Money that was not his. I love me a dirty hook!
Did I mention the bad guy is a doppelganger that makes himself look like a princess? Have you EVER actually rescued a princess D&D, or were they all poly=d dragons and succubi and doppelgangers and the like? In my next campaig … or my new secret project, there's gonna be a fucking princessin every dungeon. And lots of carnivals.
Man, you don't deserve me. You didn't do anything but ask for a review. But, then again, I don't deserve this, either, do I? Or, perhaps, deserves got nothing to do with it in a search for meaning in a universe devoid of it? We want an explanation but there is none coming. Ever.
This is free over at the designers Patreon.