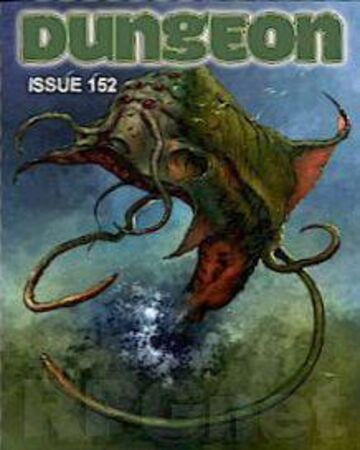 The Last Breaths of Ashenport
by Ari Marmell
D20
Level 6
A special request for a Dungeon 152 review!
This 44 page adventure is the standard Call of Cthulhu scenario, except written for 3e (3.5?) You're in an Innsmouth, it's cut off, freaky shit goes down, you raid the church and then you raid the sea caves. I've played and run enough to these that I know how it's supposed to go down, and you can see the basic outline and what the designer wants to do, but the scenario doesn't accomplish it.
I like CoC. I think CoC is great. Non delta-green versions of CoC are the perfect one shot/con game. What I do NOT think, though, is that investigation adventures are meant for D&D. D&D has the Divination problem. The players can and will cast Detect Evil/Locate Object, etc. This is because D&D is not an investigation game. D&D is a dungeon exploration game. The spell lists are crafted for a party raiding a dungeon and finding a princess and wanting to know if they are gonna get a kiss and kingdom as a reward or a level drain for their problems. And for every Detect Evil you memorize that's one less Fireball to toss out. It's a give and take and resource management game. And I don't really give a flying fuck how YOU play D&D. That's irrelevant. The Spell Lists are created for this type of play. It's built in to the game and WILL be built in to the game until someone reworks the fucking spell lists.
Until this happens the only possible solution is to gimp the fucking party. I still remember being stone'd by a Medusa who the adventure said was evil "but not enough to register on the spell …" Uh huh. And in this adventure there is a vague evil detected in the village but nothing specific. Because two evil altars are masking the fact that everyone in the village is an evil Dagon cultist. Combine this with the standard "You are trapped in the village by a raging storm" mechanic. I know, I know, it's a standard trope for these things. Or, rather, it's a standard fucking trope for a game in which you are normal people facing the terrible unknown. I can teleport without error and he regularly communes with his god and rides the sun chariot around the night sky with him. We don't get trapped in villages. It's trying to force a scenario type in to a game that doesn't support it. Just like you don't explore dungeons in CoC, you don't investigate in D&D. That's not how the game was built.
Ok, so, that's out of the way. Let's say something nice. There's a paragraph of advice up front that is extremely useful advice to the DM: "When describing them [ed: the fish-men], however, don't use either of those terms. In context of the adventure, they're not "pseudonatural kuo-toa"; they're fish-men of Dagon. It may sound like a minor point, but the proper use—and, just as important, the careful avoidance—of particular terms can go a long way toward making the PCs, and indeed the players, feel like they're truly facing the unknown." No truer words. This gets to a core point: making the party afraid. You don't tell them they face a troll. You describe the troll. You don't say "dragon", you describe it. You describe eyestalks popping up out of a bit, not say the word "beholder." The specific advice given is different (they are fish men, not kua-toa) but the concept is in the same neighborhood. Don't remove the mystery and fear from the game by naming the thing.
There's also a pretty good in-voice bit from an NPC. If you question a rando townsperson about an inn, when you first arrive in town, you get this little gem: "Might meet you there later to hoist a tankard or two; gods know I'll not be doing much else 'til the sky stops weepin'." Pretty good! An NPC acting like a normal person for once! The adventure also let's you roll, after 24 hours, to determine that the weather is not normal. A nice naturalistic way; it takes time.
We are now done being nice.
The standard long read-aloud. The read-aloud is in italics, making it hard to read. Nothing new there. The read-aloud has a lot of "you's" scattered in it: "their eyes glare at you in hatred" and so on. It does solve the "long stat block/enoucnter" issue by removing all encounters and placing them in the rear of the adventure. So a room might say "run encounter 'from the sea on page 24 now.'"
The adventure does two things majorly wrong, which would be wrong even in a CoC game. First, it relies A LOT on questioning captives. It fully expects you to knock people out and question them so you can find the next breadcrumb location. Not cool. And if this doesn't happen then the NPC's in the inn, the other travelers, will spoon feed info to you. "It looks like everyone is going to the church!" or some such. SO much so that at one point it advises to give the party a story award if you DONT have to have the NPCs do this. This Adventure Plot extends in to other areas as well; when the party is magic'd to walk in to the sea to drown themselves, if they all fail their save, then an NPC in the inn will save them. IE: This is all just window dressing. It's meant to be exciting, but not dangerous. You don't actually have agency and there are not actually any consequences to your actions. Not cool.
It's also using a standard room/key format for the town. The mayor is in the town hall. The sheriff is in the sheriffs office and so on. But, this isn't how an adventure gets run. They shouldn't just be sitting there, waiting for the party. The sheriff is a small town bully. He should be out, harassing the party around town, having goons do things and like. His entry even says this. But, his description is just hidden there, in the sheriffs office entry. There should be a section, up front, describing events and actions and things to happen in the town. The towns vibe. It's a dynamic, fluid place … or, at least, it should be. This is not an exploratory dungeon. This is a social investigation adventure. Room/key isn't the right way to present this information in order for the DM to be able to run a smooth and fluid game in which that asshole small town sheriff is out causing trouble. It just comes across as a throw away comment, and too much is left fo rthe DM to infer. The DM is not supported.
I can see exactly HOW this is supposed to be run. I can get the vibe the designer is going for. It's not the utter garbage that most Dungeon adventures are. But it's also no where near runnable in order to get the full experience that I think the designer was going for.