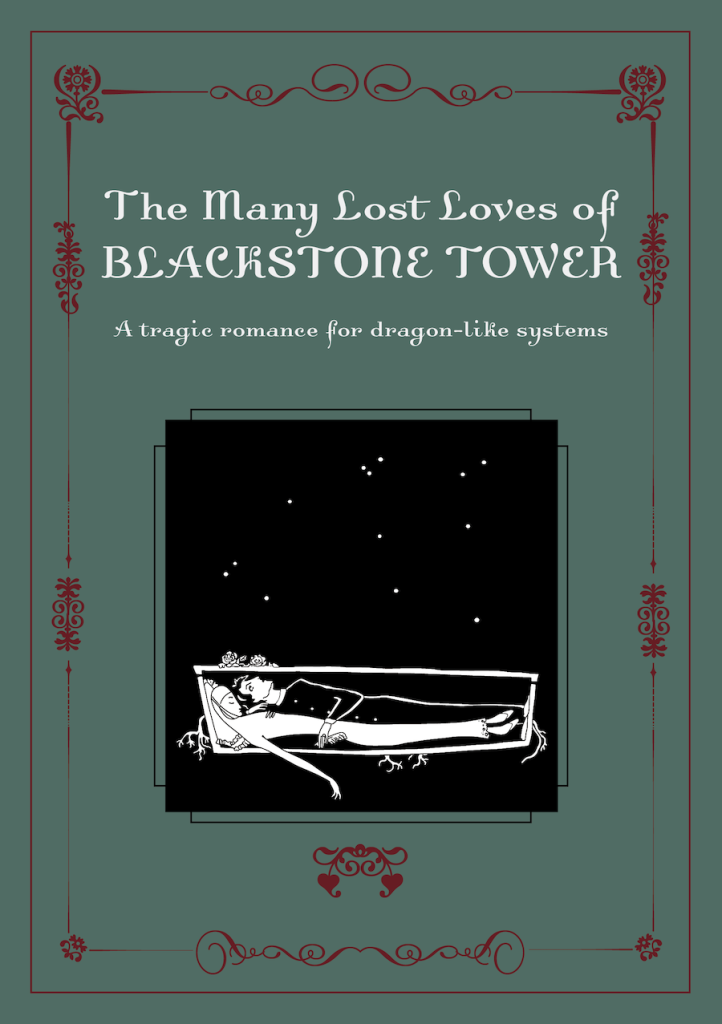 By James Hanna
Fey Light Studio
B/X
Levels 3-4
Blackstone Tower was supposed to be the perfect home for Virvul and Gosian, two of the greatest wizards in the world. Instead, it was abandoned, their monument to magic. This is the story of that place, and the many loves who came here, and some of those who never left.
This sixteen page adventure uses nine pages to describe a tower with about five levels. It has a gorgeous map/illustrations and is an utter shit show of an adventure. It obfuscates usage … ON PURPOSE. This means it's not actually an adventure but rather some masturabatory art project. Joy.
I had high hopes for this. I can dig a tragic story. Melancholy is my friend. It's got some pretty good art in it as inspiration. And that fucking map! Oh, so, I like the color blue. And this map manages to evoke the kind of airy dream-like quality that a good wizards tower should. Alien and recognizable, airy and organic. Seriously, this fucking map looks like it was custom designed to appeal to me, as an art or inspiration object.
There are inspired moments in this. There's a waterfall flowing from an upper level of the tower and to get in to the tower you need to walk through it. That's both magical and sure to be a source of terror for experienced OSR players. "Uh, fuck no. I'm not walking through that thing …" Inside we can see a tower fountain, shooting up in the air, forty, or fifty feet high, in middle of a large open room. Turns out it's the guardian water elemental. Didn't see that coming, did you? Or the origin of the entrance waterfall, coming from a living quarters on an upper level, with a veranda to look out over the land. That is, I think the last of grooooovy elements in this.
Because this thing is an utter shit show. I mean absolutely the worst dreck possible. Because, you see, it's not an actual adventure. It's actually some art project that is taking the form of an adventure. If an adventure is a piece of technical writing, meant to be used to facilitate a game at the table, then what do you call something that purposefully obfuscates the DMs ability to run it at the table? And I don't mean the usual shit. I don't mean someone who doesn't know any better or just is simply bad as making something useful to the DM. I mean, what if you made decisions to make it harder to run the adventure? Like, I know know, you write it in Basque in limerick form and all of the phrasing was metaphorical. Can you call that an adventure? Well, I guess, as the designer, you can call it whatever you want. As the arbiter of my own tastes, though, I dub thee "Shit show art project that makes me feel like I've been manipulated and deceived." And as a good little midwesterner, well, we don't like to feel like we've been deceived. Hardworking people, we like our snakeoil to contain both snake AND oil.
The origin for my extreme disgust is the writing style. The adventure is written in voice from two different perspectives. EVERYTHING is in voice. Everything. FIrst, you get the voice of one of the wizards, giving interior design and architecture notes to an architect. Second, you have the architects comments between themself and their parter as a kind of "handwritten" addendum to the wizards instructions. It's like the wizard was writing a letter to the architect and then the architect added some notes to it in the margins.
An example? Allow me …
"Sadly, rugged black basalt composes the vast majority of our beach front property
wish for you to clear out three areas and dredge some proper sand up to make sheltered beaches where Z and I can lounge in the sun."
How about the description of a trap in one of the rooms? "A few oozes ought to do it. Hide them in chambers around the pool, and then flood the room, allowing the oozes, practically invisible in the water, to dissolve the hapless intruders. Once the room fills, have a tube dump the gelatinous contents into the sea."
Or, perhaps, the description of the main bedchamber room that contains this little gem: "It is done. She is no more. She has taken herself from me. But I will always have her body to gaze upon when I wish it, for her body shall lie preserved forever in the waters of her home, in the bed which we made together."
Like, what the fuck man?! The ENTIRE adventure is written like this. Not just in voice, but with the details obfuscated. From that last section you're supposed to get that the chicks body is in the pool of water in the room.
The designer wanted some kind of forlorn tragic love story thing. I'm not even sure that's in this. It's written in such an obtuse way that I can't even tell if the two wizards are actually IN the tower. How's that for fucked up?
Look, I got no problem with your art project. I've got no problem with experimentation. But I suggest that you didn't actually write an adventure. You wrote some kind of piece of literature or performance art that mimics the form of an adventure. Because to be an adventure you have to be able to use it at the table and you can't use this at the table. And the choices made in the design were explicitly to LIMIT its usage at the table. That may be too strong a statement. It may be that the designer wanted to play with voice and style. But the direct impact was that it limits its usage. In exactly the same way as if you sold a book of Basque limericks to English speakers as an adventure. It's not.
And put the fucking level range on the cover or in the product description. Jesus H Fucking Christ how many fuckimg times do I have to fucking say that?
I leave you with this, the design notes from a wizard, describing how to get from one place to another, buried in the text of a larger room description and not shown on the map: "The only way into the grotto is via the staircase that winds along its perimeter and emerges in the center of the foyer beneath the hidden door."
This is $6 at DriveThru. If you buy at DriveThru you will get an InDesign file. If you mail the designer to get a PDF you will get no response. You can then go to itch and claim one of the free community copies. Also, not preview, although there are page scans on the product page. You see that little "agreement" section on the last page? You have no idea how important that is from the preview. It should have shown a full level/encounter/room if it was going to go down the experimental path.
https://www.drivethrurpg.com/product/377939/The-Many-Lost-Loves-of-Blackstone-Tower?1892600