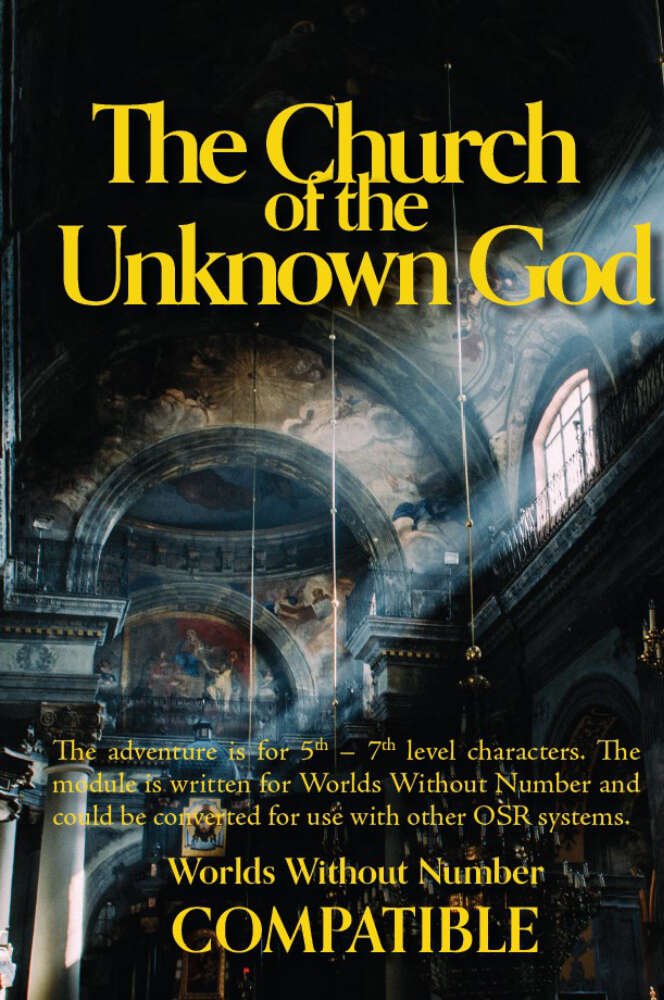 By Marcus Lock
Parts Per Million
Worlds Without Number
Levels 5-7
[No marketing blurb, anywhere, not even inside. I never thought I would miss marketing so much!]
This 45 page adventure details a couple of levels in an abandoned church with about twenty locations. It's a fucking boring hack-fest with norhing else going on. Until the end, when it is boring & confusing.
So (don't start sentences with 'so'), the local innkeep hires you to go clear out a church from undead because it is bad for business. Or, some locals saw some undead near the church, could you pretty please go kill them? Oh, also, three people have disappeared lately. People might want that problem solved. These hooks telegraph what is to come: boring shit that makes no sense. Being hired is boring. It's one of the laziest hooks possible. And by the innkeeper, who thinks the undead in the church are bad for business? Seriously? Is that the world we adventure in? I can, perhaps, forgive the "three people missing" thing, out of ignorance. But, a tight-knit community and three people go missing? That's a fucking angry mob in the making to solve that problem.
Oh, also, that church? The one that everyone is like "go kill the undead there?" Yeah, it's 24 miles away. Like, who actually gives a fuck if its 24 miles away? Do you even know what is going on there? At this point it should be clear that other in the intro makes any sense. I guess it doesn't need to. Hooks are not really needed anyway, and, we're all here to play D&D tonight. But … man, it just puts a bee in my bonnet to see crap.
Ok, we're at the church now. We've made it through a lot of interesting wandering monster encounters like "Small pack predator" or "large herd beast." It is, at this point, that my addled memory kicks in. I remember hating something recently that did the same thing. Just a shitty copy/paste from a book with no localization. No DM support at all beyond "generic stat block." It's like you included "Put a monster in." Whatever.
The church! The church is a shit show. Every room generally has two things in it. First, there will be some zombies. They will attack immediately. The text says so in every room. This is what this adventure is. It is ALL that this adventure is. You go in a room and some zombies attack you immediately. Is that D&D to you? Do you want to roleplay? DO you want to investigate things and poke at things? Not in this adventure. Not in this adventure buddy! You'll go in a room, stab some shit, and then go in the next room to do it all over again. There's nothing beyond this. Oh, wait, no, I forgot. In one room you can hear some splashing in the next room. Of the zombies waiting to attack you. That's it.
Nearly every single room also says "Beyond that the room is empty." Well no shit. That's generally why room descriptions have an end. This is nothing but padding. It serves no purpose in the adventure. And, speaking of padding, the undead, EVERY undead, says the same thing. "They don't need to eat or drink or breathe" and so on. Like, a copy/paste straight out of a book of monsters. It's unbelievable to me.
You find a 9" statue of a semi-clad woman at one point. There's no further description or value to the statue.
In the crypt of the "mysterious lady", who is mentioned several times in several rooms, we get the following description of her "Standing to one side is a sentient carcass." That's it. That's your evocative writing for this adventure. Some description, huh?
And then, things change.
By this time you have made it though 20 rooms of generic zombie undead and a couple of "shades." or "sentient carcasses." Now, you go through a secret door and enter a modern office complex. With desks, chairs, monitors, keyboards, mice, and overhead lighting. I have NO fucking idea how this fits in. There's no hint before. There's no hint in the room descriptions. It's just a set of modern office rooms connected to the basement of a crypt of a church. But it's still got weirdly pseudo-fantasy undead? "Standing 10' in front of the door is an armoured figure. If the party approaches it will draw its sword, ready its shield and prepare to attack." Uh, so … ok. You can find some keycards to open a couple of doors, and some rad suits to protect you from radiation in a room. And a radioactive sword in the final room. No, I have no fucking idea. I have no fucking idea. There's nothing to hint at what is going on. It's just what it is.
So, shitty shitty adventure with little in the way of explanation. Little to no evocative writing. Monsters that attack immediately. A random office complex attached to the basement crypts of an abandoned church. And a lot of padding and copy/paste shit.
Someone put some thought in to this. They made maps. They did layout. They made a semi-realistic church. But it's nothing more than combat with descriptions that convey no sense of locations, or creatures. I'm at a loss. It's like a very words warhammer minis game.
This is $4 at DriveThru. The preview does not work.

https://www.drivethrurpg.com/product/376081/The-Church-of-The-Unknown-God–A-Worlds-Without-Number-Compatible-Adventure?1892600