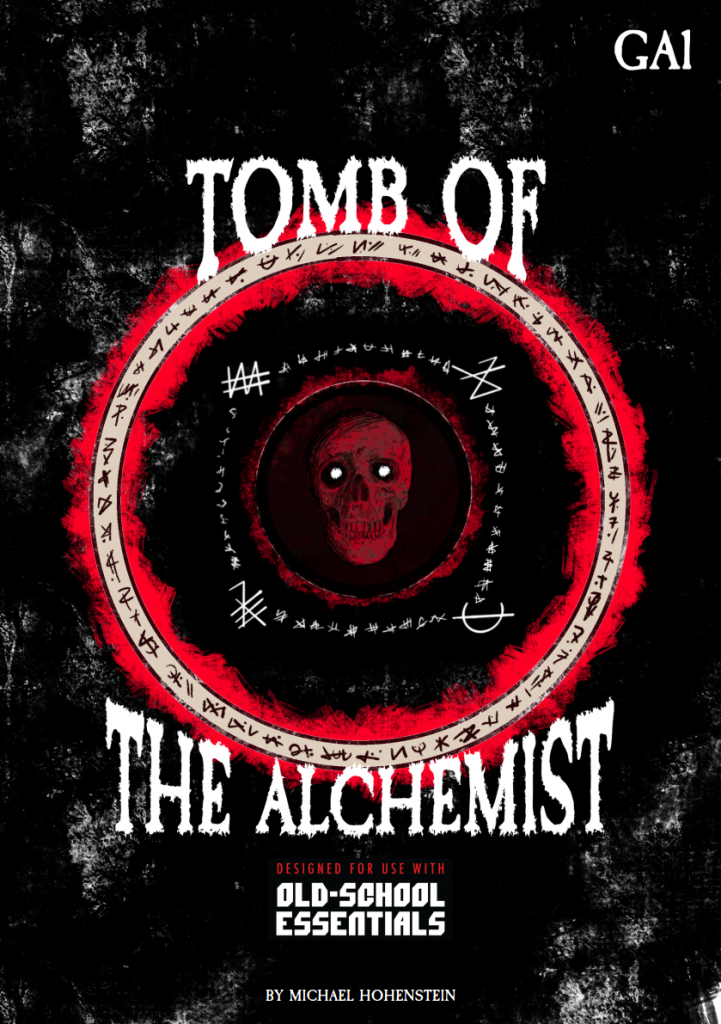 By Michael H. Stone
Self Published
OSE
Levels 2-4
After long years lying undisturbed and forgotten, the tomb of Hashur, master alchemist of sargon, has recently been opened when an earthquake ripped apart a rock formation in the Montem Downs. When the adventuring party "The Bold Blades" went to investigate, they were wholly unprepared to face an ancient mummy infused with immense power by magical potions and poisons. Murdering the bold blades in a confused rage, Hashur awakens to find the ancient kingdom sacked and its once great cities ruined. Realizing the awakening might not come to pass for him and his wife and followers if local authorities learn of his unearthed crypt, he hatches a plan. Slaving away in his laboratory, he brews a terrible plague of undeath which he plans to unleash on the borderlands. In mere weeks, a tide of decay and infection will sweep the borderlands clean of the contemptible servants of Law…
This twenty page adventure uses nine pages to describe an eleven room tomb with a mummy dude and his undead friends running around in it. I fucking hate it? I don't know why though. It's trying to do the right things? I find the text confusing, and I find the mmap confusing, and I find the text … verbose? No, not verbose. Not the way I usually use that word. It's like one of those old B series "learning adventure", maybe? Like, any idea has to have a paragraph on how to run it. Maybe that's it.
Ok, so, I'm in hour two of a thirteen hour conference and I'm drinking a $45 bottle of gin that's only 375ml. And I fucking hate gin. I don't know. Whatever. I just know that I HATE this adventure. Unreasonably so. And, in my own defense, I hated it before I started drinking today.
And, now, I'm pissed off from work. Grrrrrr… sorry dude. Fucking piece of shit small minded mindsets. No, I'm NOT checking with others before I work with their staff on personal growth projects. I can go to lunch with anyone I want to any time I want to. Fuck it. That's my staff are better.
So, you've got this undead mummy dude. Long dead sorcerer priest mummy alchemist guy, woken up by some recent tomb raiders and some kind of earthquake thing. Whatever. My takeaway is that alchemists are the new go to for evil bad guys. I chalk this up to an anti-science attitude prevalent in society today. Alchemists seem to be the go to baddie. Whatever. Existence precedes essence, stab whoever you want. Shit. Except there actually are gods. And there's an god of evil. Fuck. What the fuck does THAT mean? Oh, yeah, so, there are some skeletons with mutations. Mostly save or die shit. Anytime you meet them you roll on a table to see what Save or Die abilities they have
Speaking of save or die … How about an animated statue with AC3 with a save or die ability? The various baddie mutations that amount to save or die? The save or die abilities of, seemingly, over half the creatures in the adventure? This seems a bit much for levels 2-4. In a mostly linear map.
Let me, now, explain how D&D works.
Blah blah blah blah Combat As Sport blah blah blah blah Combat As War. So, look, levels 2-4. That's what the fucking cover says. How many Save or Die effects and/or creatures are ok in that environment? How many are ok in a LINEAR environment? Traditional exploratory dungeons allow for other areas to explore. You can go around shit, or go to other places. Linear/modern/lair/shit dungeons, though, rely on balancing. It's ok to be linear because the designer has carefully crafted the place to make sure y ou don't get fucked up. Unless they don't. Unless you are a B/X level 2 character in a world of fucking Save or Die.
The read-aloud overexplains. The sectary (desk) has an open written journal on it. *sigh* What about people LOOKING at the fucking desk to determine what is on it? Whatever. The entrance to the dungeon has a living statue, AC3, save or die effect. Linear entrance. Also, you need to pull its tail to make the secret door open. How the fuck does that work? I smash it to pieces and THEN I pull it tail to open the door to the dungeon?
Whatever.
Room seven is the main entrance. I think. I'm not actually sure if you can go in that way. It looks like room one is the entrance. Except seven says it is. The map is unclear. Is the tunnel blocked? Who knows. Who cares? The Death pit and a trapdoor in to it? I don't even know how that works. This points to a basic, basic aspect of adventure design: you have to be able to understand what the fuck is going on.
Again, I apologize that half my gin bottle is now gone. You don't deserve this. But … I do …
The main bad guy appears in room 2. Probably. There's probably a let down there as you explore the rest of the tomb. Pretty Boy Lareth was, at least, in the last room. I guess I don't know what you do after this. I mean, you stabbed the bad guy. What do you do now? I guess you wander around and stab more shit? Whatever. How about the room full of ghouls? 13 ghouls? Sure. Whatever. That will work out ok.
Wait when was I bitching about the read-aloud over-explaining? About the urns being empty? I shall elucidate. Or go in to more detail. Or whatever. When you over explain you break one of the core mechanics of D&D, exploratory or plot based. The back and forth between player and DM is at the heart of these types of games. The DM describes something, the players investigate with actions and follow up question, the DM provides further info, and thus the circle of life continues. By over-explaining in the read-aloud you are removing the back and forth. WHy do this? Why remove what is a core foundation of all RPG's?
Oh, what the fuck else. Did I complain about the map? Did I complain that the room descriptions are obtuse? Did I complain that one room was 1.5 pages long? Did I complain that the rooms are OVERLY formatted (that's twice now that I recall this problem popping up in adventures.) Everything is explained. It takes a paragraph to say what the zombie is wearing. And one to tell us about the easily spotted secret door. And one to tell us that a zombie used to be the leader of a band of adventurers. And one to tell us that the room has ten zombies in it. And then a read-aloud paragraph. And then a stat block paragraph. I don't want to be an ass here, but, this is too much for what the room is. It's not that the room has too many elements, but that the individual elements tend to get way too much attention.
Ok, this is a shitty review. I apologize. I'm going to sleep it off now.
This is $4 at DriveThru. Preview is five pages. The last page gives yo ua brief sample of what to expect.
https://www.drivethrurpg.com/product/370631/Tomb-of-the-Alchemist-OSE-version?1892600
I actually had to go back and edit this review. Fucking gin.