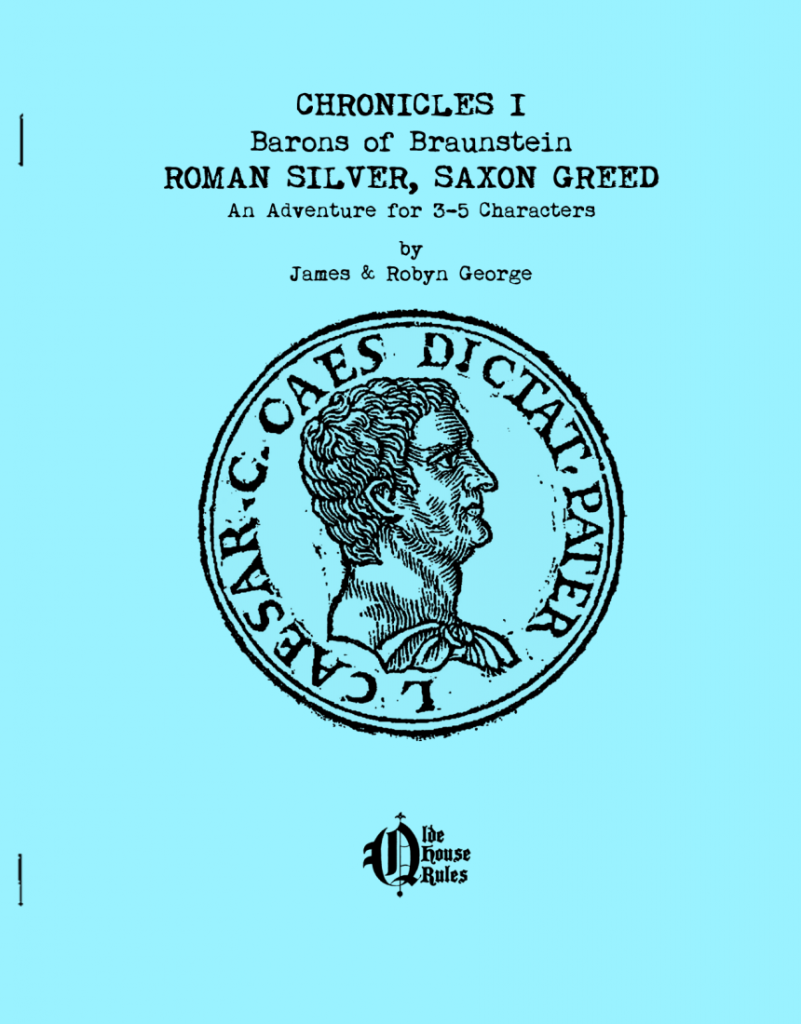 By James & Robyn George
Olde House Rules
Barons of Braunstein
Set in dark age (Saxon) Britain, the characters have found a strange map promising riches among the cellars of a forgotten Roman villa. But beware, for the land is wild… Brigands and beasts prowl, faiths collide, and lost treasures await! But this is no fantasy dungeon where the heroes go room to room killing monsters. It's an adventure setting where anything can – and will – happen. Visit the village of Stânweall, uncover mysterious factions, and witness the collision of old and new, Christian and pagan. All of this awaits the hand of willing heroes…
This 24 page adventure uses eight pages to detail a 24 room ruined basement. It has a Saxon England in te 8th century thing going on, with primarily human enemies (yeah!) and a snake or wolf or two. It's rather pedestrian, lacking much in the way of interesting detail or advice for the DM in running its somewhat unusual environment.
You find an old cracked leather map with an X on it and word DIVITIAE near it … Latin for "riches." Hot damn, I'm in it to win it! More than the usual generic "treasure map" those few words help bring just a little more depth to something that would otherwise be boring. Likewise the hooks, while the usual perfunctory stuff, offer at least a few extra words of detail to help the DM. "Locale clergy recognize the old wall and can translate the maps promise." or a guy running bandits he stole the map from. Ok, so, of the four hooks those are the two highlights. And that's going to be the story of this review. It's got a turn of phrase here or there but is otherwise lacking.
The village is the usual mean Saxon affair, described briefly, with the little offering that the locals turn to pagen gods (when Christ alone is not enough.) That's exactly the sort of tossed off comment that can add so much depth to a place. Which is in no way found on the rumors table that contains such wonders as "Brigands are a problem on the old south road." So, "old south road" is good. It speaks to specificity. But Brigands is an abstraction. It shouldn't be Brigands. It should be "Hanks gang", or "Fat Mamma Cass' Boys." Specificity is the soul of narrative, and just like with the old south road, when Christ is not enough, and "RICHES" in Latin, just a few extra words can make all of the difference. And the rumor table doesn't give us any of that.
The general formatting of the thing is emulating the old typewritten pages of the early days of the hobby. It's not bad, and it's single column is actually not so hard to read to scan, with most paragraphs being short and not taxing on the eye to move back and forth. It does fall down at times, generally when NPC's and Dudes are encounters, as it tries to present them in a stat blocky way without any of the modern features to help bring recognition to the various sections. This means that things run together and are hard to distinguish when one thing ends and another begins, making scanning much harder than it should be.
And then there's the cellar, proper. The object of your search and the location at the X. It's a "Real" basement, with some caves attached. Doorways, but not really doors, close and cramped. "Daylight reaches the bottom of the stairs, but no further." Nice imagery that. Of course, it kind of ignores the fact that there is flickering light coming from every room, but, hey, I'll latch on to what I can.
There are a couple of problems with the cellar. First, the various chambers are rather plainly described. There is none of those choice words to help bring the various places alive, as with the examples I quoted above. And while there's an NPC or two with an interesting backstory, it doesn't really help when all you're going to be doing is likely stabbing them. And then there are little bits of padding, adding nothing much to the adventure. "There is little chance the characters will know this unless they take prisoners or manage to engage them in conversation. The players can use this as they wish" And then there are confusing bits that seem out of place. A description of the boss's room contains information on how the prisoners, tha the party may have freed, react to combat. It seems like that should be in the prisoners room description … where you find them?
Which leads to the lack of an OOB in general. Given the small cramped and open map I should expect that the parties actions will bring down the wrath of the bandits as they all respond to an incursion. A response that we're given little advice on. The best is that one guy yells for his buddy so they can set up an ambush … although what that is goes unmentioned. There are casual references to "patrols" that go undescribed, and potentially returning bandits … all left out.
Yes, the DM does need to bring their skill to an adventure to make it come alive. But it is the designers job to both inspire the DM through evocative writing and to assist them … through things like an OOB or responses. And that sort of thing is not present here at all.
I'm also left perplexed by the room WITH the riches in it. And full of carbon dioxide. Such that you can only make one attempt a day to enter the room to recover treasure. Ok. So? You agro all the dudes in the dungeon in the first room, have a big fight, and then having a boring old time going from room to room pulling loot. And, hey, if I only get one attempt a day then you better telegraph it to the players and you I expect some dope ass descriptions on the effects, etc. Not "once a day." Similarly, treasure of "a vintage statue" ain't gonna cut it. That's abstraction.
This is $1.50 at DriveThru. The preview is five pages but really only two are useful. You get to see the hooks page and the village page. They should give you a decent idea of the formatting, it's issues, and the abstraction problems. A page of room descriptions would have been good to include in the preview also.
https://www.drivethrurpg.com/product/358778/Chronicles-I-Roman-Silver-Saxon-Greed?1892600