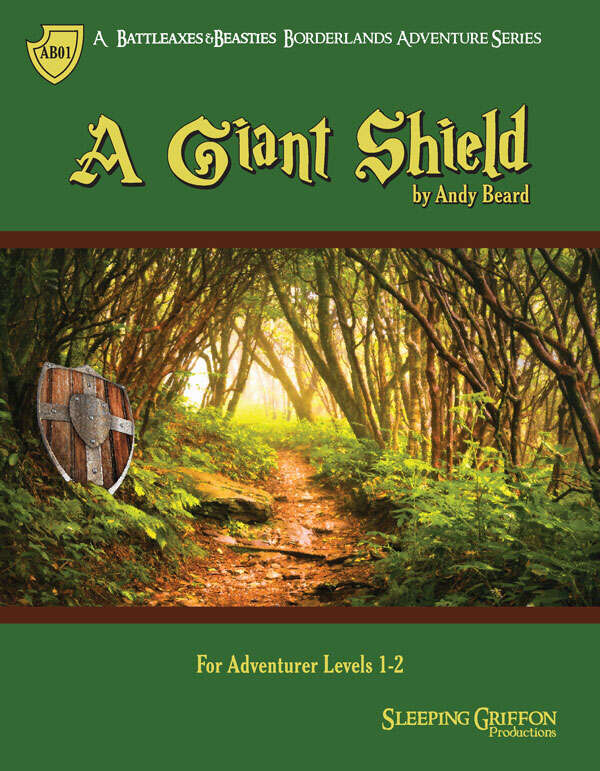 By Andy Beard & Tracy Rann
Sleeping Griffon Productions
Battleaxes & Beasties
Levels 1-2
You've been hired to escort and guard a wealthy merchant into the Black Yew forest to obtain some of the wood that the forest is famous for. Should be a simple job. . . right?
This ten page adventure is a conversational list of "first this happens and then this happens", abstracted, of an escort mission for a merchant. It has one nice thing: a shark with legs. It makes me feel like Papers & Paychecks.
You escort a merchant down a river to get some wood from a forest. You then escort him back to make a delivery. Along the way you fight river monsters, deal with some fey, and get ambushed a few times by thieves. The excitement I convey is not found in the adventure. The highlight is something called a Lake Finn, a shark with two stumpy legs up front. I assume they can come out of the water? Its not stated as such. The monster description focuses just on attacks, with no description or anything, but the art that comes with it is pretty nice in a "tree octopus" kind of way. Don't worry, while a shark with legs sounds gonzo, the rest of the adventure is depressingly mundane.
We get stock NPC's, from the slightly greedy slightly rotund merchant to the haughty elves to the mischievous faeries. Worse, we get a generic adventure, abstracted.
It is written as a long two-column text file. The formatting present is, at best a carriage return to represent a paragraph break. It is, in this, this long long section of text blocks, that the adventures to be found. You follow it by reading, not referencing. One encounter after another follows in the text, with no formatting, other than a carriage return, to separate things. First this thing happens and then this thing happens. In about as many words you are told that there will be a lake encounter and two roll twice for random encounters on the river. This represents the journey from the town you're hired in to the forest where you gather the wood you are escorting the merchant for. That's it. That's the basis of the adventure. "Roll for an encounter." This is fucking dumb. This is not how you use random tables. If you're going to write ap plot adventure then put in encounters. Randomness in encounters is (primarily) used as a timer in D&D. No timer? WRITE A GOOD FUCKING ENCOUNTER!!!! The entire adventure is like this, just rolls random encounters, or, a throw away sentence about an ambush or something. Everything is abstracted. How long does the travel take? Not mentioned. How much does the merchant pay the elves in the forest who demand gold? Not mentioned. You need to rout a group of rous in the forest, the elves say. How many? Not mentioned. ANYTHING at all, any detail at all about the rous? No. Just "You need to rout a group of rous." It's all abstracted, conversation style of text, with a linear plot. It's just a lit of ideas, nothing more than that. Nothing is alive, nothing breathes.
What if I wrote an adventure that only said "roll four times on the random encounter chart", but took five pages to say that? That's this adventure. Any potential impact of the plot lines, the devious NPC's or entanglements, that the adventure wants to do with all of the ambushes, is hidden from the players while being overly described to the DM.  This is really just a stream of consciousness set of ideas, as if this review were an adventure.  And, and … the giant shield does not make an appearance in this adventure. It's what you are gathering thee wood for, for delivery to someone else.
This is $5 at DriveThru and there is no preview, of course.
https://www.drivethrurpg.com/product/357892/A-Giant-Shield?1892600
This is Episode 1 of "Bryce reviews everything on his DriveThru Wishlist, in order." You were warned.