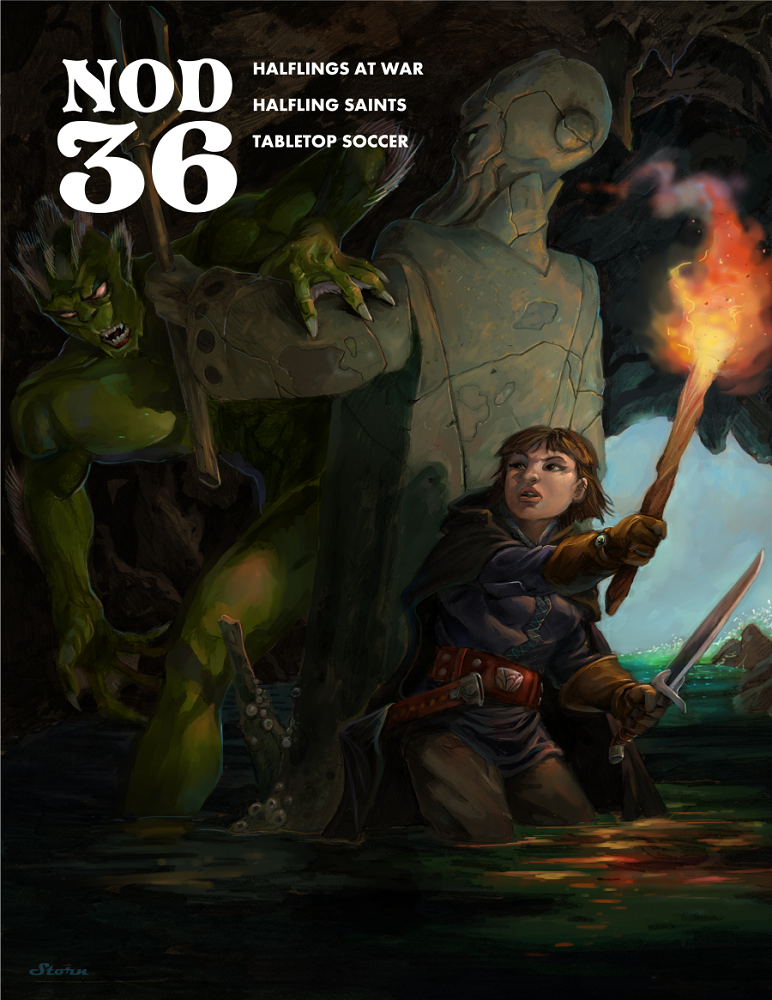 By John M. Stater
Self Published
D&D 4EVAR!
This first issue of NOD for 2021 visits a land of halflings torn by civil war, introduces you to the halfling saints, and brings you Table Top Soccer.
This 95 page magazine uses about 75 pages to describe a hex crawl in the lands of the halflings, currently waging a civil war, along with a few of the borderlands nearby. It's a great setting, a real D&D supplement, and I have no fucking idea how to use it.
A disclaimer: I like to think I understand how a few things work. Not just pushing the button, but understanding how the burron works, what it does, why you would do it, and the deeper implications of pushing The Big Red Button. But I don't know SHIT about about some of my favorite things, like running sci-fi adventures and … hex crawls. I don't understand how to run them and thus I am only conjecturing.
So, a HUGE fuckign hex map. HUGE. 74 pages of hex descriptions, four or five to a page, a paragraph or two each. That a METRIC TON of hexes to explore and of things going on in the halfling lands. Oh, and their borders, the barbarians (Fuck them! Also, I just finally got Civ6, so I'm currently in a Fuck The Barbs! mood) that prowl them, and so on. There's so much going on that I have trouble wrapping my head around it. More on that later.
I'm starting to see some patterns in things. We've got halfling places, usually involved in their civil war, which comes off as mostly gentle with threats of violence. Then you've strongholds, places where some powerful NPC hangs out with their band of supporters. THis might be a master thief and their hobgoblin minions in the mountain complex, or the nomad barbarian encampment fishing on the river, or any of a dozen different examples. Then you've got the intelligent monster encounter. Cloud giants playing in a stream, hill giants charging a 5cp toll to cross a flooded area, cyclopeans working in underground caves. These can be kind of good (rough house bully cloud giants, who are still good guys) to neutral (cyclopean forgers) to bad guys (gnoll raiders) … all of whom are generally presented in a such a way that makes talking a least a possibility. You've also got beasts, both magical and mundane, in hexes, as well a decent number of nymph, dryad, pixie, nature spirit encounters. And you've also got freaky deaky shit, like an endless series of short cliffs to climb, or historical landmarks like a monolith with carvings about some historical event. And a smattering of "realistic" gonzo, like a crashed jetpack and a teleportation platform to an alien Predator ship. It's packed full, and, I'd guess only one in six hexes is described.
It's fascinating. I love it. Well, as a travelogue, like a Lonely Planet guide. As a D&D thing? Well …
I don't know how to run a hex crawl. I've been collecting links on my forum for a future book on how to write and run a hex crawl, but that doesn't mean I understand it yet. It feels like there are three ways. First, it's an adventure. You wander from place to place, there are little hooks and things in one hex that lead to another hex. Second, it could be a setting. It's just a place and you have "normal" adventures in it that the DM comes up with and/or inserts. The hexes are just local color for the DM to use as fodder while traveling or downtime. Third might be Wanderers, where the party literally just wanders from hex to hex getting in to trouble as the DM riffs. This last one strikes me as having even more motivational issues for players than a normal D&D party or megadungeon. Maybe there's some other way to run a hex crawl. I don't know.
How does Nod 36 stand in relation to these three ways? If you just want to wander, without context or continuity, then you're ok. Have at thee.
As an Adventure, I think this is lacking. The linkages between hexes are few and far between. There is an occasional cross-reference, but they are few and far between, not because Stater is a hack but more because there are NOT linkages. One place doesn't really lead to another. (With a few notable exceptions, like the jetpack hex and transporter pad hex, for example. Trace the trajectory of the pack to find the pad.) Also, there's the setting issue.
As a Setting it would be great, but you'd need to put in a lot of work, or, I would anyway, to get a really top quality experience. This would apply also to the thing as an Adventure, since the Adventure would take place in the setting. The thing lacks overview. While there is a general discussion of the history (Fascinating! And it makes sense! I'll gush on this later) and political climate, its just general. The very first hex has a hag, mostly harmless, that is the stuff of boogyman tales in surrounding villages. But you have to read the hex to know that. And then make a note somewhere, or remember, to include it while you are running the villages. Or the barbarians and the Crazy Guy leader of one tribe, or another having a big Holy Mammoth celebration gathering. You WANT to drop these things in to a game. To get the party going. To add context. To add continuity. Same with the civil war and whats going on. It's written and presented as a Wanderer style, where you just trip over things.
IF you put the work in, and takes notes, and put together those things, digging through a couple of hundred hex descriptions, political trees, local color and so on, and then make a bunch of notes, flowcharts and reference sheets (of which this has none) then you would have a MAGNIFICENT setting. So much so that, if those were present, we could all have a great time buying this and running a HUGE D&D-spehere game, a shared experience for all online players. I mean it, this is a GREAT setting. Easily housing an entire campaign. If you can figure out how to use it. I'm excited and apathetic at the same time. I have a million things to do, would I ever find time to put in the work to use this?
I doubt it. But it would be SO rewarding if I did. No, no Best or Regerts, because I don't know what the fuck I am doing or how to review it. I REALLY like it. I just don't know what the fuck it is or how to use it and maybe I just like it as a travelogue … which makes me nervous that I like it as a READER, something I LOATHE.
This is $4 at DriveThru. You will never find a better bargain than an issue of Nod. And it has a real cover also, with real cover art! Nice! The preview is just the first few pages though, and shows you nothing of the writing style of the hexes you'll encounter. A page or so of them would have been nice, in order to make a buying decision of what you are actually purchasing the product for.
https://www.drivethrurpg.com/product/351057/Nod-36?1892600
Great backstory, and short, about Powerful Ancient Elves, raising the lands to get rid of the locath, ancient towers and ruins, ild elves as the remains of religious sects and wood elves as those that found refuge in hunting lodged thousands of years ago when the elf god punished all elves. Nice Age of Magic thing without getting too detailed. Makes sense.