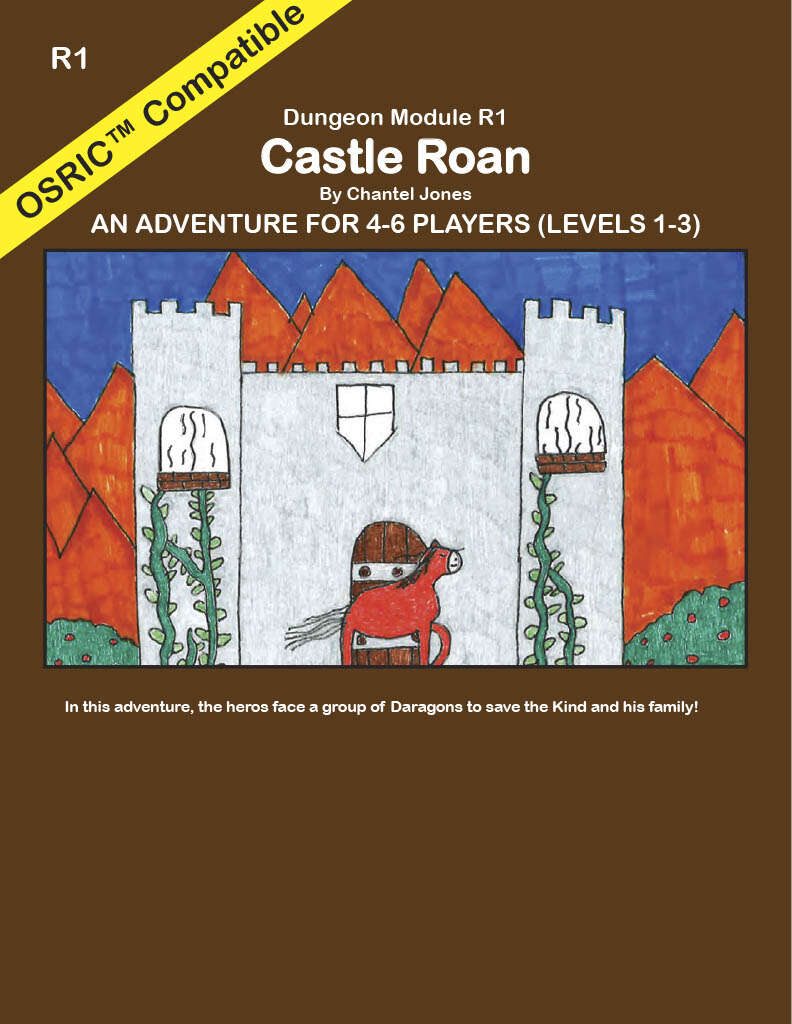 By Chantel Jones
Self Published
OSRIC 
Levels 1-3
In this adventure, the heroes face a group of Daragons to save the Kind and his family! [sp]
This 23 page adventure features a three level (plus basement!) dungeon with about seventy rooms. It's minimally-keyed, and shows a shocking lack of care, to a degree that is new even to me. It's in the running for the worst I've ever reviewed.
What if I open a restaurant. In the back I microwave frozen burritos that I buy for 30 cents each from ALDI. I don't do this because I am trolling. I do this because I think that this is good food and it's how you run a restaurant. As a stranger, you come in and order a burrito. It is as you would except given its a 30 cent microwave burrito from ALDI. That I charge $10 for. What is the social contract between you and I? As a friend/family, we might be supportive. As a stranger, what are your obligations to me, both directly when speaking to me and indirectly when talk to another about your experience in Sheboygan Japanese Cuisine, which features microwaved burritos from ALDI? Asking for a friend …
There is a seemingly lack of care to this adventure which is bad enough that I thought this might be an art project. Note the misspellings in the publisher's blurb. "The heros" and "Daragons" and "the Kind". (that's the king, and dragons.) The pregen characters spread across multiple pages, as it page breaks were inserted randomly, some starting on the same page another ends on, thus complicating printing them out to hand out to players. The stat blocks are walls of text, with weird indents. Randomly scattered through the text, and I do mean randomly, there are paragraphs of monsters labeled "Encounter 1", with a stat block for, say 28 goblins. Just here and there, insperspaced between the room encounters which are labeled "room 1" "room 2" and so on. Not to worry though, the actual stats blocks are missing for some creatures. Two column text from word perfect just drifts on to a new page instead of being formatted in to something decent.
Challenge wise, this adventure for levels 1-3, we get encounters with kobolds, goblins, elves, a room with 100 skeletons, a 6HD weretiger, a 10HD hydra, and a room with a 7HD white dragon, a 10HD blue dragon and an 11HD red dragon. You and me both buddy; I certainly have no fucking clue, especially given you need the rod in that room to save the Kind and his family.
It's minimally keyed. "This room is empty." or "Giant Rats, No Appearing:15 (stat block)" or "This is the throne room." That's it. Those are your descriptions. "On the south of the room are a bed and two nightstands." Minimal keyed. Laundry list contents not related to the adventure. Interactivity like a room with fifteen pools each of which does something ala B1. Rooms stuffed full of treasure, coin and especially high level magic items. And no, nothing is gong to stave off that weretiger, hydra, or dragons, so don't get any ideas that it is on purpose.
This may come as a shocking surprise, but I would never want to discourage anyone from writing an adventure. You have to write to get better. My angst stems from my entitlement issues, and expectations. (Hmmm, can you have entitlement issues as a consumer, or is that not allowed and/or encouraged as a consumer in a market economy?) But Jesus H Fucking Christ man, don't you, as a producer, have some obligation to the rest of us to produce something that you actually give a fucking shit about? Don't you have some social obligation to the rest of us suckers to know what the fuck a restaurant actually is before you open one?
This could be a product from the early days of gaming. A map, filling all spaces with weird mazes and such like that famous Greyhawk map photo. Minimally keyed encounters ala Vampire Queen. A typesetting nightmare like Walking Wet and other manually set adventure products.
This is $10 at DriveThru. The preview is four pages. Go stare in to the abyss for a bit by looking at it.

https://www.drivethrurpg.com/product/355163/Castle-Roan?1892600