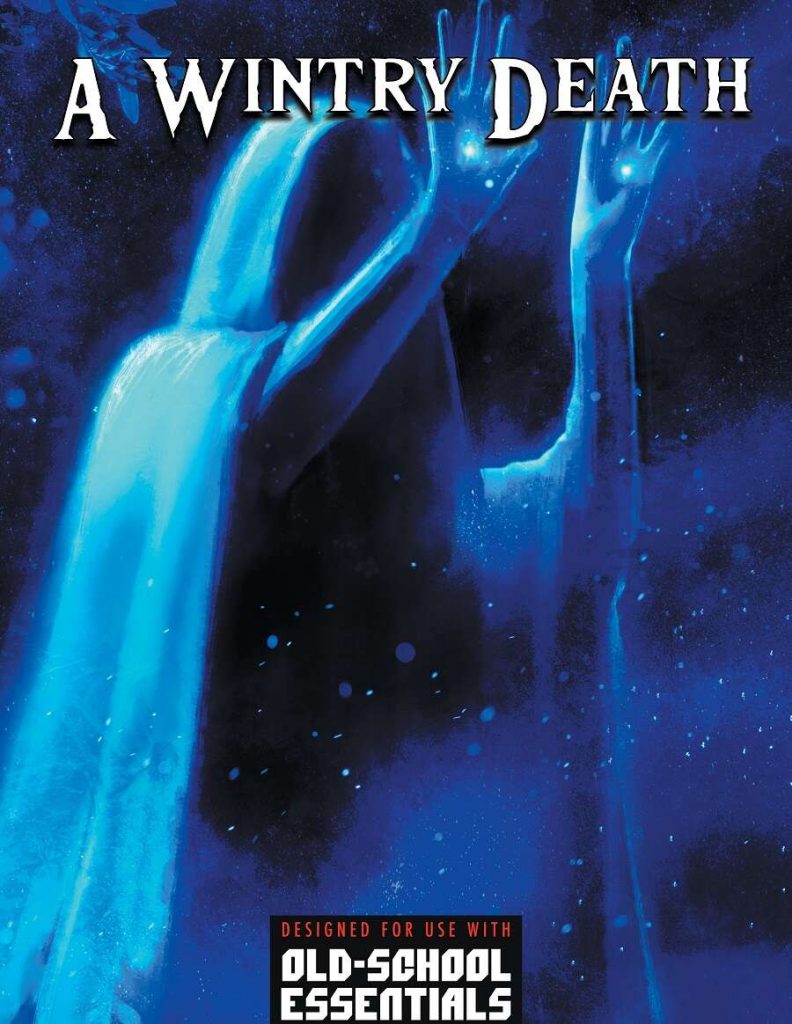 Jason Duff
Earl of Fife Games
OSE/BX
What's a level?
Our stores were empty and game was scarce. We pushed out further and further to find anything to fill our bellies. My family was starving and I knew it would not be long before the end. I hope I am not too late.
This 25 page adventure presents six VERY short scenes for the PC's to encounter in the snow. The lack of actual content serves to demonstrate why we can't have nice things.
I was reading about a guy who was visiting Zimbabwe. Everyone was super happy, in spite of the deteriorating state of things. Someone explained it to him: in Zimbabwe you don't expect to find butter in the grocery store. When you do find it, you're very happy. In the developed world you expect butter in the grocery store, so when you don't find it you are unhappy. All I want is, to all day long, walk about enchanted, in ecstasy, like the gods I saw dancing in my dreams. Which model to you think _I_ fall in to?
There are six winter themed scenarios in this, and I use the term 'scenario' loosely. Maybe you cross a frozen lake and there are some fish in the lake that break through the ice to attack you. That's one. It takes two pages. Another is that maybe you are caught in an avalanche; make a DEX check to avoid it. Again, another couple of pages. Or, you camp someplace and a Yet is there also. A couple of pages. I think you get where I'm going with this. What if every room in the kobolds lair in Borderlands were two pages long and didn't really have any more content than they already do in B2? Ta da! Download burn it and ship it to Kansas and clean up with that filthy lucre!
This stuff takes place in "The Forever Winter" which sounds cool but isn't really explored at all except for a couple of environmental rules. Each "scene" starts with four or five italics paragraphs, for the DM, to set the mood, kind of in a "characters journal" kind of voice. Meh. It does nothing. In one of the lengthier scenes, in a town, we are told "At least one person had survived this place and got out alive. The GM should consider who it might have been" … even though this has absolutely no bearing on the adventure at all.
Design is terrible, with forced things all over place. "Make an int check to know what the undead dude said. If you fail and try to leave then you will get attacked. Too bad for not understanding the language and answering the riddle he is asking you." Or you are "attacked" by red mist when leaving town. Make a DEX roll or take damage. Gee! Fun!
A spectre comes from the rafters in a church. "These are some sort of insects have hid here and have been eating the interior wood." I have no idea what that means. The spectrers are insects? Or they have been eating the rafters like insects? Again, it has no impact, so I'm confused.
"Those that do not understand what is being said." one of the complete sentences in the adventure tells us. Yeah. No shit. That's why we use editors. Oh, wait, there was an editor on this. I have no idea.
How do you review something like this? How do you review an "Adventure" where the simplest thing takes two pages. When there is no meaningful content, and it's just abstracted ideas, concepts that the DM might expand on, with no real assistance to the DM to do so?
The grocery is out of butter again. In spite of knowing better, I still can't get used to it.
This is $5 at DriveThru. The preview is eight pages. You can see the "crossing the lake" encounter at the end of it, as well as the start of one of the longer scenes, the village. They represent the design and writing perfectly, so, good preview.
https://www.drivethrurpg.com/product/352209/A-Wintry-Death–Adventure-for-OldSchool-Essentials?1892600