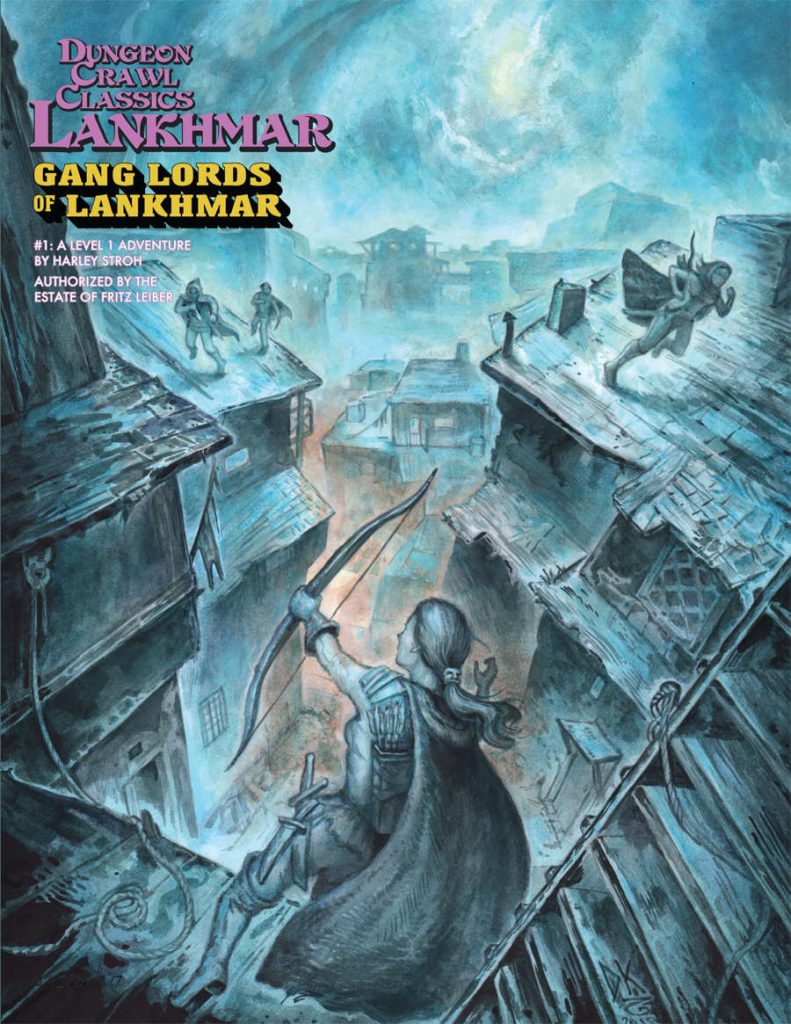 By Harley Stroh
Goodman Games
DCC
Level 1
The City of the Black Toga: Home to hundreds of back alley courts, rotting tenements, and an endless number of gangs, whose fortunes rise and fall as surely as the tides of the Inner Sea. Each gang vies against the others, pitting beggar against bravo, slayer against thug, and gang lord against gang lord. It's a Lankhmar story that's been told a thousand times, and would be entirely forgettable, save for one key element: the characters. The initial stakes are small as the gangs vie for control of a small slum. But as bodies begin to appear in the Hlal and the shadow war threatens to spill over into street violence, the price of blood favors those who trade in swordwork and black magic. If they hope to survive, the PCs will need to be both deadly and cunning by turns. For when the first rule of thieves is to never kill the hen that lays brown eggs with ruby in the yolk, old hands know it won't be long before the Thieves' Guild moves to protect their interests. May Death himself have mercy on those who stand in their way.
This 32 page adventure outlines a gang war in a neighborhood slum. It has most of the gameplay elements down right, if flavorful, but doesn't quite know how to present them in a way that makes it easy to run. Highlighter City.
A slum neighborhood. Three minor gangs. One gets uppity ands hires the pc's to shake things up, he wants total control of the neighborhood. Things go downhill in a series of strikes, retaliations, and escalating events that cause others from outside the neighborhood to notice. It ends with, perhaps, the party in charge of one of the gangs, setting up a fine fine city adventure campaign. And I do LUV me a city adventure campaign!
A city adventure campaign forces the party in to a more cautious play style. Uh, hopefully, anyway, since it IS the party. No more wanderers, they get to learn of, and live with, the consequences of their actions. Their own neighborhood. How the other people in the city react and so on. It places back the social control of Keeping up with the Jones's and not being ostracized by everyone else around you. Like the fence. Or the temple. And, of course, not getting squished like a bug but those MUCH higher up on the ladder.
And that's what this adventure is trying to do, and largely accomplishes, I think. In a tortured way. There's a neighborhood tension tracker. The more people you kill, etc the higher the tension in the neighborhood. As it gets higher things in the neighborhood start to change, people get wary. As it gets higher the criminal element in charge of the city tells you to cool it. And then assassins show up. And the city guard starts hassling you more, singling you out. And then they stop hassling you and actually start doing their job. And finally, if left to get high enough, the Overlord notices, puts the neighborhood under martial law, and the guard goes house to house in a brutal crackdown to find the party … and the neighborhood isn't going to appreciate that, I'm sure. Thus the social element returns to D&D. Yeah!
Other elements help feed in to the overall vibe. There's more than a few encounters with scouts on rooftops, keeping track of the party. There are good summary overviews of the what's going to take place. The core of the adventure is events, on a timeline, that the DM drops in, supplements by a few location descriptions, of the three gangs and a few other "notable" places in the neighborhood. There is a web of relationships, in places, and a great sense of flavour. The doorway to one of the gang hideouts has a bunch of rusty knives, cleavers, etc hanging over it by strings, or an old crone at the tavern who is brought dead vermin by the neighborhood orphans to cook … and fight to defend her. Great great ideas and situations in this in to which the party can then dip their toes to pour their own brand of gas on things. It's a sandbox driven by a timeline.
But, alas …
There are two things wrong here. First, the trivial. Goodman clearly has a style guide which states that read aloud is in italics. LAME! Hard to read! There's not a lot of it, but there are multiple sentences when it shows up. Lame! Well, at least in 2018 they had it that way.
More importantly, they don't know how to format an adventure like this, or, Harley doesn't know how to write one like this, in order to make it easily playable. There's just too much for the "standard text paragraph" to handle. "Here's everything about the place in paragraph format" is too much to hold in your head. It's hard to find things. It's hard to grab elements to shove in to your game and enhance it. I don't think I'd be able to keep in my head the shopkeepers general reactions to the party, the old crone, the orphans running around, in addition to the main plot elements. But THOSE things are what is going to make the adventure immersive. Those things are what is going to make this one of the best adventures the party has ever played in. But, the DM has to be able to find it, remember to include it, remember to enhance the adventure with that flavor. And that just breaks down after a certain point. You can't hold everything in your head. That's why "always on" map text is important. That's why summary sheets for NPC's are important. That's why its important to have a format other than paragraph form for longer and/or more complicated sections.
This is a GREAT city adventure. It oozes with flavor. It can set up things that the party will be enjoying for a LONG time and talk about forever. (Also, remember, i LUV city adventures.) But, I don't think you can run it in a way that takes advantage of it all, without some serious highlighting and creating your own notes and summary sheets. Are you willing to put in the work?
This is $7 at DriveThru. The preview is six pages. You get the overview/summary, the timeline of events, and the first event laid out. From that you can get a good idea of both the flavor and a hint of the difficulty in running the thing to maximum effect.
https://www.drivethrurpg.com/product/291026/Dungeon-Crawl-Classics-Lankhmar-1-Gang-Lords-of-Lankhmar?1892600