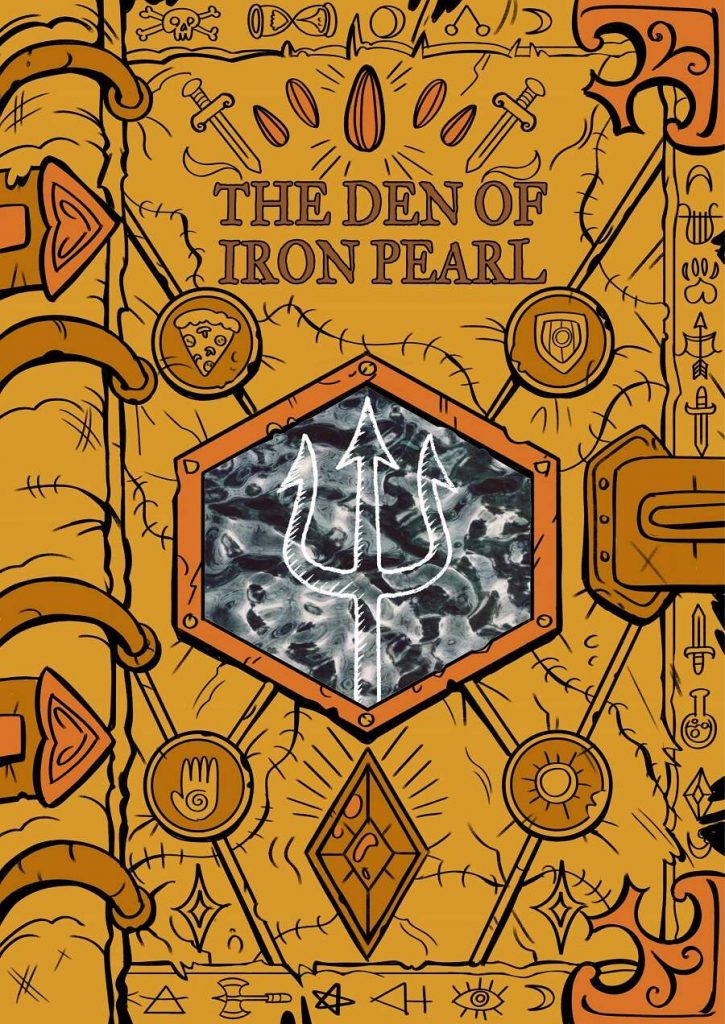 By Andrzej Son of Jerzy
ASJ
5e
Levels 1-3
Iron Pearl is a legend to treasure seekers. She discovered many flooded
cities and extracted various treasures from them. Often working on the
order of the world's most powerful people. She was equally known for her
love for the pearls as well as her toughness. She had an aversion to society,
few people that knew her used to say that she felt more comfortable being in
the water than attending feasts. One day she disappeared without a trace,
what enticed rumors to spread like wildfire. Sitting by the bonfire,
adventurers and bounty hunters of every race and age told stories about
wealth she kept. They speculated that Iron Pearl hid all of her treasures in
several secret vaults, but no one has ever found any of them. This is about
to change.
This eight page adventure uses four pages to describe six rooms in a linear dungeon. A weird mix of decent formatting, shitty decisions, and a lack of design understanding makes this a frustrating one to review. It's opposite day!
Good things the adventure does: it puts its clues/important elements in to bullet points for easy reference during play. This is a combination of traditional DM text, read-aloud and then the bullets that expand upon the information. That's great! It totally helps run the room!
It does, at times, encourage en interactive play style through hints in the read-aloud. For example, the read-aloud in one room mentions a banner. Examining the banner (noted in a bullet) reveals that it is fluttering slightly. This leads to the secret revelation. Perfect! That's exactly what a room description and further elements should be doing. It leads the players in to deeper examination, the observant ones anyway, end encourages an interactivity play style between the DM and the players … which is the soul of D&D.
Otherwise, it's pretty shit.
We get read-aloud in italics which is hard to read. Long sections of text should NOT be in italics. Further, it uses single word italics in places to call attention to certain keywords, mostly in the bullet point items. That's great! That can be a proper use of italics! But it also uses a fucking fancy ass font which hinders legability. Boo! Boo I say sir! The DM text needs to be pretty trivial to read and comprehend and this fancy font shit don't help that.
The read-aloud is also a mixture of styles that switches up. In one place it is in the correct tense. In another it says things like "you arrive" and "you don't see Arno here", incorrectly using terse to address the players and their characters instead of just describing a scene. (Yes, that's wrong. No, there's not room for opinion.) In other places it changes audience yet again and says things like " … that the players can see", addressing the DM in the read-loud? Weird as all fuck. Further, the read-aloud draws conclusions. "This table must be a work bench judging by the …" NO! No! Stop! Don't fucking do that! Just describe the fucking scene and let the players draw their own conclusions. Describe the crushed shells on top and the tools hanging from it, or its scarred surface, and ket THEM make the conclusion that its a work table. Remember, interactivity!
The front door to the dungeon is a puzzle. You need to roll a DC10 to understand its a puzzle. That's depressing. Why do this? What if they fail? No adventure tonight? They won't fail 10? Then why put in a roll at all? The DM will fudge it? Why put in a roll at all? This is NOT how you use a skill check in D&D.
Oh, yeah, that table I mentioned earlier? It's in an empty room. A room with a table in it. And an ambush from four bandits. How do they hide and ambush the party in a nearly empty room? Who the fuck knows. Just shut the fuck up and roll for initiative, its combat time now.
*sigh*
This is Pay What You Want at DriveThru with a suggested price of $1. The preview is three pages. The last page shows you the first room, so you get to see the formatting, read-aloud etc, and gives you a good impression of what you will be facing in the adventure, as a DM.
https://www.drivethrurpg.com/product/343655/The-Den-of-Iron-Pearl?1892600